The 10.6kg Pocket+ folding electric bike, first seen at the NEC Cycle Show last year, is to be distributed in the UK by Batribike.
Retailing at £999, the bike has its roots in the Jura Mountains, east of France, where its founder Augustin Charlot was driven by his desire to create a folding bike, carrying as little weight as technology would allow. His inspiration came from a 6000km bike ride, taking in the route from New York to San Francisco.
"The new V'Lec really filled a gap in the market," said Sue Coulson, Director at Batribike. "There are lightweight bikes, there are foldable bikes and there are affordable bikes, however, this is the first product that successfully combines all three into one product."
The aluminium alloy frame of the Pocket+ conceals a Panasonic battery, said to be capable of achieving a range of between 15 and 18 miles on a single charge. It has a single speed pedal system and 16 inch tyres. The lithium Panasonic 24v 8Ah cell battery takes 3-5 hours to charge and drives a 160W front wheel motor.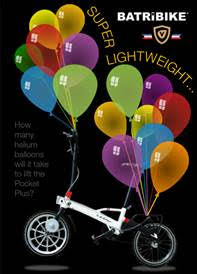 The bike is being aimed at both commuters and the leisure market, with Batribike saying while it is "ideal for carrying onto the tube or train," it also provides a new option for those out and about in motorhomes, caravans and boats but with limited storage capacity that can now carry one or even two e-bikes.
Batribike explained: "Many leisure users have previously found electric bikes too bulky and heavy. The removable, clip on clip off pedals make it a very slim package when folded, giving people the opportunity to carry two electric bikes where previously even one was not possible."