Dorset based Boxer Cycles was founded in 2013 by Jeremy Davies, a design and development engineer, who wanted to take the 'box on wheels' and create a more stylish alternative to the car.
"I wanted to create a British brand with a British identity – no rebadging Chinese frames and tech, just a ground-up design that did a lot more than the fairly basic Dutch and Danish designs.  I find that parents love their Dutch cargo bikes but can't always get them to do all of the tasks they need them to, and so they will frequently have to leave them at home – for example, many will take the car or bus if they have to go shopping in a mall where they can only transport their infant in a baby stroller. By adding the functionality to allow a baby buggy / stroller to accompany them, the trike becomes a valid transportation option.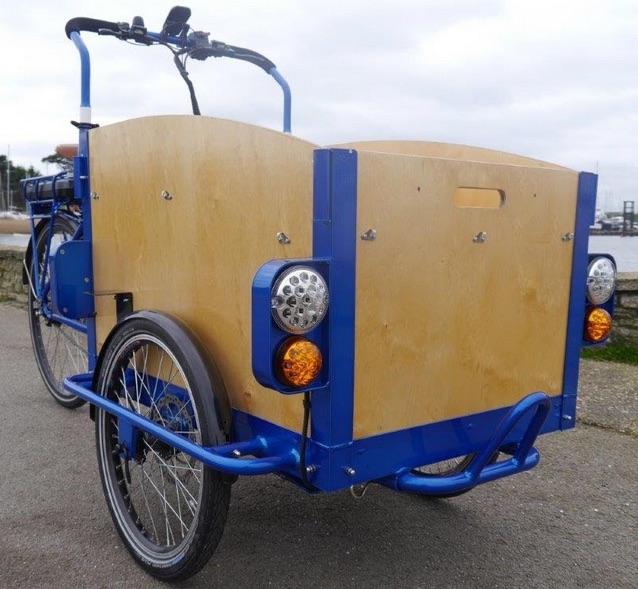 "Similarly, with our add-on bike rack for children's bikes, we solve a common snag, going on a ride with a child who is learning and but needs transporting to a park some distance away, or can only go so far before they get tired. Parents can now simply put their child in the box, the bike on the front, and go anywhere they like."
With those practicalities in mind, Davies says that the company has "gained international respect for its innovative safety features, product accessories as well as the high spec and build quality of its bikes."
The Hindenburg-inspired Rocket, also now with Shimano Steps mid-drive 250w motor, was originally designed as a one-off for a customer but can also be purchased for £4,950, perhaps as an alternative for those who can't stretch to a £200,000 seat on the Virgin Galactic.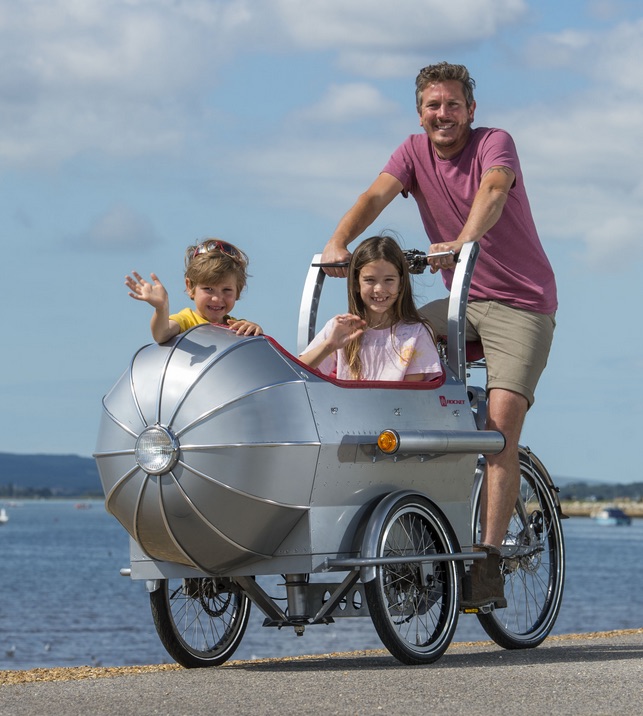 For everyday journeys such as ferrying the kids to school however, the company's latest e-cargo trike, the Shuttle 2, a 4-seater family cargo bike with a Shimano Steps mid drive motor, will be available from June.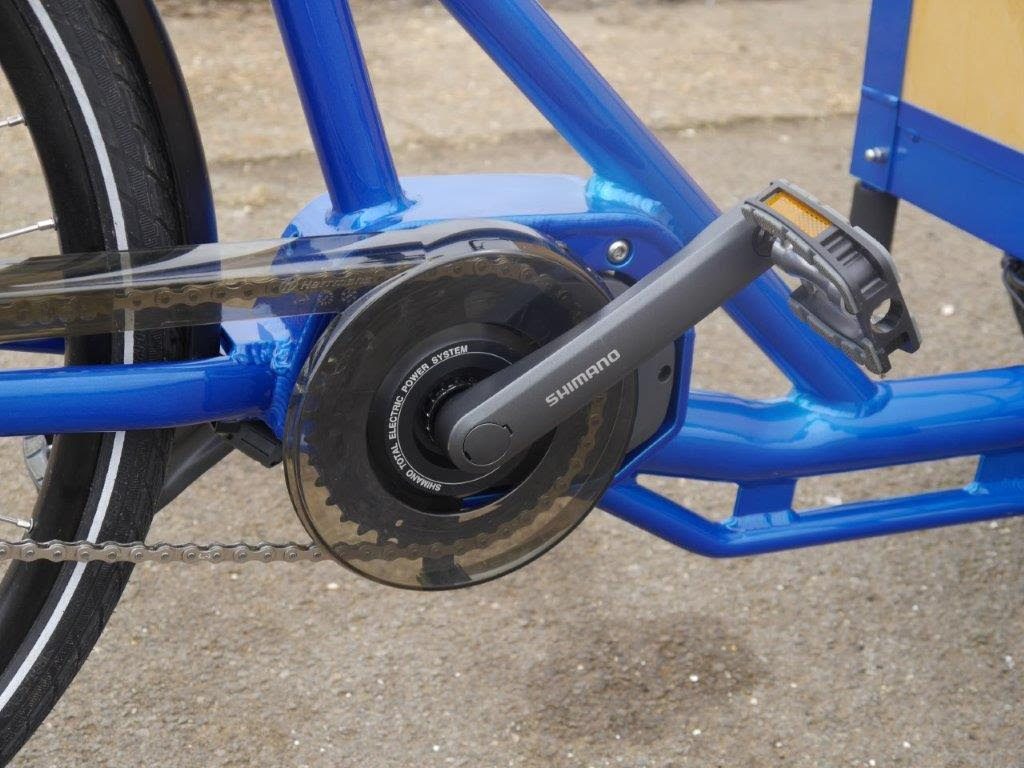 Talking about improvements since the first model, Davies said: 'Most of the Shuttle customers are busy mums and dads using them for the school run. The most common piece of feedback we had was customers flagging that they weren't in the right gear when they came to pull off from a busy junction or hill start – this made it a real struggle to get the bike moving – even with the electric assist. We are happy to say that the Shimano Steps system with the Di2 Alfine automatic shifting hub, which automatically shifts into the lowest gear when you come to a stop, makes this a thing of the past. Early feedback from dealers and customers is very positive."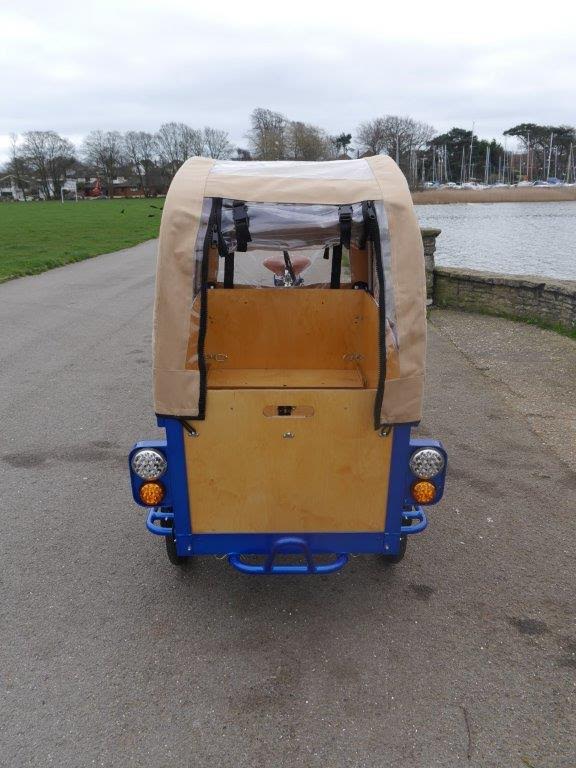 The Shuttle 2 includes a raincover, four padded seats with 3 point harnesses, a high quality light set and a two locking storage boxes as standard; it comes in a number of different frame colours and finishes.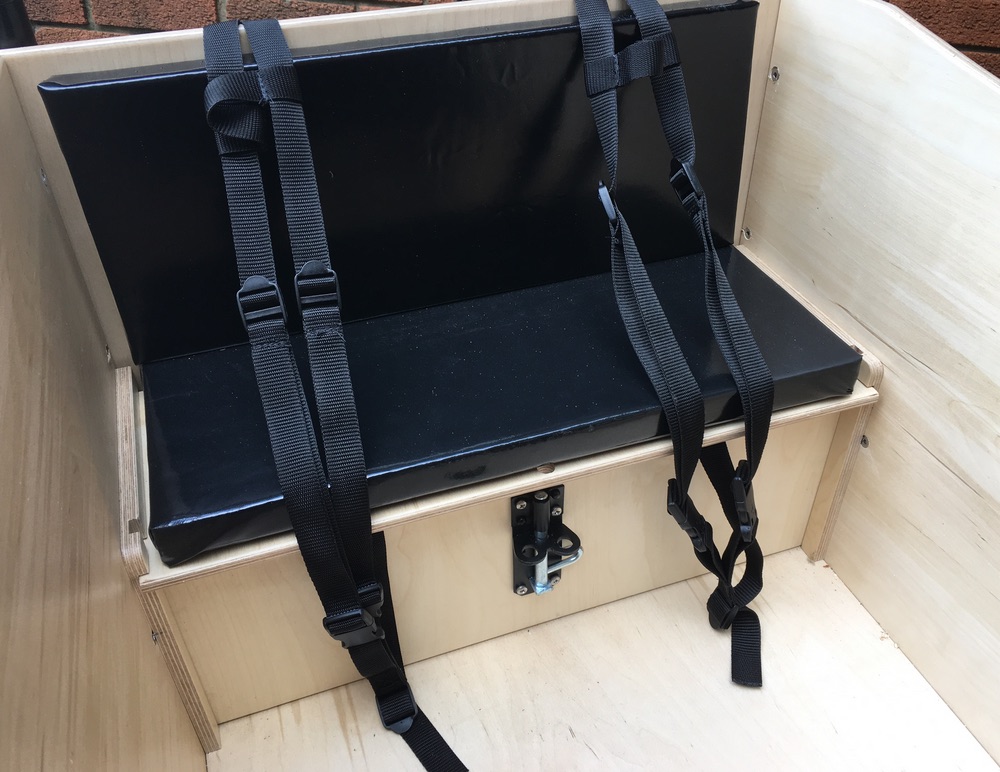 The Boxer Shuttle retails for £3500 inc VAT. The optional 12V safety lighting package is £450, with the bike rack, baby buggy rack and dog door at £120 each.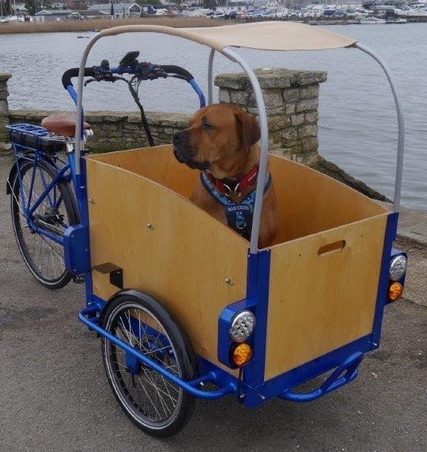 The Shuttle is the company's most popular bike, according to Davies, with the vast majority being purchased by families. Wanting the bike to be as safe as possible, Boxer say they "designed a 12V lighting system that has indicators, horn, headlights and stop/tail lights – all controlled form a handlebar cluster switch. Again we did this as a ground-up design exercise and nearly all of our customers go with our lighting package option extra."
Explaining to Pedelecs what initially sparked his interest in designing e-cargo bikes, Davies revealed: "My background has always been related to innovation and solving; in my later years I have founded and developed a number of companies involved in green technology for example carbon reduction, remote power systems and now Boxer Cycles. Developing the Boxer range has let me take off the brakes on my passion for good design – the Rocket for example takes my passion for airships, 30's airliners and art deco and turns it into a 100% practical mode of transport – but with a very distinct and enjoyable difference."
The company says it currently exports around 50% of its models and is looking to expand its dealer network at home and abroad. Davies says he exports his existing range "all over the world, from Moscow to Miami!"
"We believe that the Shuttle 2's product specification now exceeds that of the Dutch and Danish cargo bike offerings and so it will be interesting to see if in the coming years we can turn the loyalty of British dealers from overseas manufactured products to British products," concluded Davies.