The Confederation of the European Bicycle Industry (CONEBI) has released its data for 2016, comparing the performance of cycling markets between different European countries by looking at both manufacturing and sales data.
It shows that while production here remains low compared to other European countries, the volume of overall bicycle sales in Great Britain is beaten only by Germany.
Bicycle Sales in Europe
Just under 20 million bicycles (including EAPCs) were sold across Europe last year, of which 13 million were produced in Europe. Of that total, 1,667,000 were electric bikes, an increase in units sold of just over 22% compared to sales figures for 2015.
According to the report, Great Britain accounted for 16% of all bicycle sales in 2016, second only to Germany's 21%. Sales of electric bikes ranked Great Britain 7th  with 5% of all EAPCs sold in Europe, behind Austria, Italy, France, Belgium, the Netherlands and Germany at the top with 36%.
By comparison, figures for 2015 saw 17% of all European bicycle sales made in Great Britain, while the previous year ranked Great Britain at 18% compared to Germany's 20%.
Manufacturing
Electric bike production increased by just under 13% in 2016 compared to 2015, to 1,164,000 units. Germany topped the production chart by producing 30% of the electric bikes made in Europe last year. Imports of electric bikes into Europe from the Far East increased to 1,083,070 (compared to 664,727 the previous year). While figures available for the UK places its manufacturing contribution of all bicycles at just 1% of the overall total, Portugal has increased its share of manufacturing from 8% in 2014 to 15% last year – although this expansion hasn't embraced e-bike production yet, with Portugal producing just 2% of Europe's e-bikes.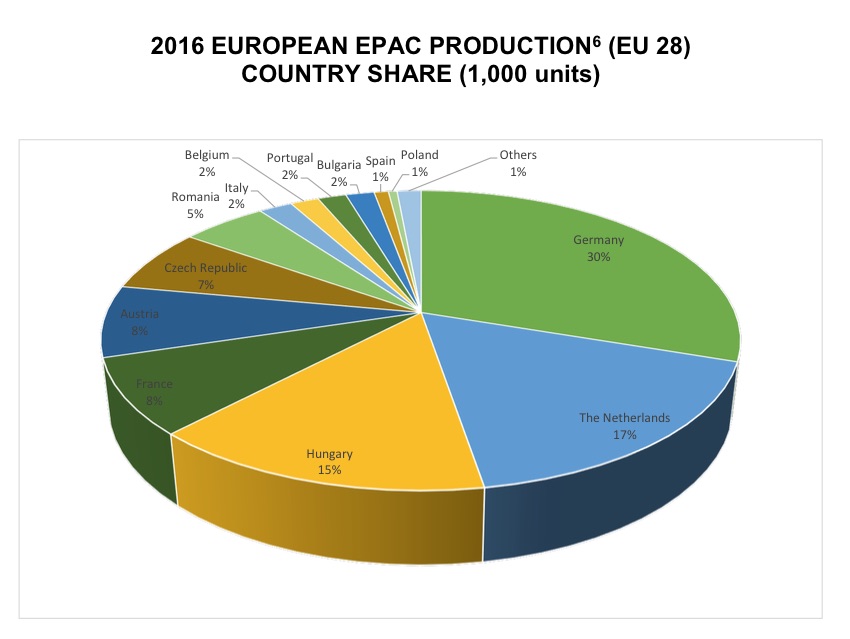 British market
The CONEBI report estimates that Britain manufactures around 80,000 bicycles per year, with Brompton being the larger producer with their iconic folding bikes and with the company now operating from a new, larger facility.
Pashley's production may rise in future years as they are contracted to produce a new generation of public hire bicycles in London, according to the report. Also of note to the organisation is the new 120,000 sq ft assembly factory for Frog Bikes in Wales.
Data used to compile figures on Great Britain's cycle market has historically been derived from HMRC import data, which details only the total number of units and import value at the port of entry – furthermore the data does not differentiate between types of bicycle.
The report confirms that the 'UK has no quantified source of information on annual retail sales of bikes, parts, accessories, either in terms of units or value" but does note that outside of the larger manufacturers, the market is principally supplied by imports from the Far East.
Lack of complete data charting the supply chain through to retail sales means some assumptions have had to be made for recent years. CONEBI note that, until 2016, the UK market was estimated to be 'rather stable' in terms of retail sales despite a continuing increase in everyday commuter cycling in London. Fluctuations of between 3.35 and 3.6 million units 'assuming retail sales accurately tracked import data' were noted in the run up to last year, but 2016 showed a different picture with import figures falling around 20% compared to the five year average leading up to the drop. CONEBI say that 'no single cause has been identified; possibilities include a correction for over-supply in previous years, substitution of sales of children's bikes by 'in-fashion' scooters and Brexit concerns."
The Bicycle Association commissioned research in 2016 to establish average retail values (based on consumer surveys) to gain a wider understanding of the value of bicycle sales in the UK.
The additional retail statistics since indicate that only half of retail sales are bicycle sales, with the other 50% derived from the sales of parts and accessories, including clothing as well as tyres, repair and maintenance costs. BA estimate sales of electric bikes to be around 75,000 units per year.
CONEBI's economic analysis estimates that around 25,000 employees work in the UK's cycling industry and that 150,000 commuter bikes are sold annually under the Government's tax-incentivised 'Cycle to Work' scheme.
The Bicycle Association is a member of CONEBI for the UK and provides the UK data and analysis for CONEBI's annual reports.  The BA provides more detailed analysis for its UK members each quarter.
'Low carbon economy'
CONEBI say that the EU bicycle and EAPC industry has a 'very important role to play in Europe's ambition to seriously cut C02 emissions' as part of a global shift towards a 'low-carbon economy,' contributing positively to both public health and the environment.
Alongside their 'low-emission mobility strategy', future 'ambitious goals' for the EU bicycle industry are to work to towards intelligent transport systems that harness connectivity amongst all road users. The organisation note the work to date on this in the automative sector, but wants to see the cycling industry involved in discussions such that 'smartbikes of the future will have to communicate with motorcycles, cars, buses, trucks and any other road vehicle' to improve safety for cyclists and motorcyclists – as those currently most at risk on the roads.
CONEBI's Sacha Boedijn, adds that the European bicycle industry has not only advanced both the technology and safety standards driving electric bike growth, but will also now work "with dedication towards the smartbikes of the future: every rider will soon be connected with the digital infrastructure and the other road users which will translate in more safety and integration" within the framework of city mobility as innovation continues.
The organisation also calls for "production of mainly medium to high-end bicycles realized near the European home market" reasoning that "deliveries can then be more flexible as the produced series can be smaller and lead times shorter" while reducing transportation emissions from the 800 small and medium-sized bicycle companies spread across Europe.