ZeHus' recent announcement of their Bike+ claims to herald the new concept of increasing the body's efficiency via 'innovative algorithms' that regulate the action of a small motor on a bike that never needs to be charged. The idea is based on non plug-in hybrid cars like the Prius.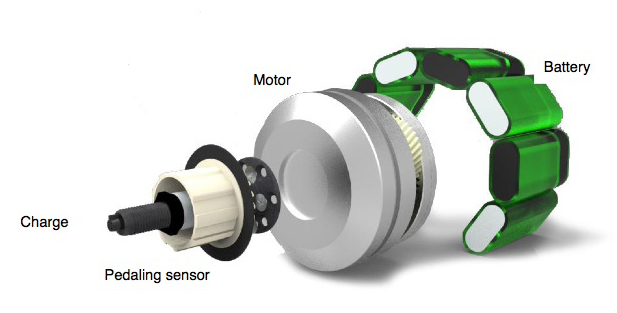 Bike+ will be available next year and assists the rider by working with their body, assisting when the rider needs it and through regeneration by recovering energy when the rider is going down a slope or braking.
The Italian company's press release makes a big play on the metabolic studies carried out at the Mapei Sport Service Movement Analysis Lab. Studies on riders' metabolic effiency, alongside "fine calibration" of the control system plus an integrated compact rear hub motor and battery – and no cables. A smartphone app also allows you to set the levels of assistance and regeneration. ZeHus say that although there is a plug 'for convenience', there is 'no need for external sources of energy and therefore the bike has no range limit'.
Battery depletion depends on the conditions of the ride however. In some conditions (constant speed) the assistance is limited, and in other conditions (typically long ascents) the battery can get deployed. This can also happen when the cyclist chooses the 'Pedelec' mode, which gives him the maximum assistance and the battery will then be depleted. They do say that in every case recharge is quick and efficient as soon as 'average' cycling conditions are restored and that, if needed, by plugging the battery into the mains a full recharge requires less than 3 hours.
The development team behind the Bike+ set out to best utilize the combined power output from both the rider and motor by designing an algorithm with 5 key features:
Electric assistance is predominant during "impulsive muscle effort": starts, acceleration, slopes
Assistance progressively decreases until cruise speed is reached (20km/hour)
Electric recovery maximised during braking
Recovery activated at constant cruise speed
The bike has to be self-sustaining (external recharge not necessary)
ZeHus has minimised the visual impact of the electrical part of the bike with the 'all in wheel' motor (250w) and battery (Li-ion 160Wh). Tthe ECU (comprising two microcontrollers, a tri-axial accelerometer for slope estimation, a CANBus line, a Bluetooth module). The pedaling speed sensor is integrated into the freewheel mechanism.