A recent symposium has highlighted how Belgium's road usage rules for speed pedelecs appears to have fuelled growth – from 4,500 speed pedelecs registered in 2017 to 12,000 last year – by creating a separate 'Moped Class P" (speed pedelecs) which in turn offers flexible cycle path/road usage while also entitling commuters to the same tax incentives available to those riding their ordinary cycle to work.
The event was organized by LEVA-EU in partnership with 365SNEL – a Flemish environmental project tasked with researching the positive impact of commuting by speed pedelec as a form of sustainable mobility – and was attended by manufacturers and the European Commission
LEVA-EU used the event to question whether current speed pedelec type approval requirements in the EU "creates risk for speed pedelec riders."
The symposium was held after a study by 365SNEL recently concluded. Taking part in that study were 106 test riders – full time employees of 10 organisations ranging in size and fields – all exchanging their car for a speed pedelec for 3 weeks and clocking up an average commute distance of 21.6Km.
LEVA-EU highlight the importance of the 365SNEL project as one of the few European 'clean transport' research studies focusing on light electric vehicles rather than electric cars.
The motivation for most of the candidates taking part – with many trying out a speed pedelec for the first time – was less time commuting. LEVA-EU said: "Most of the candidate test riders were under the assumption that they would be able to ride at a constant speed of 45 km/h with a speed pedelec. None of the test vehicles were able to meet that expectation. The speed pedelecs with a 350W motor offered a cruise speed of 30 to 35 km/h, those with a 500W motor of 35 to 40 km/h."
Explaining his interest in taking part in the study was a 41 year old who lives 18 km from work: "I leave by car at a quarter to six and arrive at work at 6.05 am. Of course I would much prefer to start at 7 o'clock, but that takes an hour and a half by car. And that is precisely what makes the speed pedelec interesting for me."
The obstacle to purchasing noted by many taking part was the price tag of a speed pedelec. Study benefits included predictability of travel time and a positive impact on mental heath however.
LEVA-EU and 365SNEL used the symposium to point out that there is "something special going on in Belgium" which is why they say the speed pedelec is more of a success there than elsewhere in Europe.
Both LEVA-EU and 365SNEL argue that the speed pedelec is new type of vehicle which doesn't fit into the definitions of  "old concepts" – they say: "It is not a bicycle, it is not a moped, it is a new means of transport. And yet governments are stubbornly trying to subject the speed pedelec to outdated rules." The organisations say EU technical (168/2013) regulations categorise the speed pedelec as a moped – which they describe as "extremely complex, inadequate and extremely expensive…and originally written for conventional mopeds. It is precisely that homologation that pushes the price of a speed pedelec in the direction of a cheap car." The group add that the type approval regulations not only affect the pedelec as a whole, but numerous components which can subsequently only be replaced by identical components: "It sometimes turns out to be extremely difficult to find suitable parts. The headlight is the biggest pain in that regard."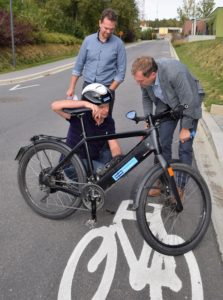 365SNEL explain how Belgium has created an additional speed pedelec class for usage on Belgian roads. "Thanks to some visionary officials at the FPS Mobility, the speed pedelec in our road code is not put away as a moped "full stop", but a separate category has been created: Mopeds Class P – Speed ​​Pedelecs. This made it possible to make adapted traffic rules with new traffic signs that, by using the letter P, allow or exclude speed pedelecs. In addition, this separate categorization made it possible to subject the speed pedelec to the same financial incentives as traditional bicycles." Belgium offers tax-free allowances if you commute by bicycle, electric bicycle or speed pedelec.
During the symposium, Jakob Luksch, CEO of Stromer, confirmed that the adapted traffic code is a crucial element in the Belgian success of speed pedelecs. It was highlighted that in other countries, speed pedelecs are banned from cycle paths and they must be used on the road. However, if those speed pedelecs with a 350W motor can only handle 30 to 35 km/h on average, then that is thought to be a particularly dangerous speed difference with the cars and trucks that you have to ride with and potentially explains why some flout the rules by removing the number plate to ride on cycle paths deemed safer and putting it back on to go back on the road.
In contrast the Belgian traffic code offers a choice between road and path for speed pedelecs. LEVA-EU say: "The general rule is that if the speed limit on the road is 50 km/h, the speed-pedelec rider can choose between road or cycle path. If on the road the speed limit is higher than 50 km/h, they are obliged to use the cycle path."
LEV-EU say the symposium contained "extensive testimonies about the flaws of type approval". Markus Riese said: "Factor 4 does not allow you to build cargo speed pedelecs that allows [people] to ride uphill in a safe way. Factor 4 barely allows to achieve 10 km/h and if you are then obliged [to carry], for example with 2 children in the front, to ride on the road, you risk their lives."
Robbert Rutgrink from Santos argued for a regulation that would allow "real speed-pedelecs, without assistance factor and with more powerful motors that allow for 45 km/h, whilst also allowing a throttle so that the entire 45 km/h landscape could be used by speed-pedelecs."
Once manufacturers had "ploughed" through the type approval process, LEVA-EU says they then "have to cope with another major struggle: Explaining to the different Member States where and how they had to fit these vehicles into their traffic code… Rad Power Bikes was confronted with problems, which proved really insurmountable in Great Britain, preventing them from getting their vehicles on the road there."
LEVA-EU is proposing that all zero emission transport for individuals – up to a determined maximum speed and weight – be lifted out of type approval requirements for mopeds/motorcycles. They also believe it is more important to regulate acceleration than power assistance, removing the 250W limit in the EU. The European light vehicle organisation also believe removing the pedal assistance requirements will make "technological developments possible" saying that a throttle as well as pedaling offers riders flexibility to move away from potentially unsafe situations.
Whilst LEVA-EU say they want to see the day where "Member States would no longer slavishly categorise speed pedelecs and other light zero-emission vehicles in the L category in the moped category of their traffic code" they caution that the EU commission has already indicated that exclusions from the L category were unlikely at a time when the Commission were examining how electric scooters and self-balancing vehicles could be included in EU type approval.