This is my basic guide to cleaning and detailing of an e-mtb. Feel free to add your own method, and any tips or tricks.
After removal of the battery and console, and assuming that you have access to a hose pipe or portable 12volt washer, quickly rinse off any large lumps of mud etc, avoiding bearing areas, battery area and console area.
After this I quickly use an airline to blast the chain free of water, then apply a degreaser to the chain. As this is taking action, I apply muckoff or similar, and gently agitate it in.
Once both have been left to do their thing, I then hose down the whole bike, once again avoiding bearings, battery area and console. I never direct water or degreaser into the area of the rear cassette, or front sprocket. I lean the bike over to the right hand side (not onto the derailleur). Then wash the rear cassette cleaning it from behind, so as not to risk detergent contact with any bearings.
After the above, I thoroughly go over the whole bike with an airline to remove as much water as possible, then I spray the whole bike with duck oil, avoiding brakes and cassette, and once again blast the whole bike with an airline.
Never apply wd40,duck oil, gt85 etc to bearing areas and rear cassette. The reason being is that you will eventually wash the grease out. So don't do it!
I then suspend the bike as below. (That is one old photo, and empty area)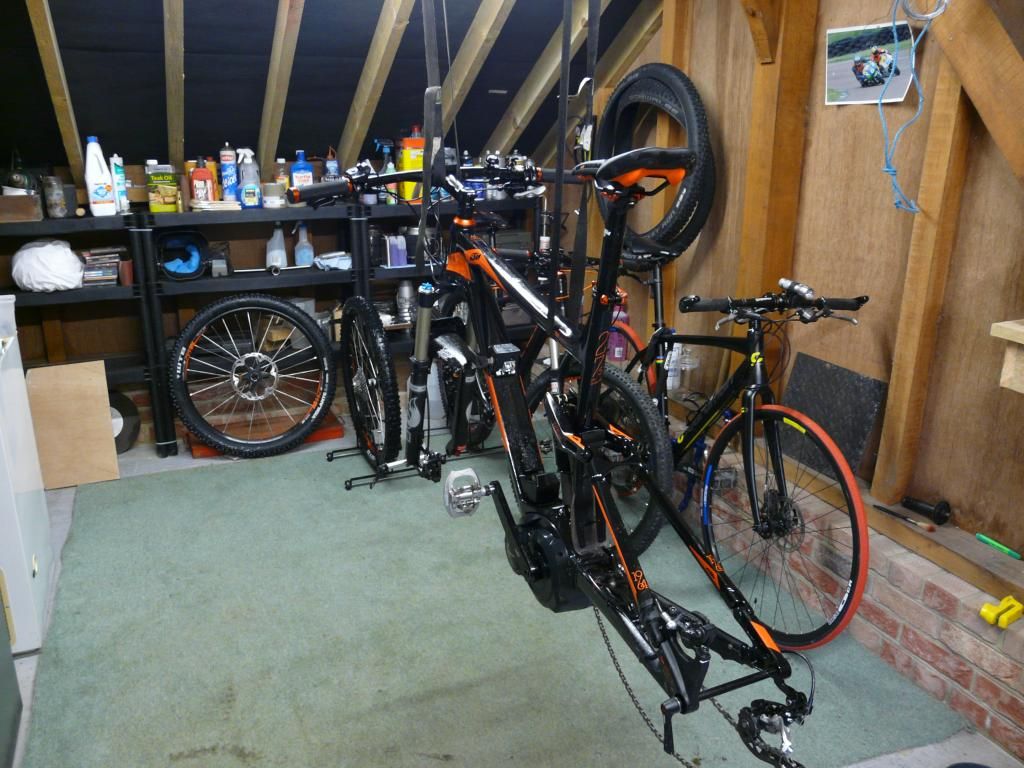 Once suspended, I remove the wheels, brake pads, saddle, battery and console.
I then re wash the wheels, paying great attention to the discs. Removing the wheels also gives me a chance to check for any damage and loose spokes, and also gives better opportunity to check the tyres for thorns or cuts.
It bugs the crap out of me when people say that they have cleaned their bike, then upon inspection they haven't cleaned under the saddle. That is my reason for removing it, as I can then wash and clean it properly. I also clean the seat post and then apply an anti seize spray.
Next up is brakes. I thoroughly clean the calipers with the pads removed, and also thoroughly clean and check the brake pads, for damage and wear.
I use kimwipe to clean the battery and console area, and then once again spray the whole bike with duck oil, then wipe everything down again.
I pay particular attention to the rear derailleur, jockey wheels and front sprocket. Make sure that each is spotless.
Next up is suspension. Make sure the dust seals are clean and intact, remove any water or grime, and check sliders. Once I am happy that all is well, including seals, I then apply ForkJuice which has two benefits, firstly it brings up a nice sheen, and secondly it does a brilliant job of preventing mud from the next ride sticking.
Once I am happy with everything, I refit the brake pads.
Lastly I lubricate the chain, and apply ACF50 to any exposed metal parts, and also go up and down through the gears, and check brake action, and steering.
Stubborn marks can be removed with car insect and tar remover, and it's worth buying a bag of lint free rags. You can buy these by the sack load online. Just look for bag of rags.
Other than just checking that everything is sound and secure, with bolts and tyre pressures checked, there isn't really much else to do.
I then move onto my spd shoes, and ensure that the cleats are cleaned out and spotless.
I also run two chains. One on the bike, and one being cleaned. Admittedly I seem to have been lazy about this of late though.
I guess that I can take a completely dirty bike, and get it back to looking pristine in about half an hour. It's half an hour very well spent and could save loads of money and hassle. Whilst I carry out my own maintenance work to my bikes, also I use the services of a local lad, who in my opinion, is the best that there is. He has both the tools and knowledge that I don't have, and has in the past spotted things that I have missed.
Items very much specific to the Bosch motor system and controls.
Starting at the handlebar end, water is prone to get between the HDMI (console) and the connecting housing bracket. It takes surprisingly little rain to enter between the two, and I would advise removal of the console between wet rides, the drying of the two components, and the application of dielectric lube. Most error codes can be traced back to either this element of the system or the battery connector. If you ever get error codes come up, check both first.
I also regularly remove the plastic cover from the mode setting switch and clean behind. With my off road use in all weather conditions, moisture and crud get behind. This doesn't affect the system in any way though. For light off road use I wouldn't advise removing it, as it has two very small plastic securing pins that could easily be snapped. Be warned.
Moving down to the battery. This is an area of concern, as water collects between the battery and the connecting block.
With this area, as well as removing the battery after each ride and ensuring that the contacts are clean and dry on both the battery and the connection block, every few weeks or so, I also remove the plastic case that surrounds the block, as this is another trap for moisture and crud. Apply dielectric to the contact points.
At this point, I should also mention the lock that secures the battery. This is quite a problem if using the bike in adverse conditions, and soon becomes stiff in operation. I often remove and clean the outer plastic cover, and in respect of the lock, I use either graphite powder, or ceramic dry chain lube. Just a small dab of it, wiped on, then off the key, usually makes a massive difference.
Now to the motor. My motor seems to spend most of the time looking like this!
What I will say is that you don't have anything to worry about in respect of the cases. Very little moisture actually ever enters the cases, and the connection blocks always remain moisture free.
I would suggest that you take a look to see if you have the plain alloy motor such as mine below.
If you do have plain cases, then I would strongly recommend using something such as ACF50 to coat the motor. They really do not like being even remotely damp, and corrosion quickly sets in. You might be lucky and have the new black cases, which presumably won't ever be an issue.
A handy hint for you at bike washing time, is to remove both the console and battery, and then fit a latex glove to both mounts. As you will also see, I have some very large holes to the sprocket area of my motor cases. The cover was destroyed a very long time ago, but it does go to show, how even with these holes. very little in the way of water ever gets in.
Finally, please don't feel put off by what I have shown. My use of the e-mtb is very different to most, and whilst the above looks severe, the reality is that you have nothing to worry about.
The Bosch system is very good. Just get on and enjoy the bike.
Last edited: