I have added homemade LED lighting to my Urban Mover UM36 which are 'stealthily hidden' in the bike's reflectors and power off the bike's battery, without having to alter anything on the bike to tap the power from the battery: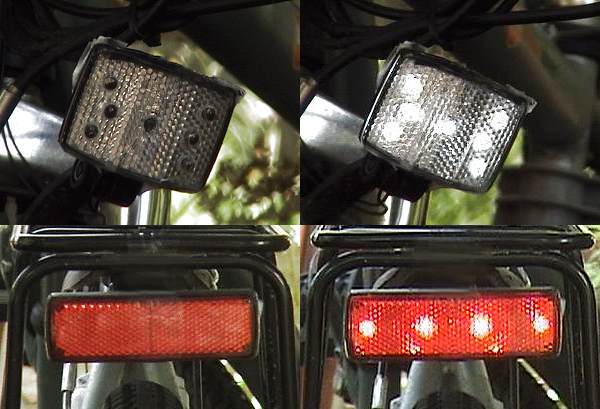 It was easier to do than I first thought so I'm writing up here how I basically do it 'from scratch' because what I have at the moment is working very well but it's a mess of wires, not weatherproof and no on/off switch.
The main advantages of creating your own light setup this way are: you get to decide how bright the lights are, no worries about replacing batteries, no worries about remembering to put the lights on your bike - they're always there, they don't look like traditional lights so the chances of someone stealing them isn't so high (or easy), and as flecc said you don't line the pockets of bike light companies that sell lights more expensive than whole bikes.
Over the next couple of months (just a guess) I'll be posting pictures, info on what bits I bought from where and how I fit it all together.
Just in case someone follows what I'm doing and makes something break or go bang;
DISCLAIMER: This is how I am doing things, any modifications or additions you undertake to your bike you do so entirely at your own risk, I will not be held responsible for others actions.
To start the ball rolling I've just ordered two
step down adjustable switching regulators
for about £16 the pair which can take my bike's 26v battery down to a sustainted voltage anywhere between 1.25v to 13v, which eliminate the need for calculation and use of resistors, the lights won't dim when the battery goes down and I can use a few or a lot of LEDs without doing any complicated wiring or recalculation of resistors values needed.
I've also just ordered
30x 55,000mcd 5mm bright white LEDs
for about £6 as the 7 ones I'm using now are only 12,000mcd and can light up a dimly lit road and cyclepath ok but I want a BRIGHT front light
Other bits I already have are; rear reflector, front reflector, super bright Toshiba red LEDs (cost about £1 each from Maplins! but they were leftover from a project years ago, if you need some - eBay), handlebar reflector mount which will be used to hold the box of electronics & on/off switch.
edit: removed link to 55,000mcd LEDs as they're no good for this project, they use 40% more power than
these
(which are the ones I have used in the prototype and will use in the final) and they aren't 40% brighter.
Last edited: