After some kind advice from a couple of kind forum members ( you know who you are ) I went ahead and purchased the Mosso 29er off ebay
http://www.ebay.co.uk/itm/171271548769?ssPageName=STRK:MEBOFFX:IT&_trksid=p3984.m1427.l2649
.On 26/3/14 i made an offer(not silly offer) and it was accepted and I paid through paypal. Throughout the process the communication with the seller has been excellent and polite. There was a few days delay as they were waiting for the battery but I received my DHL tracking number on 9/4/14 . The bike was shipped from Shanghai to Leipzig- Germany and from there to East Midlands and then to me and it arrived yesterday, 14/4/14.
The bike was well packaged in a sturdy bike crate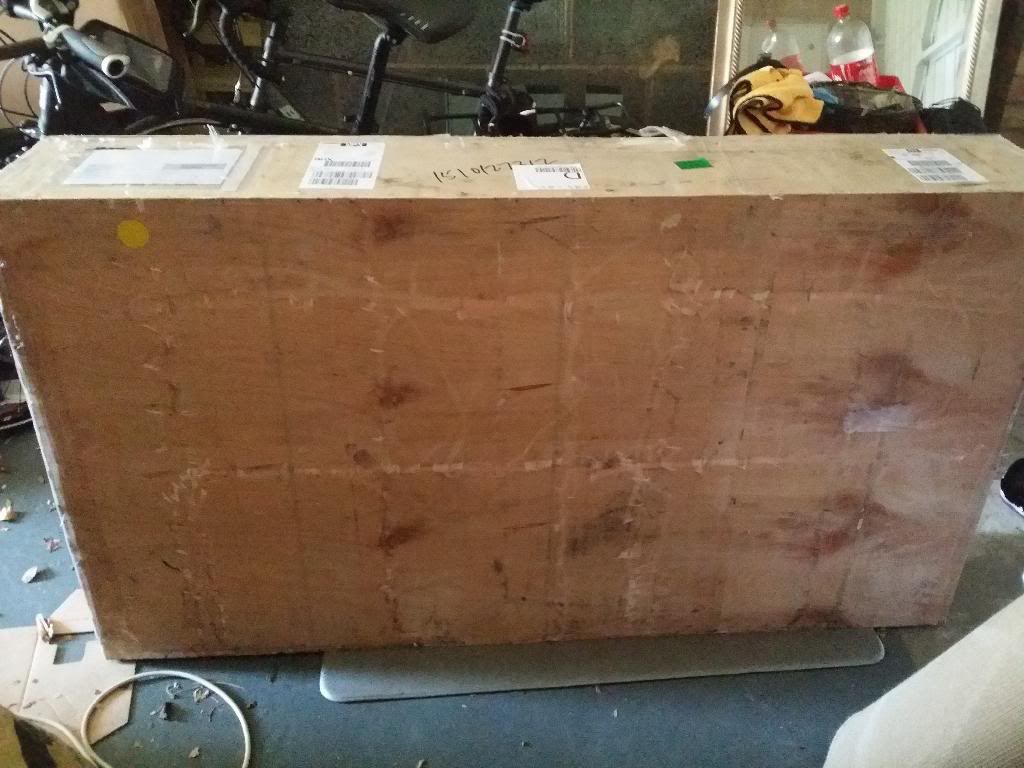 with a cardboard box inside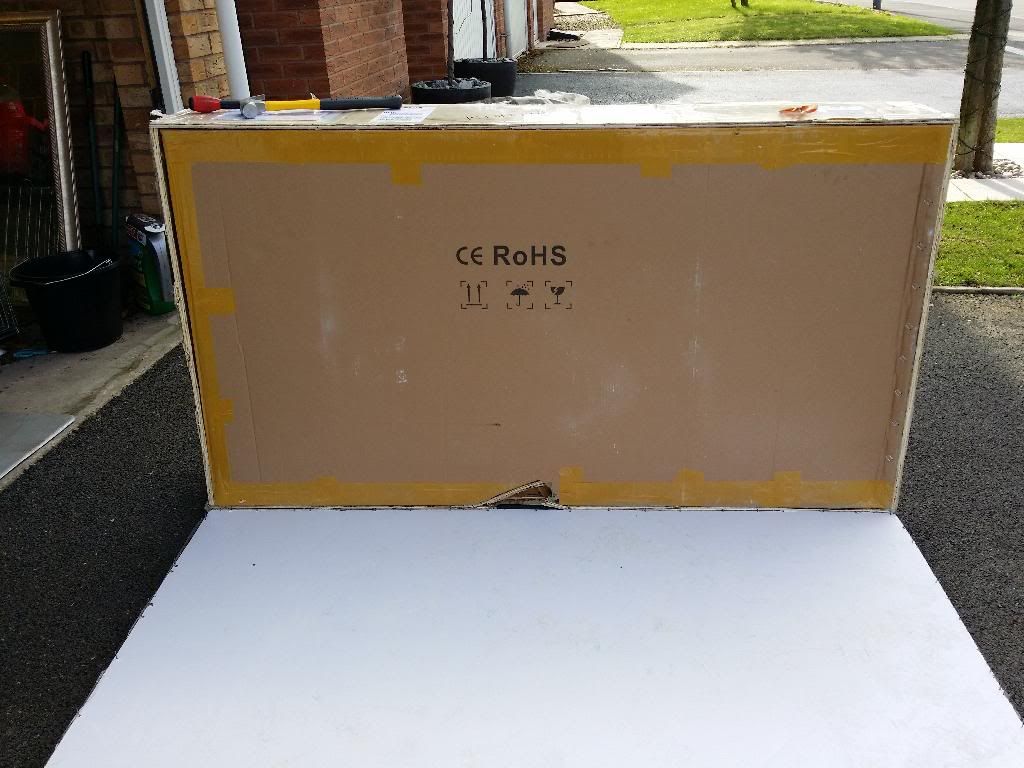 there was some slight damage at the bottom of the inner box but fortunately no damage to the contents. I unpacked everything and have to say I was impressed with how carefully it had been protected everything was covered in foam and cable tied
I attached the all the bits and pieces and took my first look
I must say that it looks great to me and seems to be of nice quality,excellent thick paintwork etc. I put the battery on charge but it was already fully charged.
Not being very experienced with ebikes (my other is a Kalkhoff bs10) it was always my intention to take it down to my LBS for them to do a full safety check which I did this morning .They were very impressed and commented on the quality of the bearings and hubs and how light it was (it is listed at 21.5kg which is heavier than my bs10 but I must admit having the two together the mosso definalty feel quite a bit lighter,i will check it when I get the scales out.) the only thing that was of really poor quality was the rear mudguard which patently didn't fit even after half an hour of the tech trying to make it fit so I seat tube mudguard was substituted .So after a clean bill of health it was tim
e to get it home and for the first ride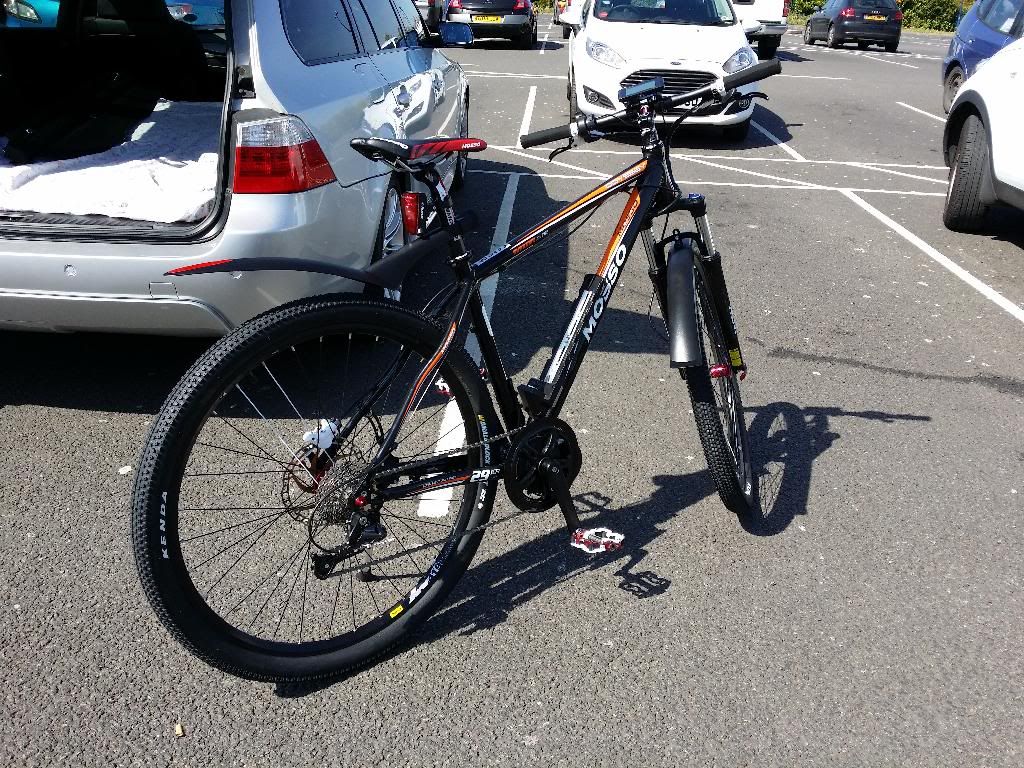 I had downloaded the instruction manual for setting up the display and set the units to miles and the speed to 50kph .there are 3 levels of assist (although 9 are possible in the setting menu.
I decided to do a short ride around a local flatish route just to get a feel for the bike. I set off using level 1 assist and was straight away shocked at how quiet the motor was ,way ,quieter than my Bosch I could barely hear it at all ,the power came in smoothly although as has been mentioned before about the BBS 01/2 the cut off of power when you stop peddelling is not as instant as on the Bosch although I found a quick dab of brake stop it instantly .I quickly progressed to Level 2 assist which I found took me easily up to 18/20 mph with very little effort, power was still pretty much silent and smooth. I had a few goes on level 3 and there was noticeably more power and easily took me to 25 mph with not extra effort on my part. This is the first time I have ridden a 29er and I found that it felt slower than my BS10 but smoothed out the broken road surface much better although the turn in to corners felt a bit vague and squishy ,probably due to the soft side wall tyres . The thing I found the most surprising was how much I enjoyed the thumb throttle ,just a quick dab when moving off from traffic lights was so helpful to get a high gear turning or when there is a slight rise in the road rather than having to change assist level or change gear ,just a couple of seconds of throttle made a huge amount of difference to the real world riding which really shocked me as half and hour earlier I would have said that I had absolutely no need for a throttle,you live and learn.
I did returned after 40 mins with 11.2 miles showing on the display having used just 1 bar of the 5 on the battery readout . Like I said earlier I felt it was slower than my BS10 over the same route and I must admit to taking it very easy as it was my first time out my average hr was 129 but when I checked Strava and Endomondo which I had started when I set off I was gobsmacked to see that I had actually done 13.5 miles in 39 mins at and average speed of 20.4 mph with a top speed of 36.5 mph !!! unbelievable! Strava and Endomondo were both within a nats whotsit of eachother , so much for feeling slower! Iam going to have to check that the correct wheel size has been put into the settings.
I know that it is really early days and I will update this when I get more miles under the mossos belt but for first impressions iam loving it and for the money I paid I feel like I have had a good buy. Iam looking forward to the weekend when iam taking it down to the lodge where it will spend most of its time on the narrow ,very hilly lanes and off road tracks that surround me. Anyone that wants a test ride is more than welcome .
Ride safe, cheers Gaz