Pedelecs forum member, EddiePJ, tells a story of two tales in his own words. An exhilirating ride through the stunning mountain ranges of Switzerland sees Eddie making a poignant journey to honour his friend:
"Several years ago I became forum friends with a cycle shop owner from Yorkshire, called Pete.
Pete wasn't afraid to speak his mind and had very set ideas and opinions. These opinions would often offend, and indeed, my first encounter with him on the internet was a broadside with the back of his hand. I can't even recall what the difference of opinion was about, but it cemented our relationship.
We would correspond from time to time and slowly our friendship grew. I'm an oak framer by trade and also construct oak garden art. Pete knew this, and one day asked if I could help him to come up with a suitable design for a garden seat, to be constructed as a memorial for a very dear friend of his that he had sadly lost some two years previously.
Life held things up, but then further correspondence took place, including a lovely discussion about an area in Switzerland that we both shared a common passion for: the Bernese Oberland, or more specifically, the mountain range between the two valleys of Lauterbrunnen and Grindelwald. The Eiger being the King of both.
I was also astounded to learn one day that Pete had once completed a pretty epic 25 mile cycle on a single speed bike, which looped the area. I had ridden some of the area the previous year on a conventional mountain bike, and whilst very exhilarating it was exceptionally hard work and pretty near had me finished and done for good!
Sadly Pete died last year and his dream of making a memorial bench was never fulfilled. One evening a few months ago, I just happened to be looking through old personal messages and started to read back through the messages that myself and Pete had exchanged.
Several things hit me that I had never seen before, which don't have relevance to this piece, but one written statement that did stand out which is very much of relevance. He said that "Switzerland will be there waiting" for me, with the topic then going on to me taking a bike out there to ride – and how special that it was. Instantly I knew what I had to do and that was to make a memorial plaque for both Pete, and his dear friend that he had missed so much.
My plan was to take this plaque with me to Switzerland using my KTM Ultra 1964 pedal mtb,riding the same route Pete had previously ridden, aiming to be up at the base of the Eiger just as the sun set, place the memorial, crack open a beer and watch the sun go down.
Like all best plans, a spanner was thrown into the works and that spanner was my right knee. I compounded an already vulnerable knee complaint by falling from my Bosch Performance Line powered KTM e-mtb, twisting my knee in the process. On the day that I was due to set off and after having prepped the bike, I realised that I was never going to be able to ride the pedal bike up the arduous mountain route. Truth be known I felt very gutted over it and kind of still do.
But at least I had the sense to realise this and loaded the superb KTM Macina Lycan GPS+ instead.
During the first week of the trip, both the KTM and its Bosch Performance line motor amazed me. I had, in the past, been quick to dismiss aspects of the motor and its internal gearing, but this trip has changed my whole opinion of how the motor operates and performs.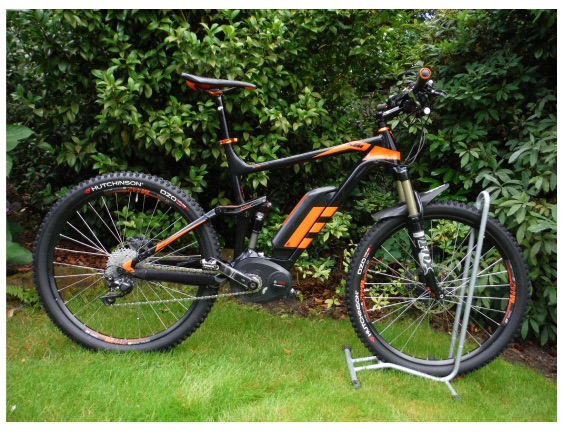 It is a truly phenomenal climber and linked to the KTM's balance of being a rock-solid bike with impeccable rail-like handling characteristics, the match of the two made for an amazing and complete package.
Getting back to the purpose of the trip, the weather held fantastically, with daytime temperatures in the mid thirties. Time was marching past, so I choose my evening for the ride. Because of the ongoing issue with my knee, I had to make a second and disappointing decision, which was that I wasn't going to be able to take the same route that Pete had.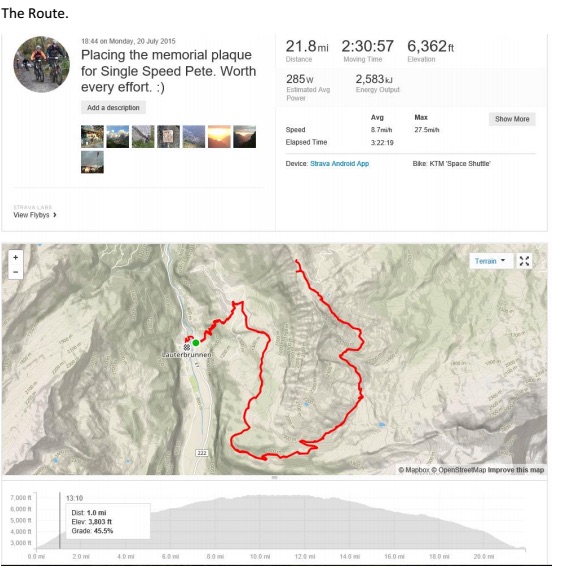 Instead I was going to head from the Lauterbrunnen valley, pedal up to Wengen using the single track route zig zagging its way up from the valley bottom. The route is not recommended for cycles and indeed the local cycle guides advise transporting cycles up to Wengen by train. The climb is very worthwhile tackling. Some sections of the first stage of this climb were an indicated 47.9%. The KTM climbed this ascent using tour and sport mode and amazingly didn't require turbo.
Once Wengen was reached, the remainder of the continuous climb up to Kleine Scheidegg, and up towards the Mannlichen, was pretty steady, but still very steep in places. The overall elevation gain for the 10.5 mile climb, was some 6,600ft.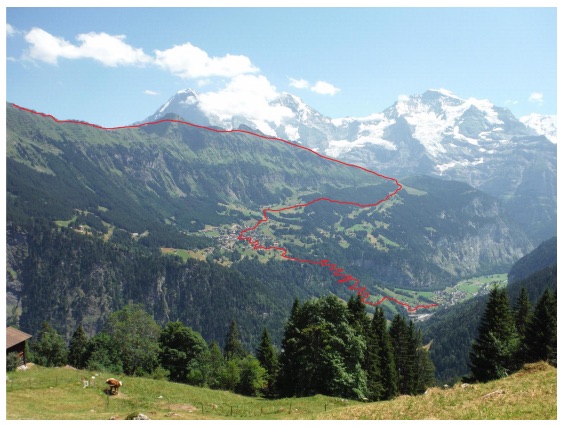 I had already been up to the place where I wanted to put the plaque a few days before, having got there from the opposite direction via train, then cable car. Frustratingly it took me some time find the rock that I was looking for, with things suddenly looking very different.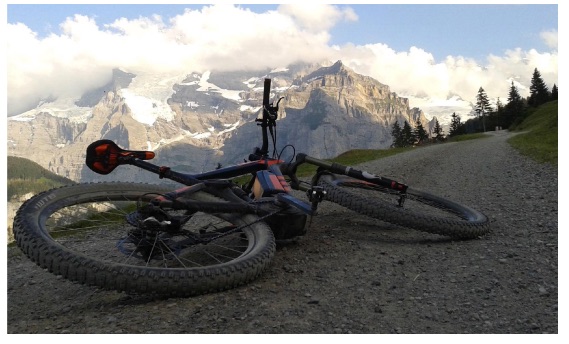 Speaking of things being different, the whole mountain takes on a totally different feel in the evening. The last train down from Kleine Scheidegg is at 18.30, so the thousands of tourists that are there by day had long gone by the time that I arrived there, so I was left to have the whole mountain to myself, save for the constant, but distant, clank of cattle bells.
The mountain also comes alive with previously unseen wildlife in the evening, groups of Ibex appeared, Marmets, countless types of birds, that I didn't even know were there. The birds were certainly not too appreciative of my presence up there though.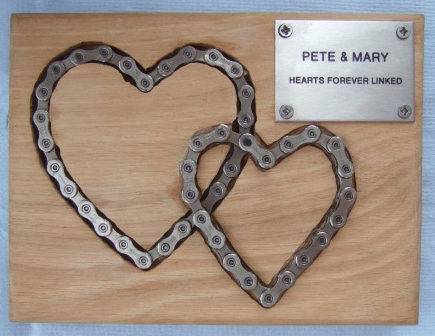 With the location finally found, I placed the memorial plaque, but for some reason the event felt very flat and deflating for me. I don't know what I had expected, but sadly it wasn't that. Feeling disappointed, I decided that as I had come this far, I might just as well head higher up. That decision was to be both the highlight of the evening as well as the whole holiday. I rounded a corner and was greeted by the best sunset that I have ever encountered. It lifted my spirit completely and I suddenly felt what I had been missing.
I quickly made my way to the Mannlichen viewing platform to watch the sun go down. I was stunned to see that the two lakes, Thun and Brienz, first turned bright red and orange, changing to a bright white. Watching this happen in the complete and utter silence that the mountain afforded will stay with me forever. It made the evening complete and I'm not ashamed to say that I shed a tear.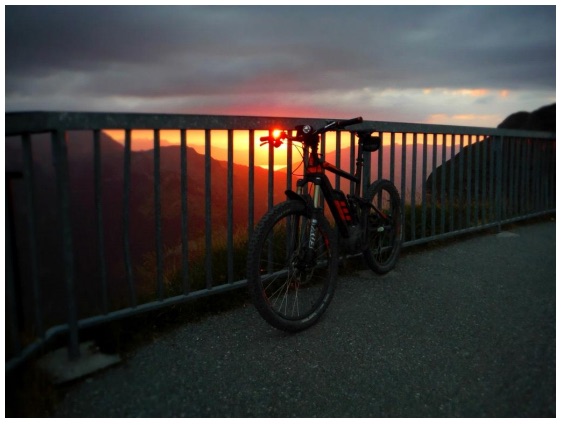 At about 9.00pm I decided that I had best start to make my way down the 10.5 mile descent, heading back to civilisation. Knowing the temperature can drop very suddenIy, and even more so when riding down, I put on an two extra layers of clothing, which I was pretty grateful for on the way down. My cheap and cheerful Cree lights and Fenix BT20 light proved to be more than up to the job of tracking the very narrow mountain pathways that I have so often walked. But, as this was the first time that I had ever cycled the route, I hadn't realised just how narrow the tracks actually were, or even noticed the great drop to one side in places. It took a fair bit of concentration on my part and I was glad to get to the wider pathways slightly lower down.
I was still recovering from my pre-holiday crash; elbow pain set in quite early on in the descent. This in turn meant that I dragged the rear brake more than I should have done and it wasn't long before brake fade set in. This was no fault of the KTM's superb Shimano XTR brake set up, and was just down to the way that I was having to ride.
Oddly, I prefer riding at night time; I made quite a respectable time going back down, but did pay for things on the last 1.5 miles when it came to the very steep sections – my forearms were very pumped, so I had to stop twice to relieve the tension from my arms and wrists.
The ride had also been pretty tough on the Bosch 400wh battery, with only one bar of battery level remaining after the 10.5 mile climb. I'm 49 years old, weigh 75kg, and previous accident aside, consider my self to be reasonably fit. I only state that to give an indication of what can be expected from the system, when really put to the test.
Overall, both the KTM and the Bosch system impressed me. I was glad to have chosen both products.
I'm heading back out there again next year and I'm already planning some pretty epic rides.
Thank you for reading."
Our thanks to Eddie PJ for sharing his story.