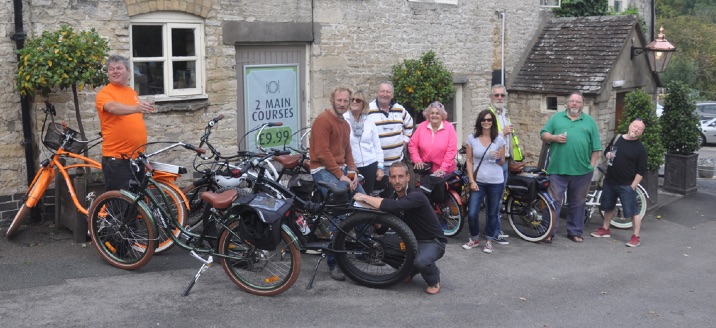 New for 2015 is an electric bike trail that takes you on a 25 mile cycling route around some of the most stunning parts of the Cotswold countryside with the minimum of effort and maximum of fun.
The newly launched trail is the idea of local business director, Daniel Robinson, of Pedego Electric Bikes.
Starting and finishing at their headquarters in Stroud, participants hire Pedego electric bikes for the day and follow clues along a beautiful route, which allows for lunch and refreshment stops at some fantastic rural pubs.
Divided into clear sections, the Treasure Trail is carefully planned to provide an enjoyable balance of time to cycle and enjoy the scenery as well as periods to look out for answers to questions.
Hills and distance need not be an obstacle for anyone to complete the trail as the electric bikes take all the strain, freeing riders to enjoy the route with ease.
The bikes are easy to operate but full training is provided in the morning, with tea and coffee, to ensure that you're confident before you set off for the day.
Safety equipment such as hi vis vests and helmets are included with the hire as well as a Treasure Trail booklet.
Taking you through idyllic villages and breath-taking countryside, the trail itself involves following clues and making observations, with a few cryptic questions thrown into the mix. It can be approached either competitively or at a leisurely pace as desired. Either way it's an enjoyable way to spend a day as a couple, a family or in teams, with friends. It would also make a great team-building activity, birthday treat or fun addition to a stag or hen weekend.
The cost of the Trail, including bike hire, is £35 per person and after briefing at 10am it can be completed by around 4pm (allowing for lunch and refreshment stops.)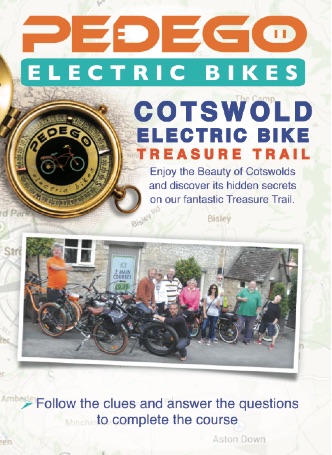 You can find out more at www.pedegocotswolds.com/electric-bike-hire by calling 01453 883261 or email treasuretrail@pedegocotswolds.com