Garry and Linda Ellwood share their story of new-found cycling adventures with Pedelecs.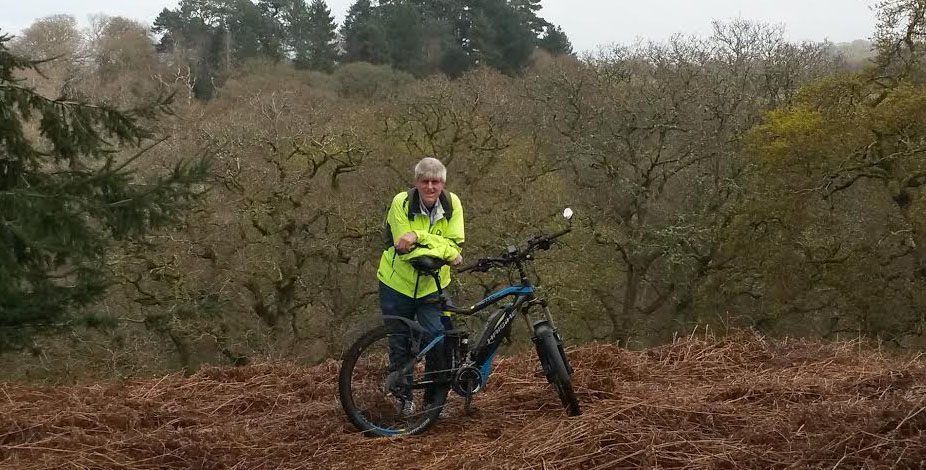 A full suspension Haibike electric bike may not be most people's idea of a 65th birthday present to themselves, but I'd be the first to agree I'm not your average 65 year old.
While that birthday will be upon me next month, I also have an adrenaline-loving and super fit 39 year old son, Scott, who rides a combination of bicycles in his home county of Somerset. A second cyclist son, Dale, lives in Lincolnshire, not quite so far away from our own Cambridgeshire home.
My wife, Linda, and I both enjoy cycling too and we've been using our old Claude Butlers more in recent years – trying to fend off the ever-advancing years – and taking them on holiday when visiting our son in Somerset was most enjoyable… except for the hills.
You can probably see that if I wanted to ride a mountain bike on Exmoor or the Quantocks at my son's pace (let's face it, it's no fun having to wait for the old man) I needed help! My wife, a couple of years younger, was resigned to walking up the steepest hills while pushing her bike alongside.
Aside from those regular catch ups with our family, I also wanted to take up mountain biking with other friends in the Somerset area that also 'venture into the hills' – I didn't want to miss out.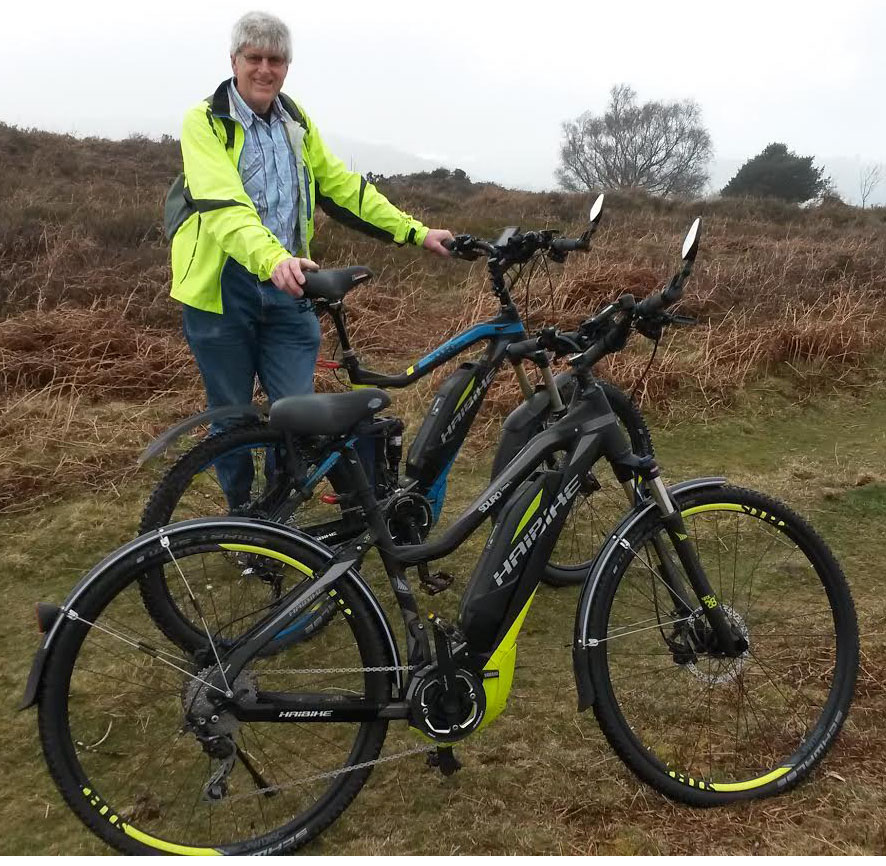 It slowly dawned on me that for Linda to get up the hills or for me to travel cross country and keep up with younger people, we needed to go electric.
The penny dropped that a local friend was continuing to ride effortlessly to, from and around town on an old e-bike; we always remarked how well he gets about. Like all converts, he was keen to let me ride it and tell me all about it.
There was no denying that the money I was proposing to spend on a pair of pedelecs was significant and I did face opposition from my wife initially while we pondered the justification from a 'life experience' approach to thinking.
My main thought was that a pair of electric bikes would change the way we thought about bikes – and crucially where we use them. I felt sure the added power would open up new opportunities for us.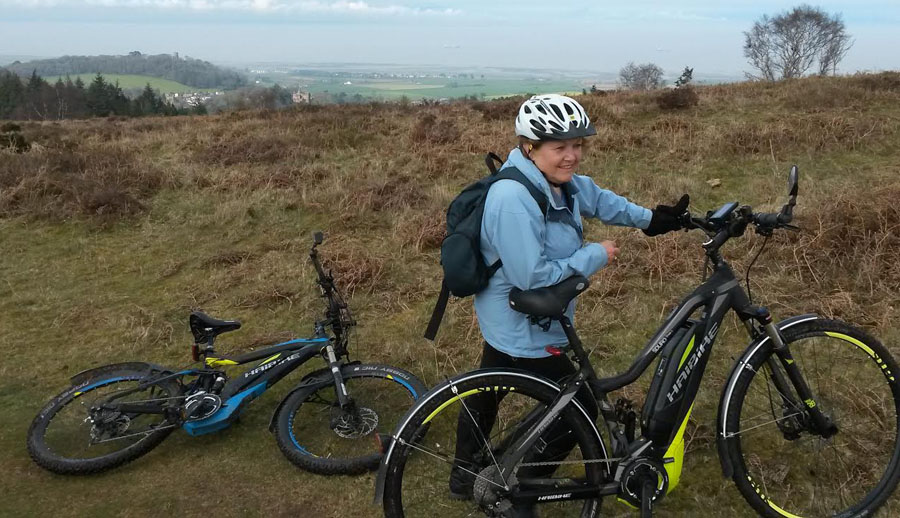 To explore all options however, we did look at lighter weight 'ordinary' cycles and in the course of that tried out some very expensive mountain bikes. But it was obvious, if I wanted to ride with my sons, I needed more than just a lighter bike.
The next step was a trip to our local electric bike specialist, Electric Bike Sales (Electric Transport Shop). Chosen because not only were they just up the road in Cambridge, but were there for their customers before, during and after purchase. As we still knew next to nothing about electric bikes, it was a good place to start.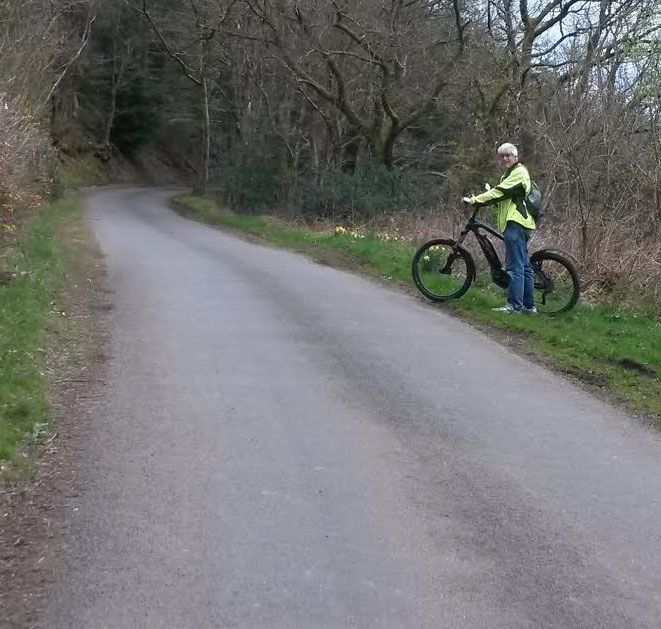 After working our way through what we wanted the bikes for, setting the budget and trying a few, I ended up with an sDuro AllMtn RC for myself at £3100 and an sDuro Cross for Linda at £1950.
It was important for me to have the same engine and battery so we could swap batteries on longer rides if necessary. I knew I would always use less assistance than Linda, so we now know that Linda running out of battery charge won't be an issue (unless we go several days without the ability to charge the them).
Our first trip out on the bikes was on a wet and rainy Wednesday on the Quantocks in Somerset about 8 weeks ago. Linda drove us to the top of Staple plane, a four mile uphill journey that left us at the start of one of Scott's favourite rides. We then started a steady half mile uphill ascent on rocks, stones, shale and slippery grassy banks – the sort I would never ride even an old bike over, never mind a brand new one!
Keeping the power setting to its lowest level (it has four) I was able to hold on to Scott without trouble, and if I went up one notch I could easily overtake him.
This was very exciting for me not because I was keeping up, but because I could see the potential of my purchase. The justification in my belief that this bike was indeed going to be a game changer! It was going to, in fact it already was, making the impossible possible!
The next two hours was hard riding, keeping the setting low, working hard, fighting for breath, using every ounce of energy I had; jumping, lifting the front, manhandling the bike over various obstacles at various speeds. Trying to keep up was demanding, not through lack of energy or help from the motor but lack of nerve. I've ridden my superbike round several tracks at speeds over 140 miles an hour, but the downhill sections, with some very technical over tree roots and rocks and fallen branches, tested my nerve and I'm afraid I was left trailing.
This felt completely new, I had nothing to compare it to.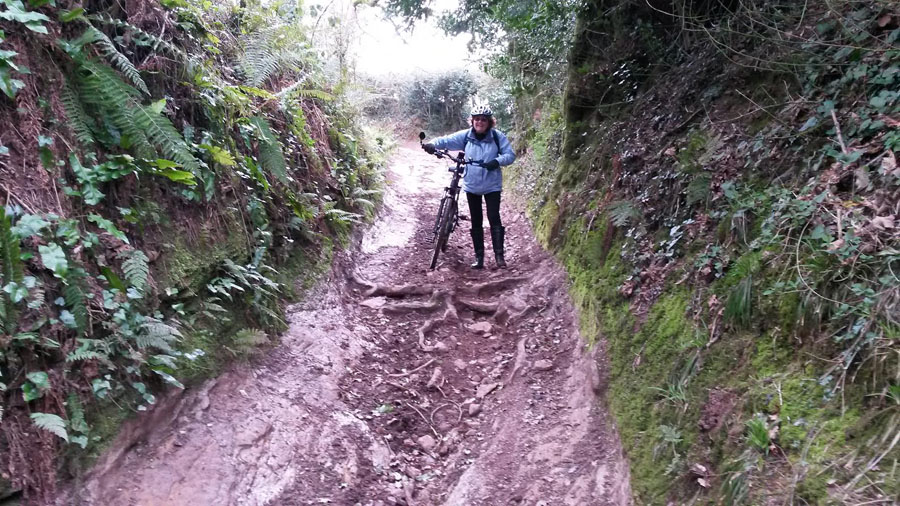 The opportunity for serious injury was ever present, perhaps more so considering my age, but as I rode with my glasses spattered with rain and water running down the track, back wheel sliding and fighting for grip and the four foot drop to the rock-strewn stream inches away from my wheels – I knew I had made the right decision.
Although the RC is heavier than an unpowered bike, the way it handled was impressive, I loved the way I was able to manoeuver it and the weight made it more stable. Although Scott did have to wait for me on occasions, this was not through lack of power, I did fall and hit my head – glad to say the helmet worked and it was the first time I had ever worn one incidentally!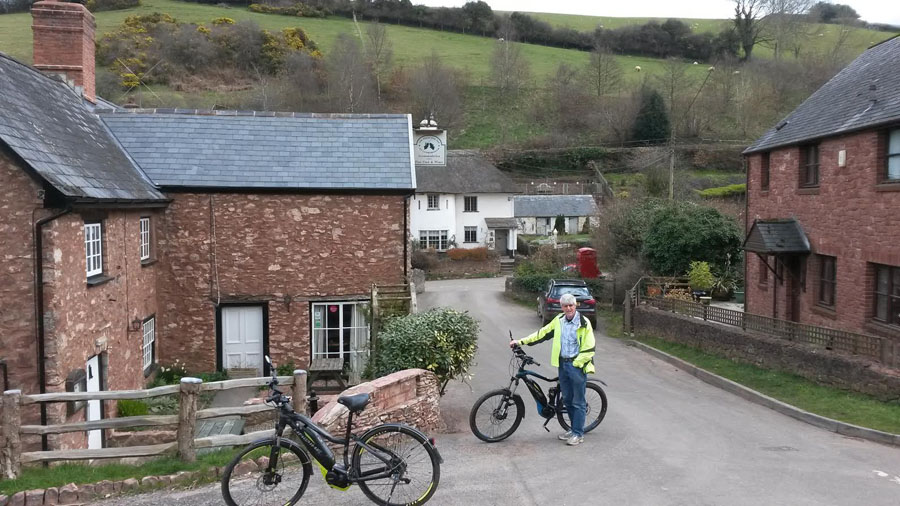 So that was my first time; my son has tackled it many times and he is good! Even with practice I probably won't keep up. But I will get better!
All in all, a great ride and I couldn't wait to do it all again.
The pictures are of Linda and I riding though the lanes, woods and hills of Exmoor on our most recent trip down to Somerset a couple of weeks ago. Some of the lanes are very steep but views out from the top of the hills are breathtaking – there's no way we could do that on ordinary bikes.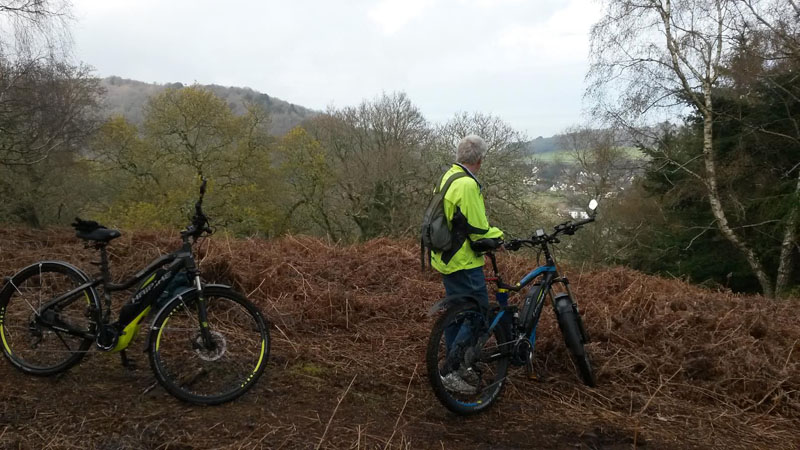 Now that the wheels are most definitely in motion, and with a little help from my RC, I don't intend on being an average 70 year old either!
Dealer contacts by area:
Electric Bike Sales Cambridge
Electric Bike Sales Bristol
Electric Bike Sales Oxford
Electric Bike Sales York
Electric Bike Sales London