Show veteran, Wisper, used this year's event to launch its new e-MTB models, the hardtail Wolf and full-suspension Wildcat come in alloy and lightweight T700 UD carbon models, both designed in-house at Wisper's Kent HQ.
The Shimano E8000 e-MTB drive unit, powered by a 500Wh battery, has been designed for powerful climbing and handling. Offering a shorter chainstay and a maximum output of 70Nm, the e-MTBs are the first mountain bikes from the Wisper stable to open up a "whole new world of adventures and experiences to the rider."
David Miall of Wisper told Pedelecs that the demo e-MTBs proved popular on the test track: "Our two eMTBs clocked up nearly 250 miles over the 4 days on a track that can't have been 150m long!"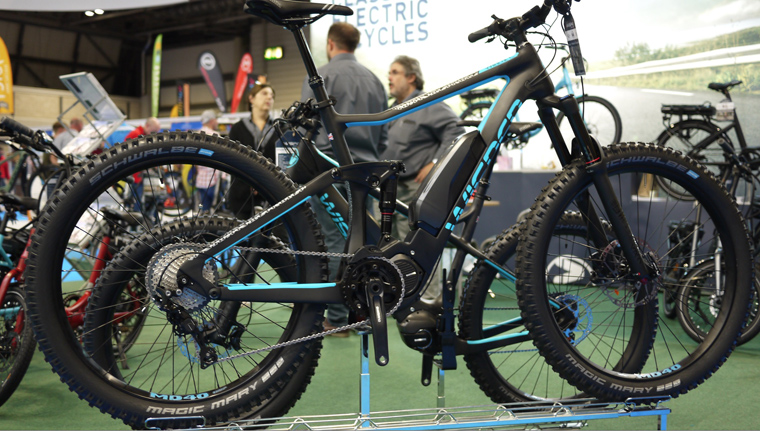 New to the Cycle Show – and the electric bike market for Autumn 2017 – is the SWYTCH conversion kit.
Oliver Montague's curiosity in electric bikes piqued while working as an intern in the electric vehicle department of Jaguar Land Rover, when fellow cycle commuter and manager arrived sweat-free despite cycling further to work than Montague, courtesy of his Powabyke.
Since his days of studying electromechanical engineering at Oxford, including walking off with the top prize for his invention of a new type of nanomotor, Montague worked both as a sustainability consultant while building electric bikes, initially part time and then moving on to found Panda eBikes.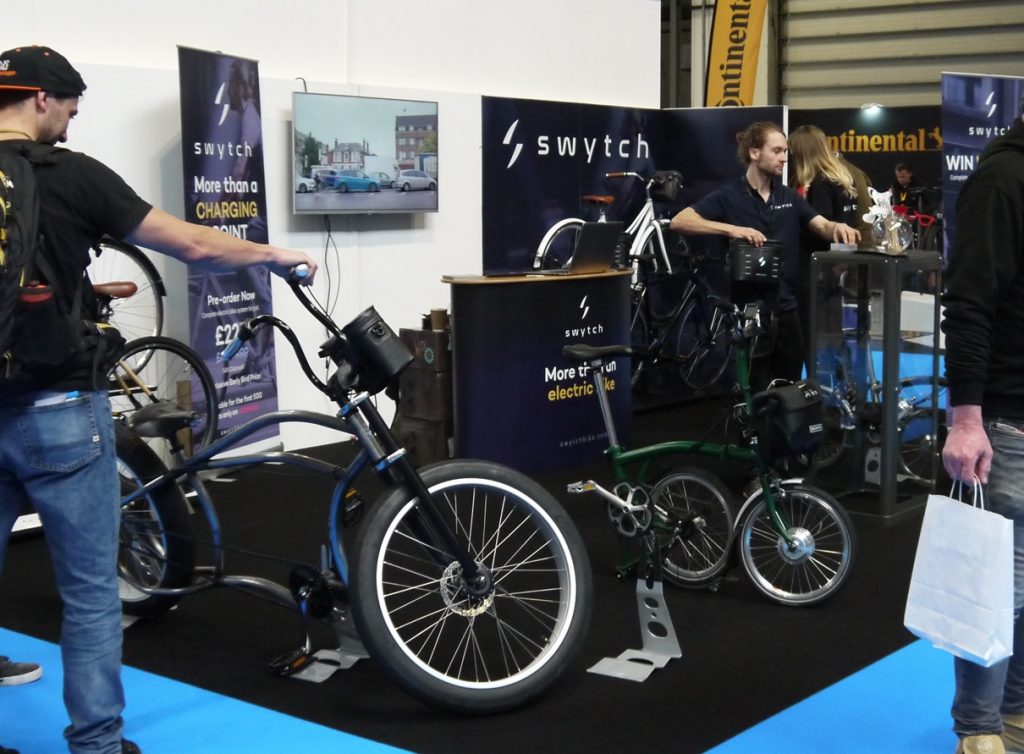 The new SWYTCH is his solution to what he sees as key issues. Montague explains: "What I've always really wanted to do is shake up the e-bike market and solve the 3 main problems: the expense, the weight and the way they ride."
He says: "SWYTCH is the answer to all of these problems – the bike still rides like a normal bike as the added weight is just 1.5kg and the bike itself is virtually unchanged because other than a low drag hub motor, everything else (battery controller, display, light, USB/charge output) is all compacted into one place and is easily removable. So you can instantly convert it back into being a regular bike and use it like a normal bike. So the annoying argument of "oh it's lazy" no longer holds true – if you want to exercise, you use it like a bike, if you want to just get from A to B instead of using a car, then you put the power unit on. The power bag only weighs about 2kg and so even when you "SWYTCH on" and have electric power, it's still one of the lightest e-bike systems on the market. Note the 50 mile power bag is 3.2 kg, so a little more, but still very manageable and much lighter than equivalent options."
SWYTCH will also offer a battery recycling scheme whereby customers can return the battery to be regenerated at the end of its life, in exchange for 50% off a new battery. Keen to continue the cause of being environmentally friendly, Montague adds that the light weight of the kit "not only saves on cost, but also saves about 7Kg of C02e that would have been burned to make the material."
While the SWYTCH power bag is easily removed from the bike for security, minimal cabling and a small lightweight hub will also put the bike 'below the radar of thieves' says Montague.
Montague says the company had "massive interest at the show from cycle share and hire schemes." He explains: "You can fit any number of bikes with the motor wheel, connection bracket, and pedal sensor, which are all then 'electric ready'. After that, the power units can be hired or loaned to those wanting to ride electric".
More details on the pre-order $299 price for the first 500 units can be found here.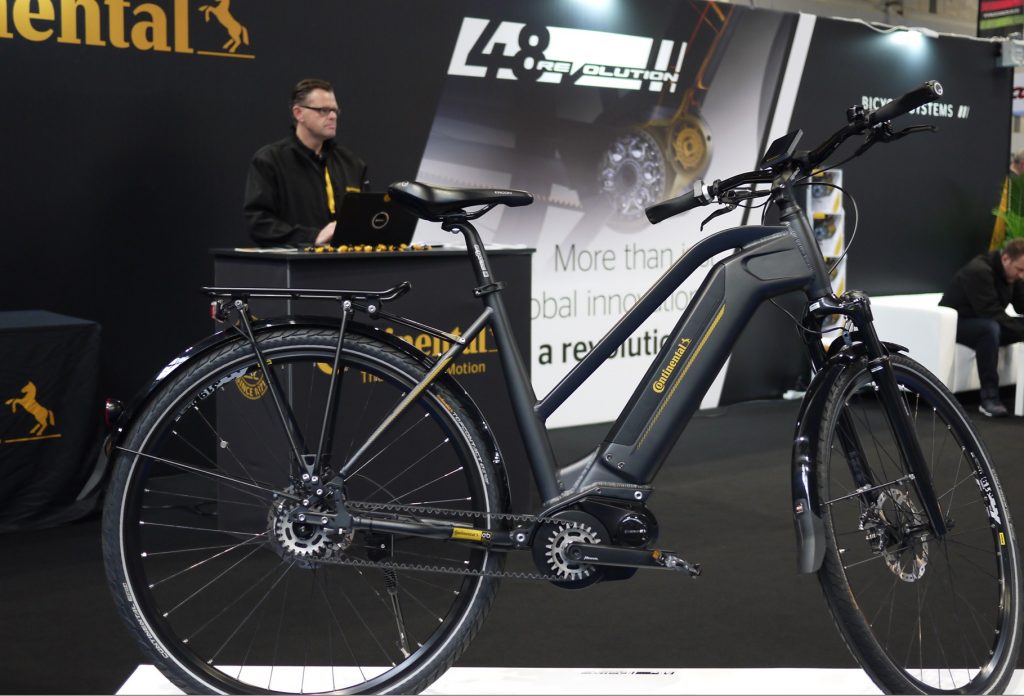 Continental's stand marketed their new 48V drive units for electric bikes. The 48V Revolution is a mid-motor with integrated NuVinci stepless automatic transmission. A spokesperson for Continental told Pedelecs: "Feedback from those testing the 48V demo bikes was very positive, citing a very comfortable and smooth riding experience with the automatic shifting. There are lots of passionate cyclists in the UK and we're seeing increasing interest in electric bikes."
One of Cycling Weekly's top five electric bikes featured on the Juicy Bike stand. Introduced last year, the popular Juicy Roller was on display amongst the other classically-styled Juicy e-bike models this year.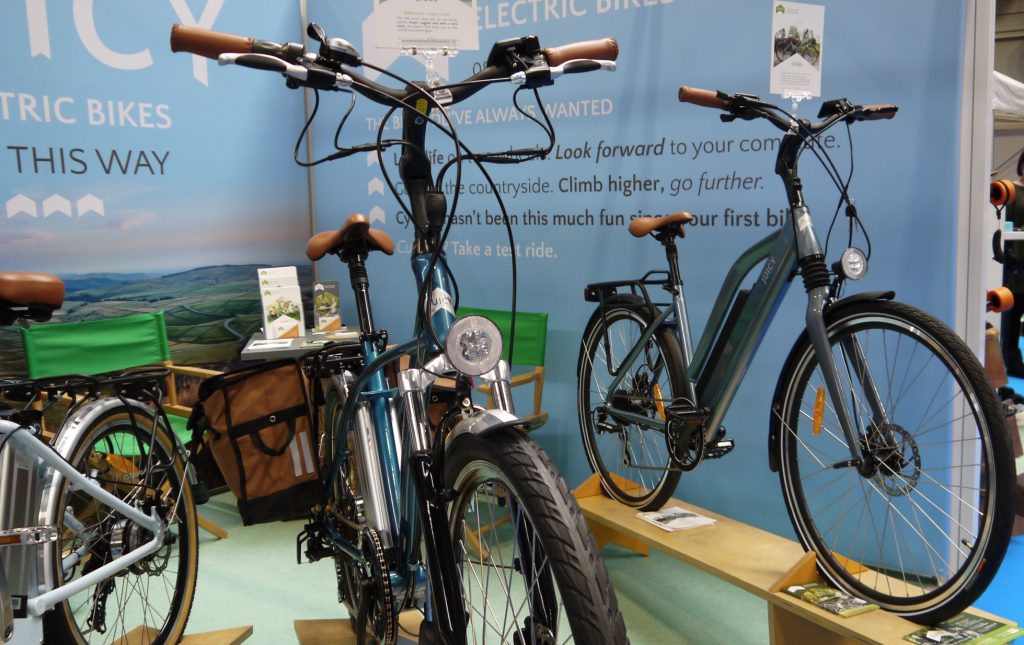 The Bosch indoor e-MTB test track was once again constructed by track builder Kye Forte. Cube, Cannondale, KTM and Mondraker models were lined up for visitors to take on the mud, ramps and banked corners.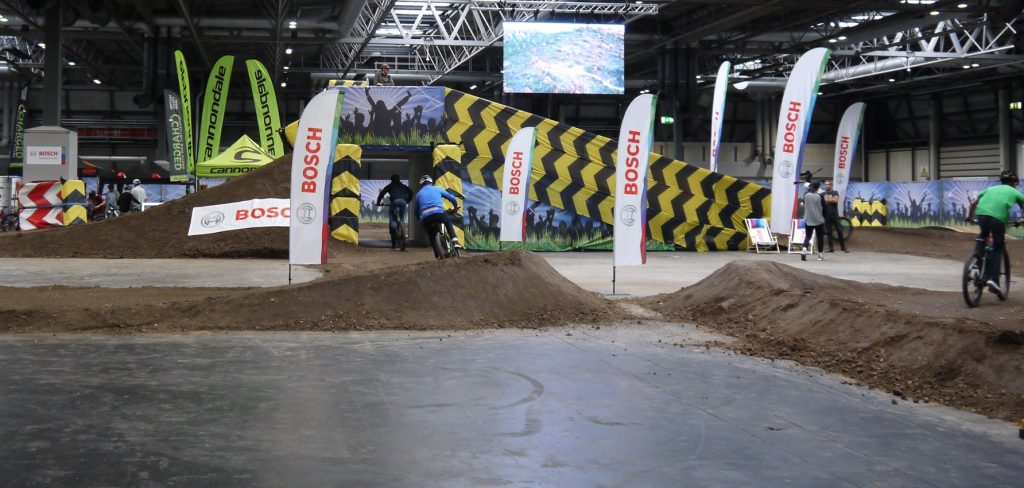 While Hall 12 is traditionally home to the dedicated e-bike zone and outdoor test track, floorspace elsewhere displayed numerous electric bikes from brands such as Cube, Bianchi, Whyte, Haibike, Cannondale, Mondraker and Kross.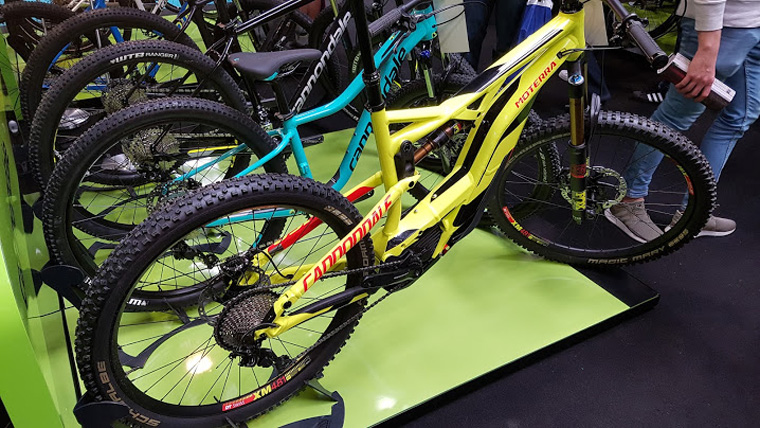 Cytronex first exhibited their C1 prototype at last year's Cycle Show. After 8 years of development, this retro-fit, 'water bottle' style conversion kit was put into production in May of this year. Mark Searles explained some of the unique features of his product, both designed and built in the UK: "The Cytronex C1 maintains a constant power level via our own British sine wave field oriented controller, which we designed from the ground up. This provides a very smooth, quiet ride and allows the rider to select an exact power level to match anyone they want to ride with. The bottle also has a "shake" feature – if you pick up your bottle and cannot remember how much charge is in it then turn it upside down and back upright, it will display the current charge level."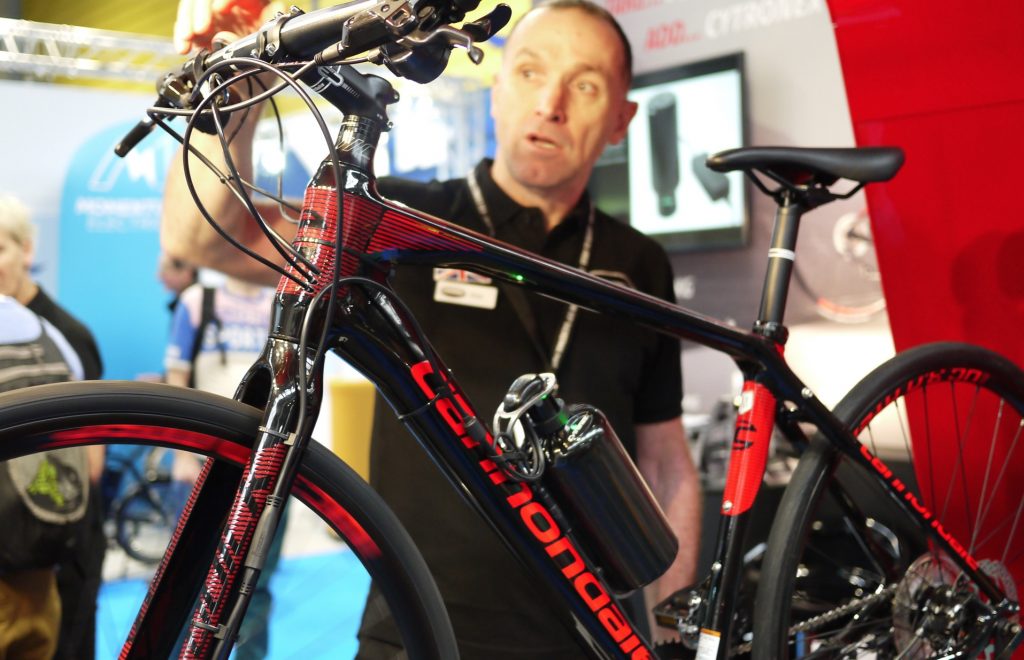 "One of the key components is the Cytronex Sensor, which I invented for C1 and has international patents already granted. The sensor points at a rear sprocket and replaces the 3 sensors you would normally need to build an electric bike that complies with regulations – a pedal sensor, a speed sensor and one or more brake sensors. It can be fitted without special tools or expertise. The sensor detects the movement of a rear sprocket, detecting forward pedalling, bicycle speed and variations in riding intent, plus the high sensitivity means C1 does not require a brake sensor. Our app allows the user to set their power levels and includes a diagnostic tool which can send a log directly to our server. The C1 adds just 3.6Kg to a bicycle and can be fitted to almost any bike."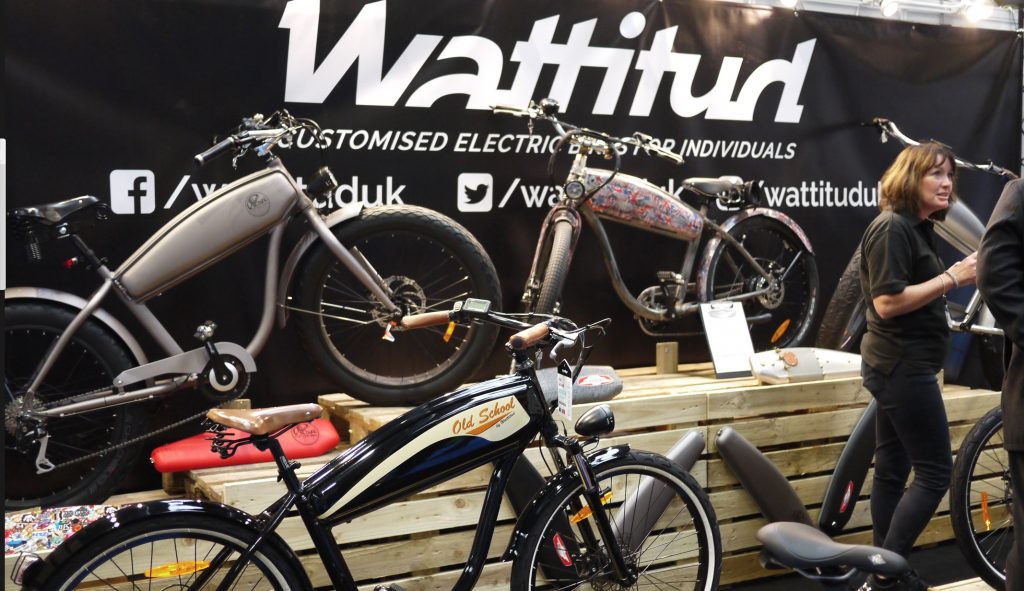 Wattitud's first show lined up their 250w Vintage Cruiser models, which continue the aesthetics trend of motorcycle styling seen on brands such as Otocycles café racer and Electra Wheel's Ruffian model, also showcased.