It's not easy buying an electric bike.
What to buy? What's the difference between a cheap Chinese machine and their more expensive European counterparts?
Add to that a general lack of understanding of what's legal, what's not legal.. and what about licences, insurance, helmets? Battery types and myriads of other technical details make the decision-making hard enough. But when mentioned to partners, family and friends, all similarly uninformed, but all believing they're 'not proper cycling', the glimmer of interest can soon be lost.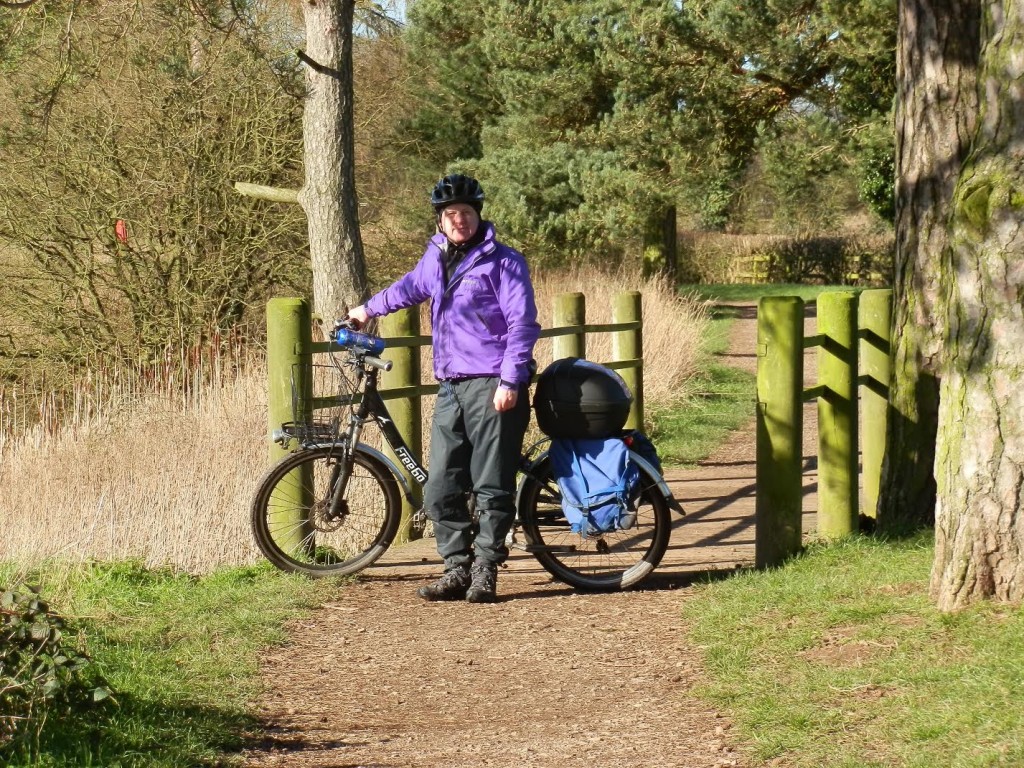 What follows is a summary of my route into electric bikes and what I'm still finding out along the way, hoping it might help someone completely new to the subject.
As far as I go, I always used to cycle regularly and have had several good MTBs and road bikes, but at 50 I found I was no longer riding frequently, with most trips being made by car or the motorcycle if the weather was fine. My wife, Anne, once a keen rider, also found herself cycling less over recent years and followed suit in climbing more into the car or onto a motorbike.
Living three miles from the nearest shop and feeling that local trips are both more suited to and enjoyable by bicycle however, I felt electric bikes might have a place in my life.
The first obstacle was to promote interest at home, so despite derision from three teenage children, I booked Anne and I onto a test event at a local electric bike shop, but with my wife going under protest. Once there, following some initial familiarisation with the bikes, we were led out in a small group comprising ourselves, a lady new to cycling as well as a chap in his 80s… on a 25 mile route.
I would say that right from the start of the ride I could see that this was a machine I would use. It really did have all the pleasant aspects of cycling without the effort and strain.
Anne was also impressed and within those two hours was converted to their potential. The thing that swayed her most was the moderate effort required and the inclusive nature of the group given the range of abilities, but all enjoying the same activity on equal terms. I now had my wife's approval to look further!
So with that, my next obstacle was buying them – and with all the unknowns I open this story with, there was a lot to consider. My wife and I wanted to cycle together, so that meant buying two, for which any reasonable pair of Chinese machines come in at around £1,800–2,000. I didn't want to spend that much initially as I knew so little about them. Added to that, I have often found in the past that my view of what I need changes after a short time with something I'm new to.
With this in mind I kept an eye on Ebay. A pair of old Powabykes with lead acid batteries turned up, being sold as a pair for £180 on a 'Buy it Now', which I promptly did. Some servicing later (replacing gear cables, tyres and similar consumables costing about £450) I had two serviceable and presentable bikes.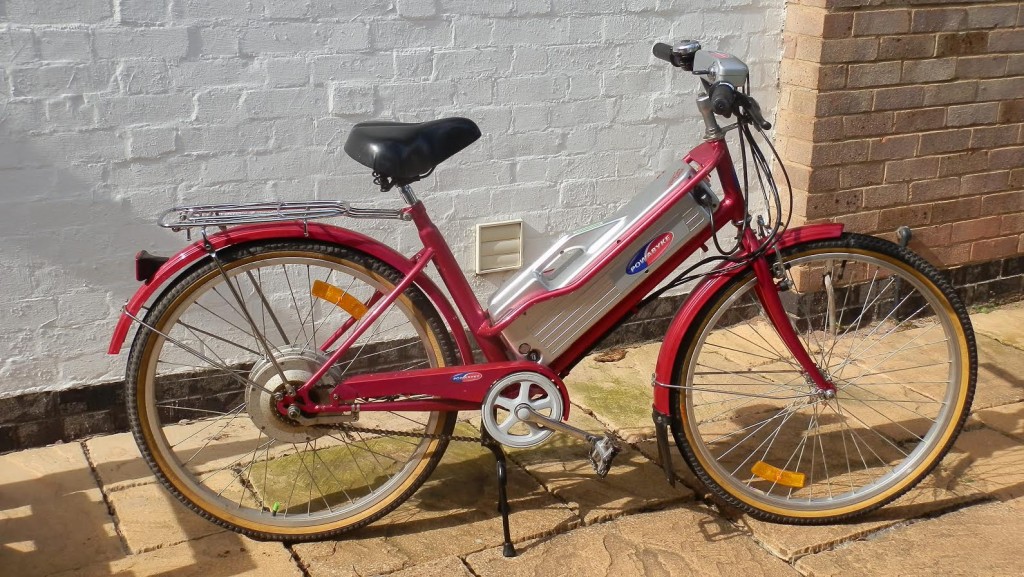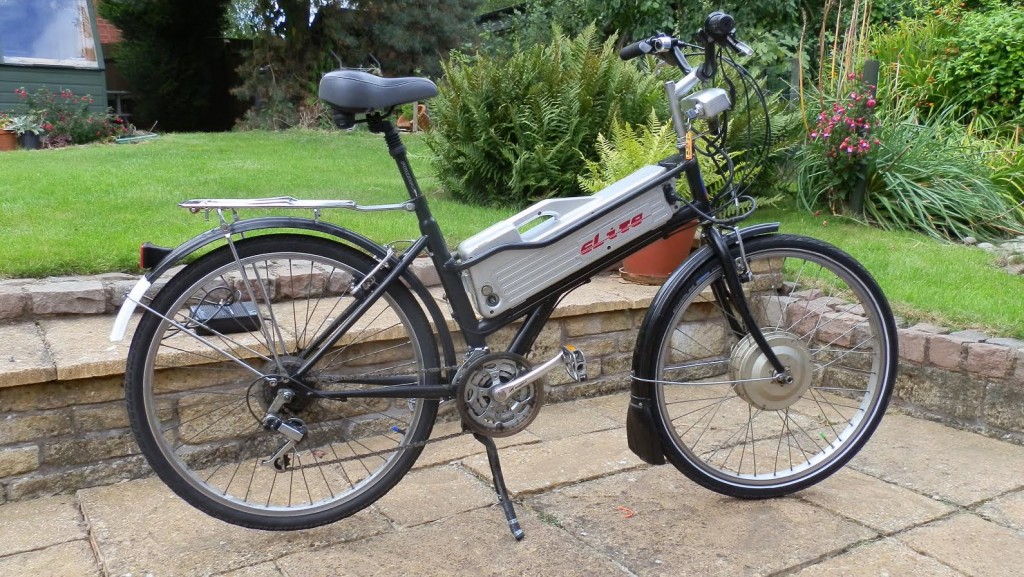 We soon started to use them regularly and found we were using them in preference to our motorcycles. Where we would previously typically visit weekend shows and events within a 80–90 mile radius, me following her and talking through an intercom, we now went for rides both locally and into the city, visiting cafés and pubs and going to other local events.
Both of us recognised we were effectively doing the same things as we did on the motorcycles, enjoying the time together, but we were starting to feel fitter too.
The key points that we learnt with these bikes were:
– At 5' my wife found the combination of the very heavy weight of the batteries and 26" wheels of these bikes cumbersome in traffic or around congested pedestrian areas.
– We enjoyed the low value and being able to leave them anywhere without worry.
– That however much we loaded them, the pedaling effort stayed the same. With baskets and panniers we could carry about £60 of average grocery shopping between us.
– Pub stops were great, no one was driving.
After a few months of weekend use and having covered probably 5-600 miles we felt we knew what we were looking for in replacements and were ready to put a bit more cash in. However, we didn't feel we wanted to buy new ones which we would have been too worried about leaving unattended and might not use enough to fully justify the investment, so we looked for a recognised brand of e-bike that we could source spares and repairs for locally.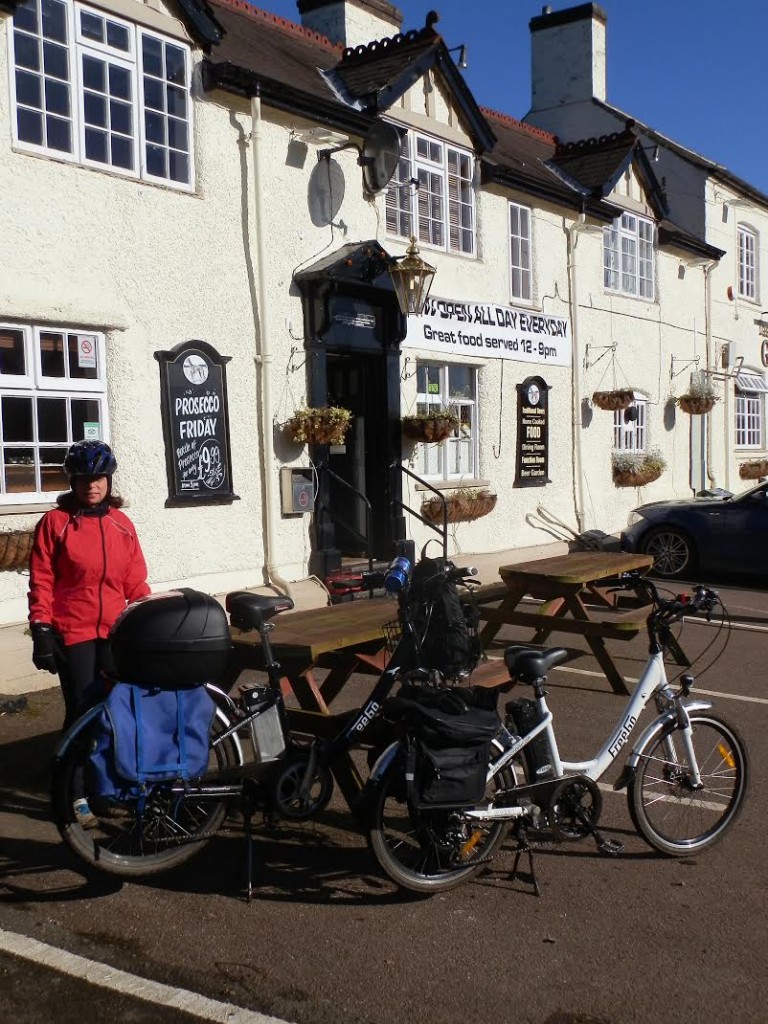 Again, on that well known auction site, a pair of 'Buy it Now' Freegos came up for sale so they were quickly bought. Although some distance away, collection was tied in to a visit to relatives in the area, which made it a nice family event. The 24" wheel 'Wren' was effectively new, the other, a 26" wheel 'Hawk' was not as good overall, but was OK and reasonably well looked after. The pair together, both unisex frames with 10aH batteries made an acceptable, but not outstanding purchase at £900.
The sale of the Powabykes more than covered all that I had spent on them, with the lead acid batteries definitely appealing to people because of the relatively cheap battery replacement costs. Overall upgrading cost us about £400.
The Freegos have been used routinely since we brought them; my wife's at least once a week to go to work on instead of using the car. I usually go with her, and then return in the evening having usually cycled on elsewhere. That makes a daily ride for my bike of about 40 miles.
I usually do a couple of other 20 mile journeys in the week, so my average use is three days in a typical week, covering 80–90 miles a week. I would never cycle that far in that time on a normal bicycle and wouldn't enjoy it if I tried.
Over the seven months we've now owned them, they have both been completely reliable. Key points I like about our bikes that make them easy to use for us have been:
– The unisex frame (step-thru) makes the heavier weight of an e-bike easier to handle, particularly when getting on and off and when loaded. I prefer it from a utility point of view to a conventional frame (crossbar).
– The rear wheel motors make the bikes easier to lift the front to get up kerbs and through narrow cycle gates on some cycle tracks, as you can lift and guide the front and drag the back over/through. My Powabyke had a front wheel motor which could be quite cumbersome.
– They are robust; I use mine on unmade roads and muddy tracks with no problems, although I will replace the tyres with some mildly knobbly ones when the time comes.
– The throttle is really useful for negotiating really tight turns like pedestrian/cycle subways.
– Being relatively cheap, I use it in any weather and without cleaning it too regularly. I also don't mind leaving it (albeit locked) in town centres etc. It's got me cycling.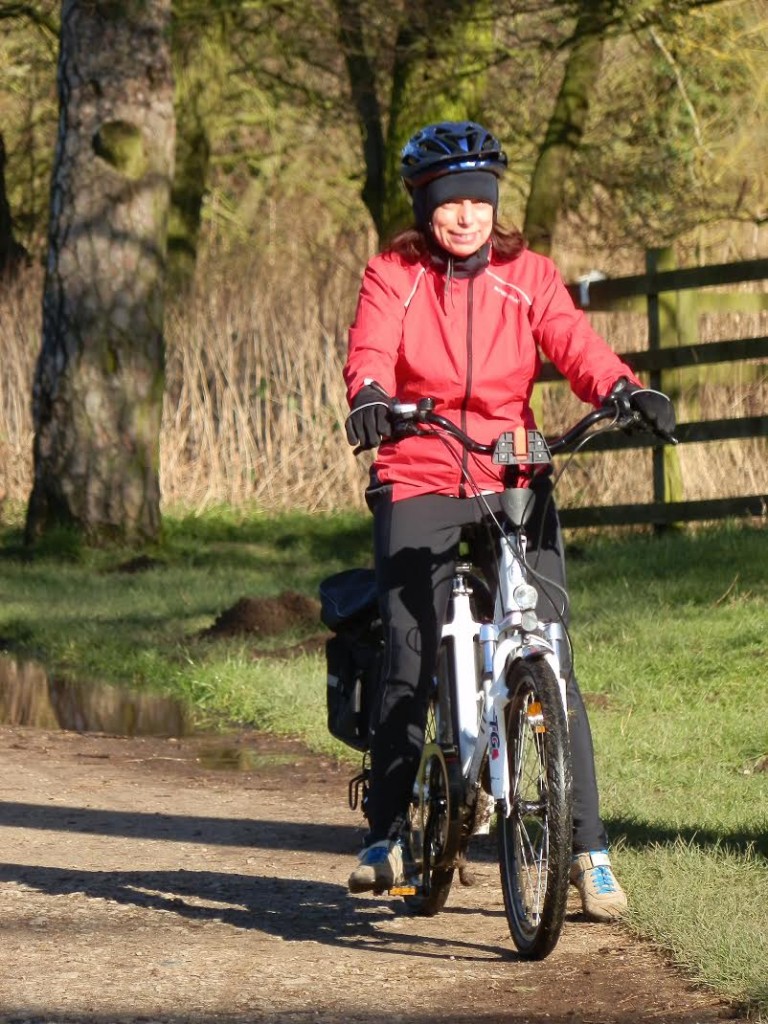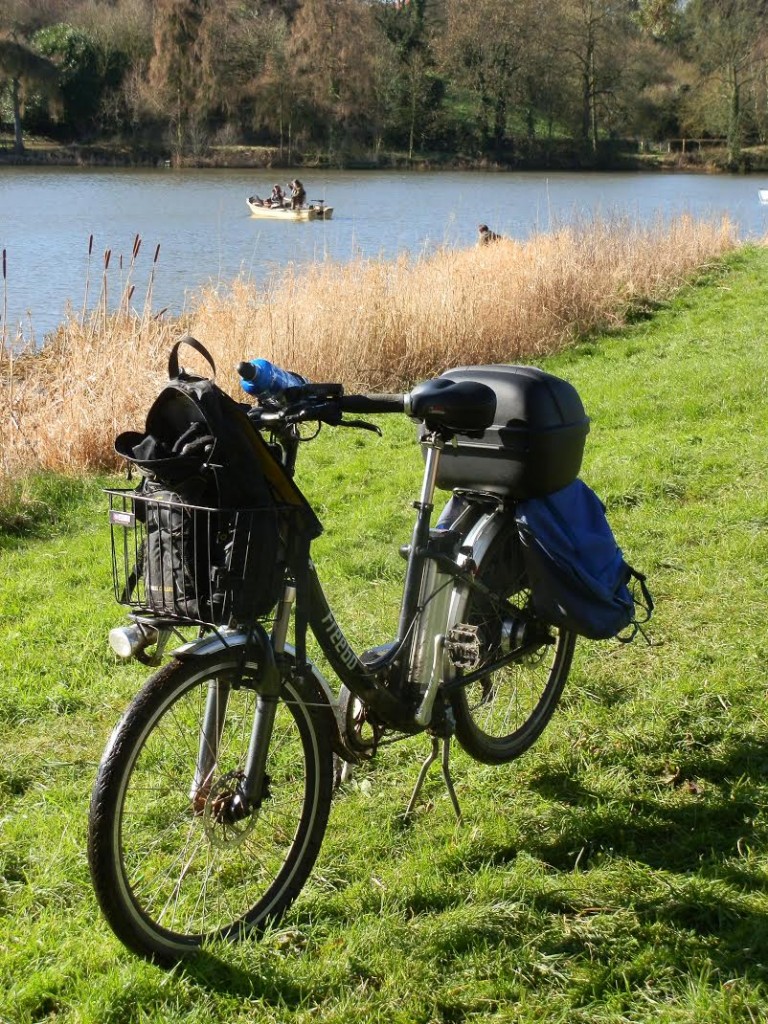 The lithium batteries are far better than the lead acid batteries we had before. The power stays consistent and the range you expect can be relied upon. While headwinds do affect the battery range, that range is usefully extended by adjusting the controller to different settings for different terrain. Setting 1 is good when on heavily-used shared pedestrian cycle ways in the city, at busy times. Setting 2 is what I generally use and setting 3 just for steep hills. I keep the batteries in the house when the weather is cold and clip it on as we leave to minimise the effects of temperature in reducing the battery's performance.
I've found that any town journey that involves queuing, but would in traffic-free conditions take about 20 minutes in the car, will take about 45 minute on the bike. But, at peak times, it will be about the same time for either. On several occasions I know I've been quicker on the bike.
I'm saving about £20 a week just on the fuel costs. I'm also enjoying driving more as I'm doing proper journeys beyond commuting. There is also a feeling of well-being that goes beyond the physical exercise. Riding with Anne to her place of work once of week, she says the ride in is very much leisure time together and, in the same way that she hasn't thought about the working day ahead of her on the journey there, she also mentally leaves work behind the instant we're pedalling off back home too.
With the broader picture, I'm really impressed with the cycle route developments that have taken place since I last regularly rode 20 years ago, with routes today generally pleasant to use.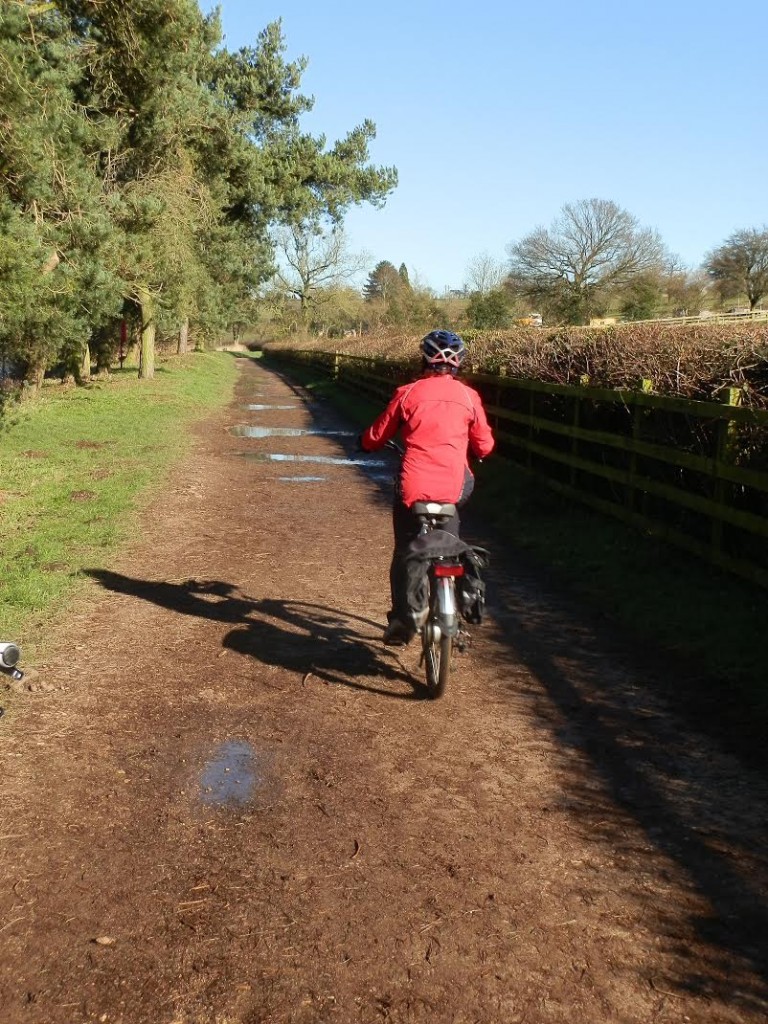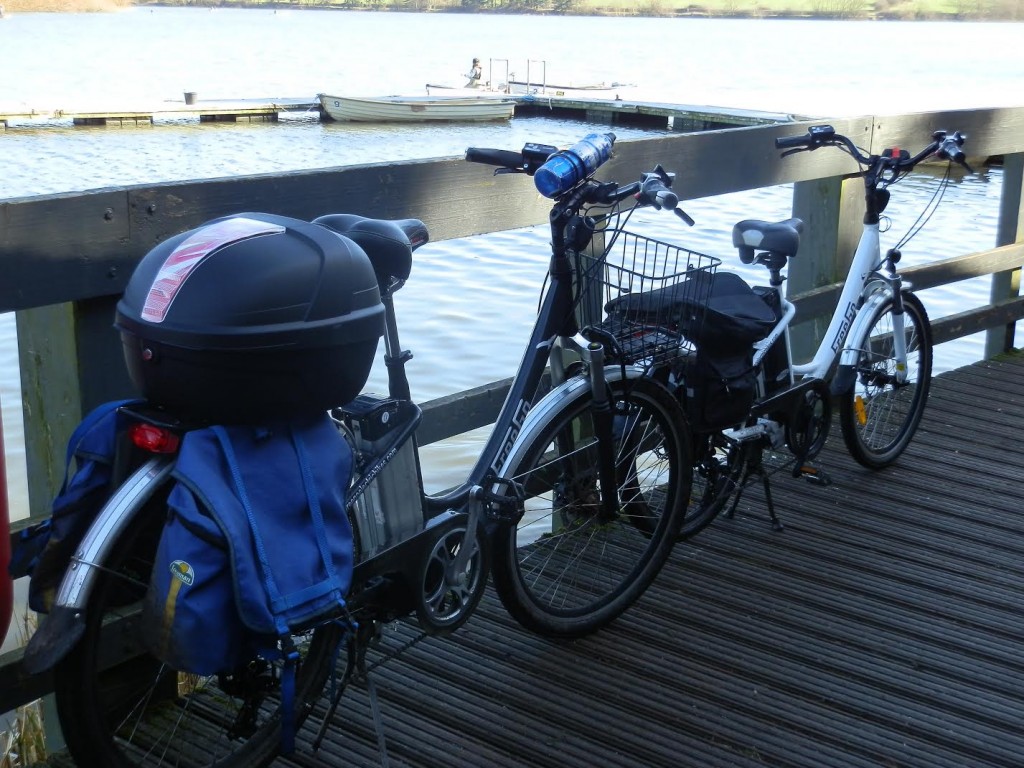 I've also found to my surprise that I'm invisible! Certain types of driver will for example queue across a cycle lane and block my progress, when they have no chance of joining the traffic flow and will then studiously ignore my glare.
Others will go to desperate lengths to overtake me so that they can queue again immediately ahead of me, giving me the opportunity to swerve, brake and filter by. On the whole it's not worth getting upset about, because there are so many drivers who behave like that. It's all very odd and really quite sad.
Overall I have found e-bikes to be fun, cheap to run and rewarding to ride. I brought it to replace the car, not my bicycle. I hoped to gain some physical benefit – and I have. My cycling fitness levels have gone up several notches and I've lost about a stone in weight. I now regularly ride any slightly downhill or flat section with the power off and have just started cycling on a normal 700c wheeled trekking bike for those local trips that seemed too daunting before.
When my current battery dies I will buy a new bike for myself, for the battery life as much as anything. The bike is about the battery, so a good battery well cared for from the start will give me complete peace of mind.
Buying second hand is a gamble and I was lucky with mine; if the battery had been duff, my purchase would not have been viable. At my level and for the use I have, the Freegos have been perfect and I would certainly look again at bikes in this price range for future purchases.
I would say if you have an interest and are over 14, go to a reputable electric bike specialist and talk to them. Before you do, define what use and benefit you want from it and purchase for your own specific needs. A good dealer will answer all your questions and point you towards machines that are likely to suit you and your needs. Reputable dealers will only sell legal bikes, meeting current legislation requirements and meaning you can ride it wherever you can a normal bicycle.
My own experience of e-bike sellers is that they are well informed and almost without exception, enthusiastic about what they sell.
As to whether you should buy one, if you genuinely think you would use one and have a will too, then you will. My wife's words now on the subject are, and I quote: 'they're brilliant.' It's got her wanting to cycle again too.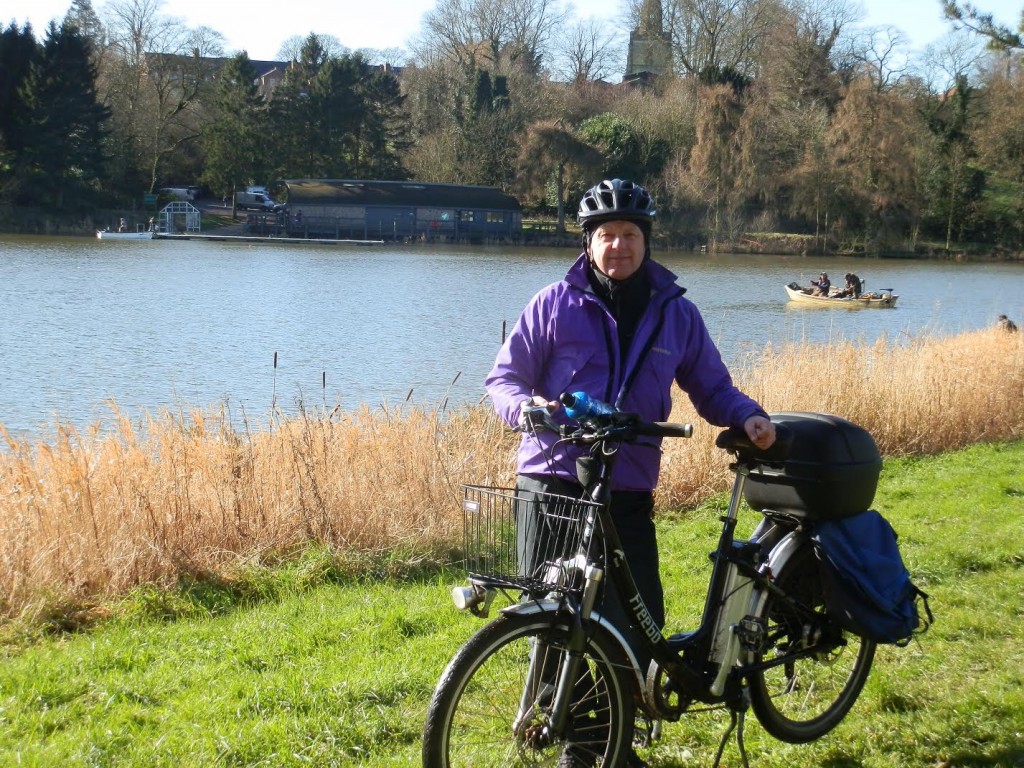 Our thanks to Pedelecs forum member Kevin Smith and his wife Anne for sharing their story to help others thinking about taking up e-biking.