Pedelecs talks to Rami Akily of CycloTricity about his background, his e-bikes and his plans to extend UK manufacturing to other brands.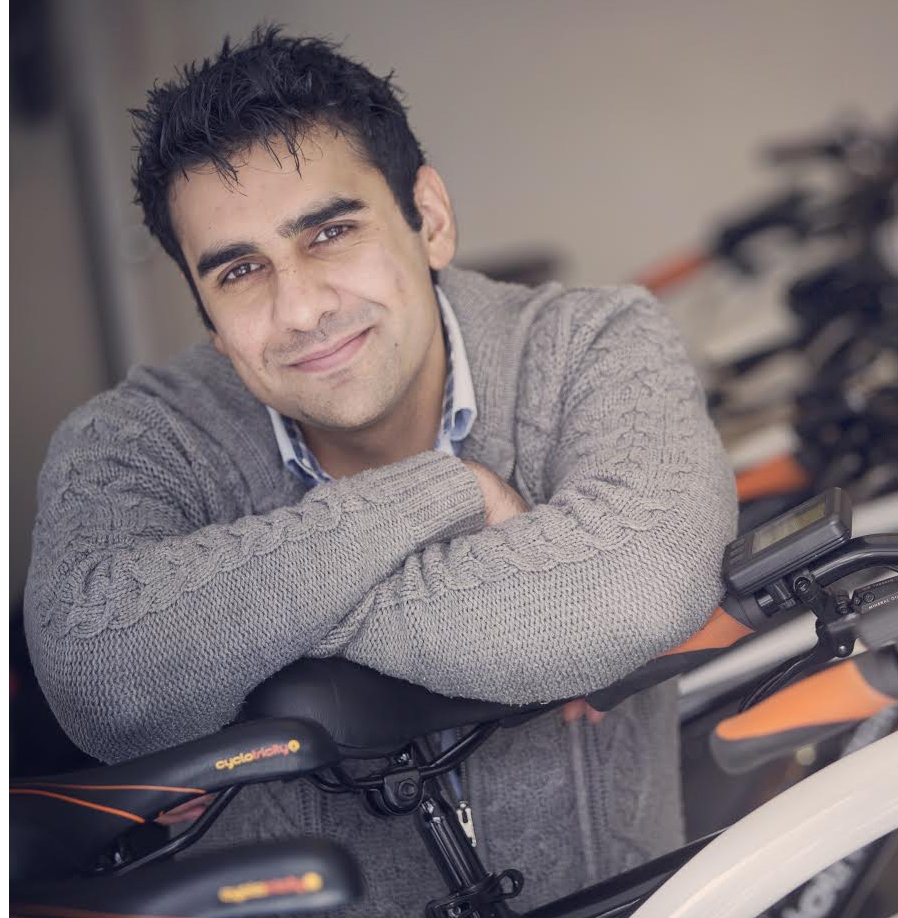 Where did CycloTricity begin? Can you tell us about your background and where your interest in electric bikes started?
Kind of like the typical Californian story, CycloTricity started off right in my garage! My background (or shall I say bike-ground) is physics. I've always loved research and the excitement of working out new techniques, or discovering ideas for development.
Having grown up in Sweden, I've spent my entire life on a bicycle. Not just because I enjoy riding, but because that simply was the way to get around out there. The attitude towards bikes up in Scandinavia is strictly that of transport and this objective comes before exercise or leisure.
I saw no reason why electric bikes couldn't be even more popular than regular, push bikes. Coming from a culture that sees riding as a form of transport, surely people would try to make their journeys as comfy as possible, right? Well, that was until I looked into the average price of an electric bike!
Having researched the concept further and spoken to various bike shops, it turns out that price has always been a major hindrance for the concept to go mainstream (and the cheap ones can die out due to quality problems).
I started experimenting on various components to get to the bottom of the most expensive elements in manufacturing an e-bike. My aim was to find out whether I could think of ways to manage those elements more efficiently, thereby shaving off a big chunk of the price without compromising quality.
That's how our own e-bike journey started…
What's your 'elevator pitch' when it comes to summing up what's different about CycloTricity e-bikes in a nutshell?
I think most people agree that we have some of the sexiest designs out there.
And although aesthetics is an integral part of our product development, what differentiates us more is the amount of bike you get for your money! At our price range, our dealers can even compete with the cheap online importers.. and all carefully assembled in Britain under our watchful eye.
Our philosophy is what adds that most important immeasurable factor, in that our e-bikes always embody the essence of cycling. We design our bikes in a way to ensure the ride provides the same sense of freedom that we all felt riding a bike for the first time. It's that feeling we reminisce about, playing carefree on the streets as kids.
Our bike models are only released once we manage to capture this feeling in the actual riding of the bike. A lot of that "capturing the essence" takes place during our prototyping phase.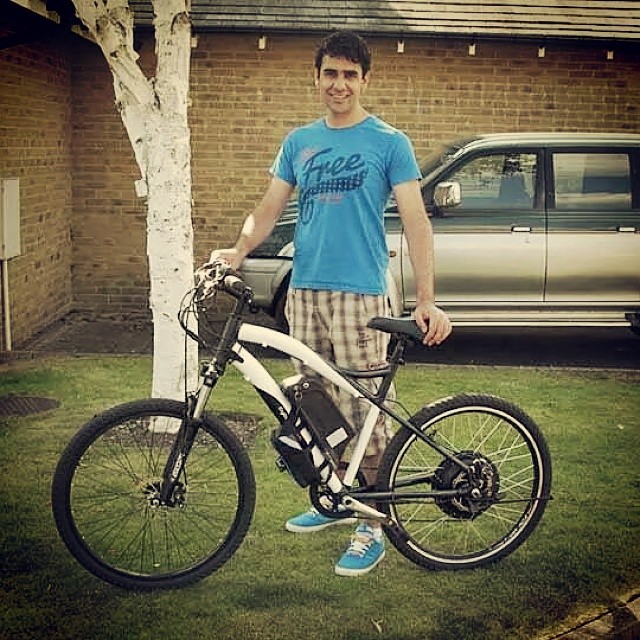 Just grab one of our Stealth models for example, you'll immediately feel 20 years younger!
OK, we better move on as this elevator is probably now in the fiftieth floor!
Who designs your e-bikes? How do you arrive at styling decisions and what process does that involve?
We do the design and modelling ourselves. I'm very much involved in this task myself, including working out the geometry and various physical strains on the frame joints. Robustness is key; it allows you to trust the bike and push it to its limits.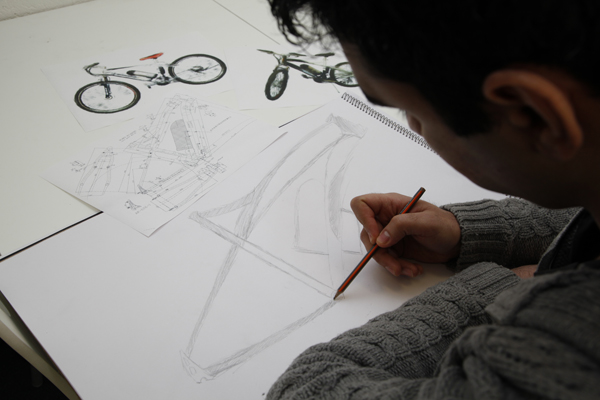 Although the aesthetics is the easiest part to put together from a technical point of view, it's actually a very long and tedious process getting that lean and artistic look yet at the same time not compromise the overall structure. So we usually end up designing and re-designing for many weeks before we're happy that we achieved the correct balance.
We then get feedback from as many dealers as possible so they get a chance to have some input in the design before it moves to the next stage in development. Once we're happy that the concept is well received, we put it all into a CAD drawing which is then submitted to the tube manufacturers for a first prototype.
If it is a completely new concept, we would even put it out there on Facebook and sometimes on the Pedelecs forum to gauge how people feel about the concept in general. That was certainly how our dual-mode system started, it was born out of some interesting conversations on the Pedelecs forum, which then progressed into big interest from dealers and consumers due to the proposed work-around of the legalities.
How have your bikes/kits evolved since their first introduction?
Oh dear, you've got to go there, haven't you? Well, when we first started it was an absolute disaster…
Finding the right suppliers for the components we needed to build our products was tough to say the least! We had to try dozens of suppliers for each and every component before we built the stable supply chain that we have now.
This took a couple of years of losses, quality issues and wrong orders being delivered. Whilst we had a good process that would in theory reduce the retail price to the consumer, we found it very difficult to get a full series of factories in the Far East to follow our exact instructions. We wanted things done in a particular way and they weren't quite used to our proposed process over there.
Moreover, communication wasn't the easiest, leaving a lot of things misunderstood. This unfortunately meant that some issues slipped through the testing phase and appeared in the field. Of course we were quick in rectifying those for customers straight away, but being the perfectionists we are, we knew that something new had to be done to allow us more control over production and quality.
That's when we started working out how viable it would be to manufacture certain elements ourselves and do the full assembly here in the UK. Looking back now, those early issues that lead us to take such a decision are ironically the best thing that ever happened to us.
Building e-bikes in Britain is so far our biggest achievement and pushes the industry as a whole to a more mature level. We immediately saw massive quality improvements to our bikes and problems slipping to the field are an absolute rarity now.
Our bikes are almost unrecognisable now compared to the early models when we first started. Not only in terms of reliability, but you can see the level of attention and care that has gone into the build when you jump on the bike first time. We're so delighted and proud to have got to this stage.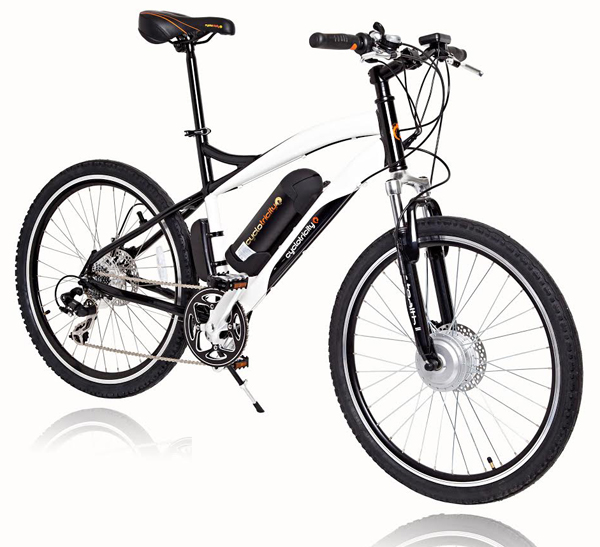 Which e-bike model is your best seller?
Ever since releasing it in August 2014, the Stealth 1000W has taken the market by storm. With interest from so many different parties and praise from the A2B and Twist&Go magazines.
The bike is supplied locked down to 250W for legal reasons of course. But can be re-configured for off-road use provided the legal terms of use is signed.
UK law recently aligned with the EU in terms of motor output, so at long last road law for UK e-bikes is crystal clear. You sell 'dual power' e-bikes however, equipped with more powerful motors and supplied with a code to unlock the extra power, which is somewhat controversial.
How do you qualify this mechanism as being different to a de-restriction switch? What do you say to other manufacturers and retailers in the UK that question liability if an accident happens, or how you know these will truly be used on the limited private land areas in the UK?
I'm glad you asked because I get that a lot. Actually, we don't supply the code with the bike by default. Customers who purchase a dual power bike have, in fact, no way to de-restrict their bikes.
Some other bikes have a de-restriction switch on the handlebar, which is getting questionable from a legal standpoint, because it provides immediate access to power on the road.
However, this is not what we do, there is no simple switch to increase power. Both us and the dealers provide the end-user with a 250W bike by default. The dual power bikes are only configured to their maximum power when sold to overseas markets where such power is allowed.
However, having done that for a while, customers in the UK started asking for the secret settings to de-restrict their bikes on the promise that it will only be used off-road.
Based on that, we provide a legal document which we call De-restriction Terms of Use. The secret settings are then only disclosed when the customers signs this document declaring that they understand the legal and safety risks associated with de-restricting their bikes if it is not strictly used off-road.
In other words, we're being very responsible with how we go about this. As far as we are concerned, we supply a bike set up for road use at 250W. And if it so happens that at a later stage the customer wants to tinker with it and render it illegal, they are signing a legal document to do so at their own peril.
In the eyes of the law, we are supplying this bike as a 250W bike. The 500W codes for example, is a setting meant for our other markets like the US who allow this kind of power. The Bosch crank drive is doing exactly the same thing, where it is supplied in the EU set up as 250W, but once supplied to other markets it's 350W. However, this doesn't stop people in the EU plugging in a dongle to de-restrict the system for off-road use.
In summary, we make it clear on all our promotional material that, although the motor can give a higher output, it is supplied locked down to 250W in the EU for legal reasons. The higher speed settings are manufacturer settings kept secret and is meant for customers overseas. However, if a customer in the UK wants the de-restricted version for off-road use, it's pointless for them to buy the bike all way from the US. So we'll supply it to them from here provided they give a signature that they understands the legalities.
Also, please note that this process offers better legal protection than say the way other suppliers do it, where they just swap some wires on the controller to de-restrict the bike, which anyone can do. But codes on the LCD display can't be easily worked out unless a signed document is provided.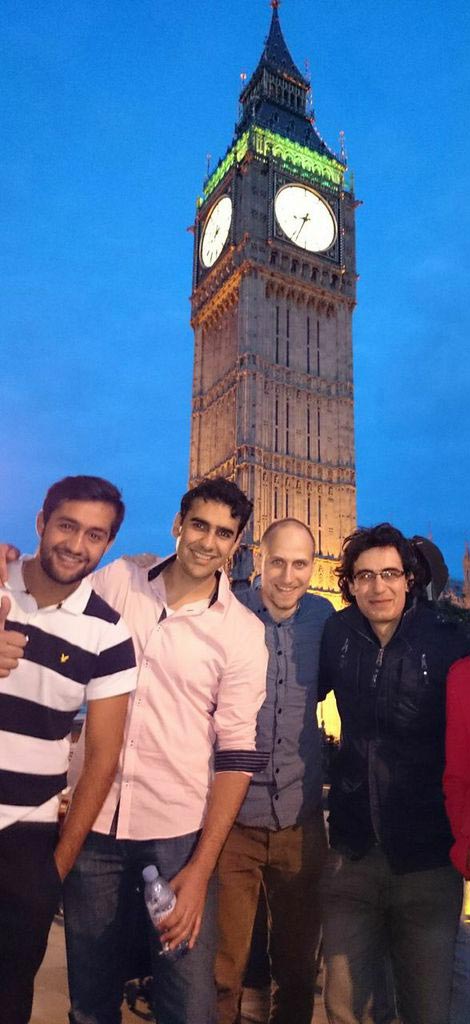 What current and upcoming developments in e-bike technology excite you the most at the moment?
I dream of the day that a new battery technology that would be cheaper and have higher energy density than lithium is discovered. The day this happens, not only will it revolutionise e-bikes, but electric vehicles in general.
At the moment, however, what excites me the most are the type of kits that contain all the components needed into one single item (e.g. the wheel) making them very easy to install and could take the kit concept out of the DIY market into the accessory market instead.
Some of them have very clever designs and it might be a concept that we'll develop our own version of at some stage.
Pedelecs recently covered CycloTricity's investment in manufacturing their range in the UK. Ultimately you'd like others in the UK to follow in your steps.. perhaps even opening up your factory to assembling e-bikes for other manufacturers looking to move production back to the UK. How do you hope that would work for both parties? Do you envisage your competitors having any reservations about your resulting knowledge and control of their manufacturing process?
Yes, opening up the assembly line to help others in the industry is definitely on the agenda once we move to bigger premises, hopefully by the end of this year.
We appreciate that investing large sums into a UK-based assembly line like we've done may not be an option for everyone. And now that there is a production line up and running in the UK, it would make sense to take advantage of this facility and produce more and more bikes in Britain.
I know that there are suppliers out there that would love to have such an option available to them. And who knows, maybe one day, people from other EU countries would look to Britain to have their e-bikes built here instead of Germany!
In terms of being in control of competitor's process, I don't believe this mindset is that strong in our industry. E-bikes are not like pharmaceuticals where patents and secret formulas drive the industry. Believe it or not, we already know the ins and outs of most our competitor's products and how they are built.
We own a retail franchise set up by E-Bikes Direct where we already retail the majority of e-bikes on the market, so we have strong insight into what goes into each one of those products. In fact, we've spent so much time in R&D that, in most cases, we can even suggest different components that would both reduce costs and even align better with their type of products.
So I don't believe there is that much additional visibility that we can gain by us providing an assembly service. The control of manufacturing achieved will ultimately be the control of the supplier whom we will partner up with and provide full visibility into their production.
Assembly in the Far East isn't very flexible when it comes to feeding back improvements. Because by the time a quality issue is discovered, the supplier would already have a couple of containers of stock that is meant to last them the summer season. They then need to react with temporary fixes until this is resolved on the next couple of containers six months later. As a result, quality improvement is a very slow process. Also, trying new things is always a scary prospect as it could mean diving into the unknown with a six months' stock budget.
On the other hand, assembling in Britain doesn't come with this problem because any issues discovered can immediately be fed back into the assembly line and changed straight away; we're not bound to full containers before we improve the next run.
Stock can be produced as it is sold, which makes the process receptive to constant improvements at immediate implementation. The quality improvements are accelerated so much that any company can achieve top quality in a matter of months as opposed to years. That's the power of local assembly!
What can you tell us about the design of your upcoming British-built crank motor? Presumably your ambition is to improve what's already out there as well as sporting a 'Made in Britain' label, but how will it compete with the existing big multinational clout dominating the industry?
We're very early in the design phase at the moment. So it's hard to tell which route we're going to take with this. We're currently torn between two markets.
Obviously, crank drive motors have connotations with quality and so does the Made in Britain label. So there is the argument that since we'll be out there with a British crank motor, then it should be the jewel in the crown concentrating on performance and superseding all the others, no matter the cost.
On the other hand, we don't want to forget our ethos of prioritizing the average consumer who is looking for a cost effective crank drive because they can't find anything affordable enough out there.
Would average performance be sufficient if we get to finally have an affordable crank motor on the market? The answer is pending further market research.
With R&D very much on the agenda for developing the technology in your e-bike range, how do you ensure you get customer feedback since most of your bikes are sold through dealers rather than direct?
Good question! Whenever there are any issues, warranty claims, complaints etc., we insist on getting involved directly with the consumer to take ownership of the problem ourselves.
Although our dealers will provide local service when needed, we always take care of the full process from the beginning till the end, so we are involved in every step and ensure the customer is looked after and, at the same time, we get to build a big database of feedback that is regularly channelled into our production process.
You've announced you're also planning to broaden your overseas sales. In an article in The Times you were debating how easy it will be to find trusted partners on an international basis or whether to handle distribution direct from the UK. How are plans progressing on that front?
Ideally, we'd like to avoid working with overseas distributors in order to provide the same competitive prices that we have here at home. So the aim is to replicate what we've done in Sweden and open more subsidiaries in other countries.
That said, it's probably too ambitious to achieve that on a large scale. If we want to make room for our British hand built products in the wider European market, we'll most certainly need to be open to working with independent agents overseas.
So we'll probably do a bit of both. I.e. continue to have the presence of our own subsidiaries – at least in the larger markets in Europe and the US – and at the same time, welcome distributors to work with us in areas we don't have a presence in.
What's top of the agenda for Cyclotricity over the next 5 years and what would you like to have achieved by 2020?
Innovation has always been at the heart of this company since its inception.
We would like our brand to reflect this on an international level and be at the forefront of British exporters known for highly innovative products in the e-bike industry.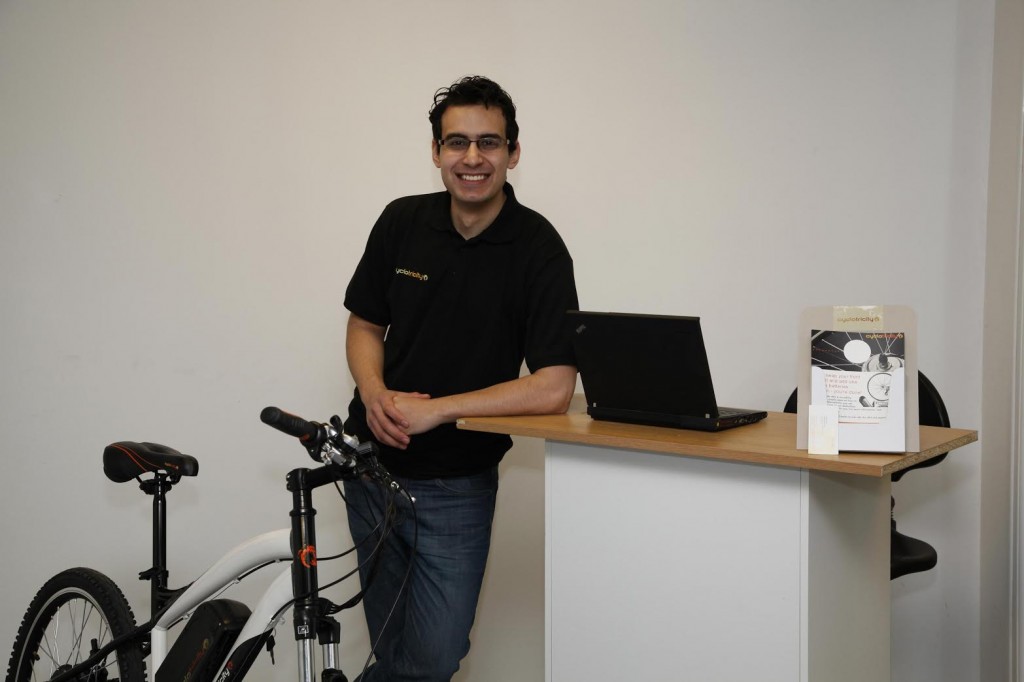 Our thanks to Rami Akily for this interview.