Speed Pedelec Registration Guide – Obtaining a Number Plate
When you receive your V5C (Vehicle Log Book) back from the DVLA, they will also enclose a Number Plate Authorisation Certificate. This one page certificate can be used to obtain a number plate from a registered number plate supplier.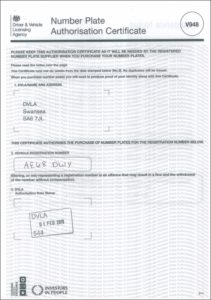 We had one made up for us at a local car accessories store, which took about 15 minutes to produce while-we-waited and cost £15.00 at the time. We chose the motorcycle format.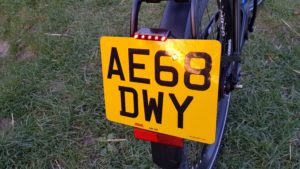 You'll need to take the following with you:
Proof of identity
Driving Licence
Bank or Building Society statement (less than 6 months old)
Current Utility, Council Tax or Telephone bill (less than 6 months old – a mobile phone bill can't be used)
Passport
Government National ID card (if non-UK national)
Debit or Credit card from a Bank or Building Society
Police Warrant Card
Armed Forces Identity Card
Proof of entitlement
Vehicle Registration Certificate (V5C)
Number Plate Authorisation Certificate – see above
There are other methods but you don't need those as you already have both accepted documents in your possession.
Once you have your number plate you'll need to drill a couple of holes depending where the fixing points are on your bike.
---
DLVA Guide – https://www.gov.uk/displaying-number-plates/getting-number-plates-made-up