With the coronavirus pandemic changing mobility, a combination of enforced car diets, homeworking or reluctance to use public transport has spotlighted the enjoyment and uses – as well as the all-round practicalities of – electric bikes as a greener form of transport. From solo exercising to e-cargo deliveries for local residents in need, as well as business logisitics.
To meet one example of changing demand, Riese & Müller have this week launched a rental service aimed at small enterprises wanting a flexible delivery solution. Riese & Müller Rent will cost either £360 or £450, depending on the model, for a lease period of 3 months. The Packster 60 Rent Edition and the Load 75 Rent Edition can be sourced through Riese & Müller  or a participating dealer.
"During these current times we are seeing a high demand for alternative delivery possibilities, especially for local companies. This offer was developed particularly for small enterprises such as retailers, gastronomers, craftsmen and care services. The cargo bikes not only allow climate-neutral travel to the customer or delivery of goods, but also offer advantages such as free choice of parking in the city. With our new Rent concept we would like to enable small companies in particular to switch easily to e-cargo bikes for fast transport of goods delivered carbon neutrally. We kept the entrance hurdle consciously low by the favourable price", says Heiko Müller, founder and managing director of Riese & Müller.
Social isolation and encouragement of exercise has also seen increased electric bike sales, with one Hertfordshire retailer reporting their "previous weekly record was surpassed in one day on Saturday" across all bike sales recently, according to Cycling Industry News.
Meanwhile Derbyshire-based Juicy Bike has been offering their e-cargo demo bike to local volunteers and organisations for easy delivery of supplies to vulnerable local residents.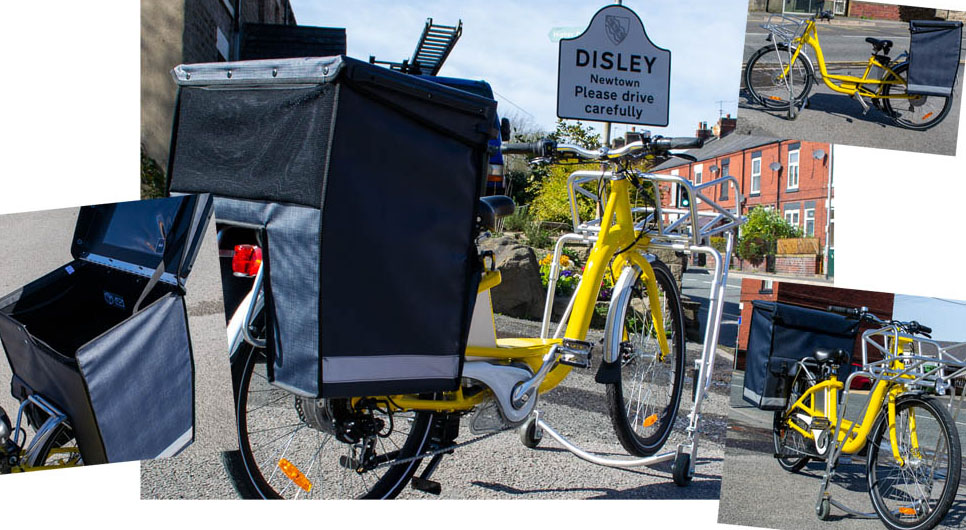 Juicy told Pedelecs: "We've heard that our NHS workers are finding their Juicy Bikes essential right now and we're also getting more enquiries from others keen to avoid public transport or to exercise responsibly. We're working hard to get the message out on encouraging careful cycling while maintaining social distance." More details on how to contact Juicy and how they are working with high street bike shops through their 'Click & Relax' scheme can be found here.
Tales of local rides to isolated country spots, as well as sharing empty country lanes with only ducks for daily exercise, mix with community-spirited help on the Pedelecs forum: "I am currently using my e-bike as a delivery vehicle for the local old folk during this uncertain time. They give me shopping orders,  I go and collect them."
With streets temporarily empty of traffic, industries scaled back and reduced air traffic, clearer skies indicated on air quality maps across the world have also been a reminder of what's at least potentially possible says Gretchen Goldman, a research director at the Union of Concerned Scientists in Massachusetts, who also hopes the current respite from pollution might lead to more calls for change. Goldman says: "It is not surprising that air pollution has been reduced now, because we know why we have bad air normally—we just don't have the political will to change it.
"We already have all the tools we need that would allow us to have cleaner air all the time, irrespective of the pandemic and social distancing. We could be switching from coal to renewables. We could be adapting national standards for clean energy. We could get off fossil fuel subsidies. We could be electrifying more vehicles and allowing states to go further with their vehicles standards. We know what the solutions are."
Science recently published a study that argues the case for "smaller is better" by prioritising smaller scale low carbon technologies that are a faster and more affordable route to meeting climate targets in comparison to the more costly, larger scale solutions such as nuclear power plants. The study cites low carbon technology examples as electric bikes, solar panels and heat pumps, all of which can be mass deployed with lower investment risks and more scope for reducing energy demand.
The study's collected data compares a variety of energy technologies operating at different scales, which were then tested for performance on cost and accessibility, whilst also taking into account potential levels of job creation. The study says such economic benefits can only strengthen climate policies. Whilst pushing the case for 'smaller is better', the study admits that smaller green technologies aren't a "universal solution" since there aren't any easy replacements for air travel, or indeed steel and other industrial plants.
"A rapid proliferation of low-carbon innovations distributed throughout our energy system, cities and homes can help drive faster and fairer progress towards climate targets," says lead researcher Charlie Wilson of the Tyndall Centre for Climate Change Research at the University of East Anglia (UEA).
"We find that big new infrastructure costing billions is not the best way to accelerate decarbonization. Governments, firms, investors and citizens should instead prioritize smaller-scale solutions which deploy faster. This means directing funding, policies, incentives and opportunities for experimentation away from the few big and towards the many small."
Over in New Zealand, the government recently announced an e-bike discount scheme of between 10 and 50% off the cost of an e-bike, which is being offered to 50,000 public sector workers initially but will also be rolled out to other employers. The associate Minister of Transport, Hon Julie Anne Genter, told Pedelecs: "The Government is committed to building a 21st century transport system that reduces congestion, improves safety, provides greater choice, and reduces emissions. I am very concerned about the adverse health and environmental effects of transport emissions. The Government encourages the use of more active and low emission modes of transport in New Zealand, such as e-bikes."