Pedelecs member and longtime cyclist, Zakventis, contacted us to share his story of the "life-changing" effect of taking delivery of a Trek electric bike:
I have cycled all my life, beginning with a Raleigh 3-speed bike given to me at age 12 (in 1959) with the comment: "It fell off the back of a lorry!"
It gave me freedom from an unhappy and sometimes violent family life and, on getting a newspaper round, income as well – until at the age of 16 I joined the RAF.
For the next 37 years I continued to use bikes, both for recreation and as a means of getting from a to b.
In 2000 I became single again and retired to rural Wales where I started to cycle more – it became both a pleasure as well as a means of going shopping 5 'lumpy' miles away.  And thus it continued for the next ten years.
Gradually however, both knees were becoming increasingly uncomfortable thanks to osteoarthritis and torn cartilages and so the mileage dwindled until, by 2015, my road bike remained in the garage, unused.
At this point I seriously considered giving up two wheels entirely until a friend suggested I try electrically assisted bikes.
In April 2016 I tried 4 all in one day.  They seemed ideal but… I tried to ride them beyond their 15mph limit and encountered the 'headwind' effect of trying to ride a 20+ Kg bike without electrical assistance.  Unfortunately, I had overdone it and the next day both knees were becoming swollen again which was to take months to return to 'normal'!
However, by early 2017 I could pedal my old Trek road bike again, although only just.  So…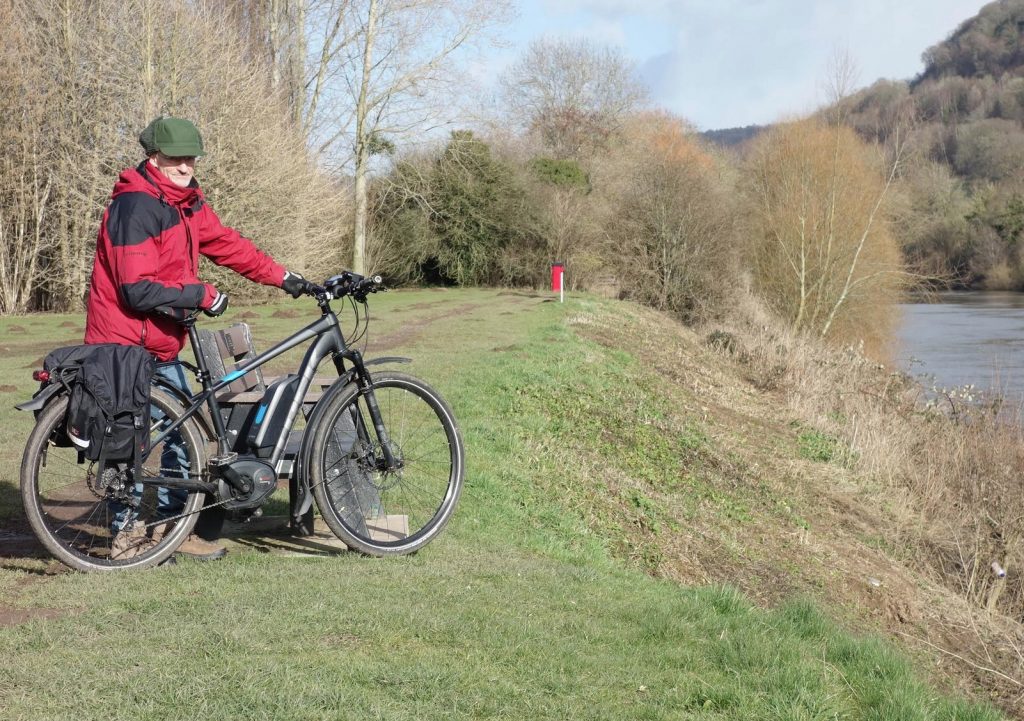 In April I took another look at various e-bikes, ending up at Severn Valley Cycles in Lydney, where I was allowed to try one.
It was a Trek PowerFly 7 and Marcus, the proprietor, simply said: "Give me your car keys and off you go."  And off I went – up roads into the Forest of Dean, off-road on tracks and finally a slightly madcap descent down a narrow track to return to the shop. Marcus commented: "You obviously enjoyed yourself!"  I asked him how he knew and he replied: "You've got a big silly grin on your face!"
And that was the beginning of a life-changing event.  I took delivery on the 20th April 2017 and now – less than 10 months and more than 3,000 miles later – the big silly grin is still there!
They are not cheap (mine was £2,500) and since then I have spent at least £500+ on improvements (stems, handlebars, lights, pedals, saddle, tyres and various servicing equipment).  But it has been worth every penny – when not riding I am entertained by maintaining it, reading about them, browsing the web for improvements, modification and forums.
To sum up… it is a practical shopping run bike, but best of all, it is the pure and simple pleasure of getting out and riding it.
Health Benefits
At the beginning of this episode I decided to keep a record of blood pressure and resting heart rate, and am happy to report that they have steadily improved over the intervening months.  According to Dr Michael Moseley, my physical age is 35 years, my knees are no longer so stiff and, at the end of a ride, I am more free-moving than I was when I got on!
My old road bike is mounted on a fluid trainer which allows me to keep pedalling during the eBike unfriendly winter months and is also used regularly to help improve my cycling strength, stamina and reduce age-related muscle loss.
Negatives?
I have two:
1. Mine has a Bosch Performance CX motor which has a step-up pedalling ratio of 2.5:1. This means that, at speeds in excess of the 15.5mph limit, a bike that weighs 100kg all up, becomes the equivalent of trying to shift 250kg!
2. The 15.5 mph limit!  I feel more comfortable at 20mph (on the level with the wind behind me, notwithstanding point 1 above!)  If the USA can have that limit, why can't we?
Our thanks to Zakventis for kindly sharing his story.