The Electric Cranks met at a café over four years ago (part of the wider Group Therapy provision, provided by the Hospital Psychology Service) in the Wythenshawe Heart and Lungs Transplant Centre near Manchester.
After weekly training rides, three members of the seven-strong pre/post op heart and lung cyclists (three of whom had to withdraw at the last minute due to either COVID or other underlying health issues) last week completed their three-day Hadrian's Wall ride, setting off from Bowness on Solway, on the Irish Sea, and tackling 104 miles and over 5000ft of ascent along Route 72 of the C2C cycleway before arriving at the beach at South Shields on the North Sea.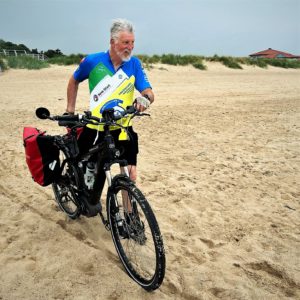 Ian Wilton told Pedelecs: "We believe this is the first ever C2C crossing by a group of self-styled 'e-humans' on 'e-bikes'. We were joined on the final day by a team of medical professionals from Wythenshawe TC, representatives from Abbott – who manufacture the LVAD device – and a senior LVAD nurse from the Freeman Hospital in Newcastle. All were keen to provide support and encouragement, as well as helping us to promote the use of e-bikes for physical and mental health recovery".
The group's achievement is all in the fantastic cause of raising vital funds for "New Start",  the Wythenshawe Hospital Transplant Fund, which provides crucial care and medical equipment for patients, as well as support for their families when vital organs fail.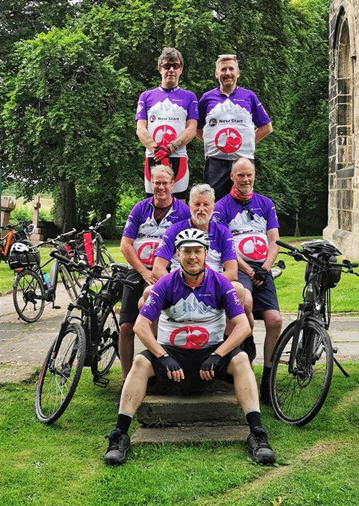 Amongst this unique cycling group, one member of The Electric Cranks has already had a heart transplant, five have 'left ventricular assist devices' or LVADs – an artificial heart pump used in patients with severe heart failure and those on the waiting list for a heart transplant – and one, whose heart recovered sufficiently as a result of having the LVAD, has had his device de-commissioned. Fitting the device involves open heart surgery, akin to a heart transplant, and is crucial in ensuring blood is pumped continuously around the patient's body. The device is widely considered 'a bridge to transplant'.
Electric Crank, Peter O'Donnell, shares the 'Just Giving' story:
"The Electric Cranks are pre/post op heart and lung Transplant Centre outpatients awaiting a heart transplant and includes one recipient who has already received that wonderful gift.  We're making the best use of electric bicycles to aid our cardiovascular recovery, our general wellbeing and to socialise.
"The majority of riders have left ventricular assist devices (LVADs) fitted and are dependent on the Transplant Centre to provide 24/7 care and medical equipment maintenance.
"Although the recent pandemic has curtailed our ability to get out somewhat, we all now feel it is time in a joint effort to give something back to New Start charity, raise funds and awareness of the assistance the centre, patients and families require in order to facilitate a better, more comfortable experience in what can prove to be a very difficult time."
Wythenshawe Hospital Transplant Centre, serving the north west, is one of just five national heart and lung transplant centres here in the UK and covering a patient catchment area of over six million people.
Fellow Electric Crank, Ian Wilton, was 54 when he collapsed from a heart attack while climbing and walking in Snowdonia National Park on 28th August, 2017. A former PE teacher and special school headteacher, Ian was both fit and healthy.
Because of bad weather at the time however, it took mountain rescuers over 6 hours to reach and extract Ian, even with helicopter support. This delayed initial diagnostic tests and treatment well beyond 'the golden hour,' along with the emergency surgical treatment he ultimately needed.  Having a LVAD fitted saved his life; it does require the system controller's batteries to remain charged however, with the plug sockets changed in the Wilton family home to facilitate overnight charging.
Ian's wife, Geraldine told the local press at the time: "This has changed our whole life. He was a healthy, fit man who is now unable to work and lead a normal life. He is just a placid, calm person who just gets on with it. I really want to raise public awareness of LVADs, as few people have heard of them and if Ian didn't have one fitted he would have died after a couple of months."
Fellow Electric Crank, Ged Higgins, also had an LVAD fitted after a heart attack at 53, told The Times that he had previously been active and began cycling with a friend as part of his recovery: "We started plotting routes all the way round the north of England where I could cycle flat or downhill. Eventually I got fed up with all the travelling. We were spending more time travelling than cycling. So I bought an electric bike."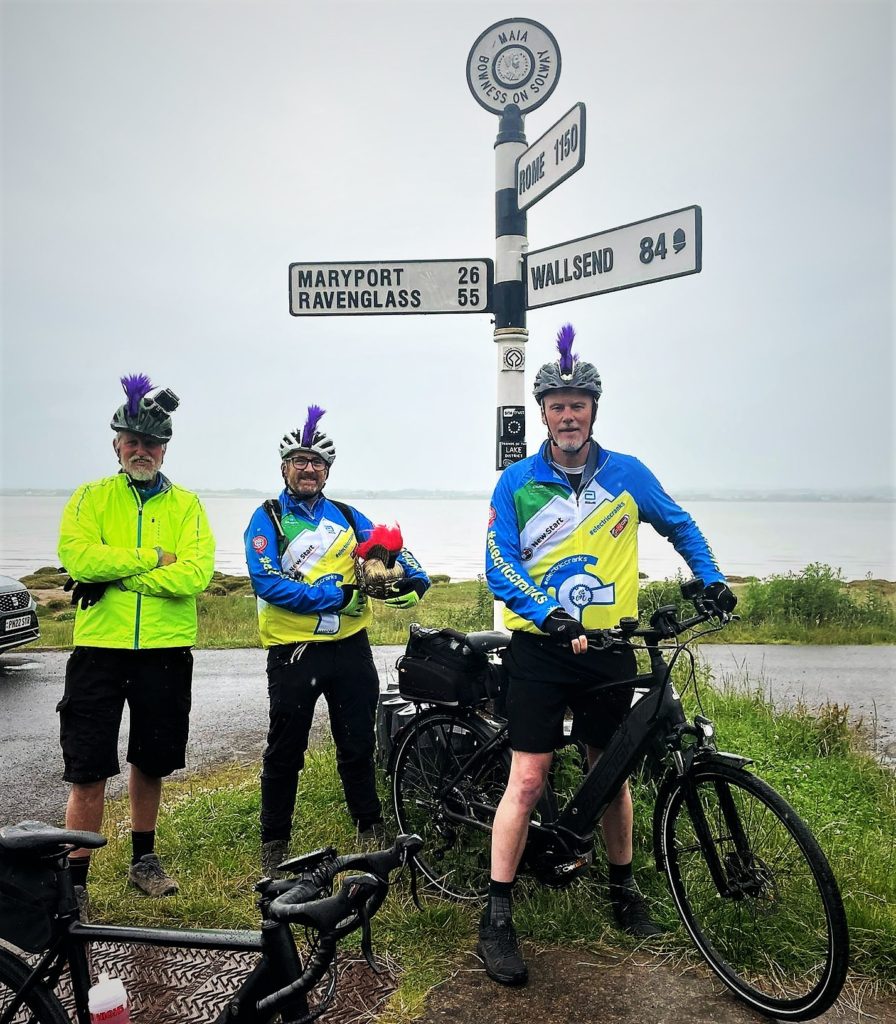 Bob Gower, 69, had suffered from cardiomyopathy for over 15 years, causing progressive heart failure, before he was referred to Wythenshawe hospital in 2017. He was assessed as being in urgent need of a heart transplant but was too ill to undergo that operation and so was fitted with an LVAD instead. Bob was gradually able to regain a level of fitness after the operation. The subsequent purchase of an e-bike enabled him to return to cycling after 10 years and enjoying remote parts of the great outdoors again.
Bob says: "The Electric Cranks gave me the impetus to purchase an e-bike, to get out into the open country and to places that I feared I may never be able to access again, to recover my strength, fitness and stamina, to tackle new goals and this all helped me regain my self-confidence. Sharing so much with people who have travelled into the same dark and difficult places and who can truly understand. So many great photos and positive memories of the Electric Cranks already. Personally, I would have been in a very different place today without them."
Bob told Pedelecs he is "no longer on the waiting list for a heart transplant, owing to his age, but is looking forward to continuing exploring even more demanding routes, thanks to an LVAD and an e-bike."
Ged Higgins says: "After my LVAD implant my activity level was significantly restricted, however I soon discovered electric bikes which provide enough assistance for me to tackle even the steepest of local hills. Starting cycling opened my world up again, as I was now able to be out with friends, going to new places and having new experiences. This gave a real sense of freedom and helped me feel more like you're a normal person again, in fact I feel more normal on my electric bike than anywhere else.
"Cycling very quickly becomes addictive, I try to get out with friends almost every week and we're always planning our next ride. I've benefitted both physically and psychologically, I feel healthier, sleep better and generally feel a lot more positive. Cycling on my e-bike is the best thing that happened to me since I had my heart attack, it's all about freedom, friendship and sheer enjoyment!"
As well as raising funds for the transplant centre, the cycling group are keen to raise awareness of organ donation and took part in a Cycle Sportive for the British Transplant Games in Leeds last summer. Joined by a large team of medical professionals – including surgeons, consultants, theatre technicians and nurses from the Wythenshawe Transplant Centre – the group took part to demonstrate solidarity in encouraging and promoting the use of e-bikes for physical and mental health recovery.
The Electric Cranks are keen to share their story to encourage others. Ian summed up: "The purpose of The Electric Cranks Cycling Club is to provide peer group psychological support and to encourage physical and mental recovery, via the physical activity of cycling: venturing back out into the great outdoors and British countryside, to absorb all that Vitamin N (nature) – and to share some adventure and fun."
You can follow the cycling group's adventures on twitter @electriccranks.