A2B Obree Review
Next up in our series of e-bike reviews is the urban-styled A2B Obree electric bike.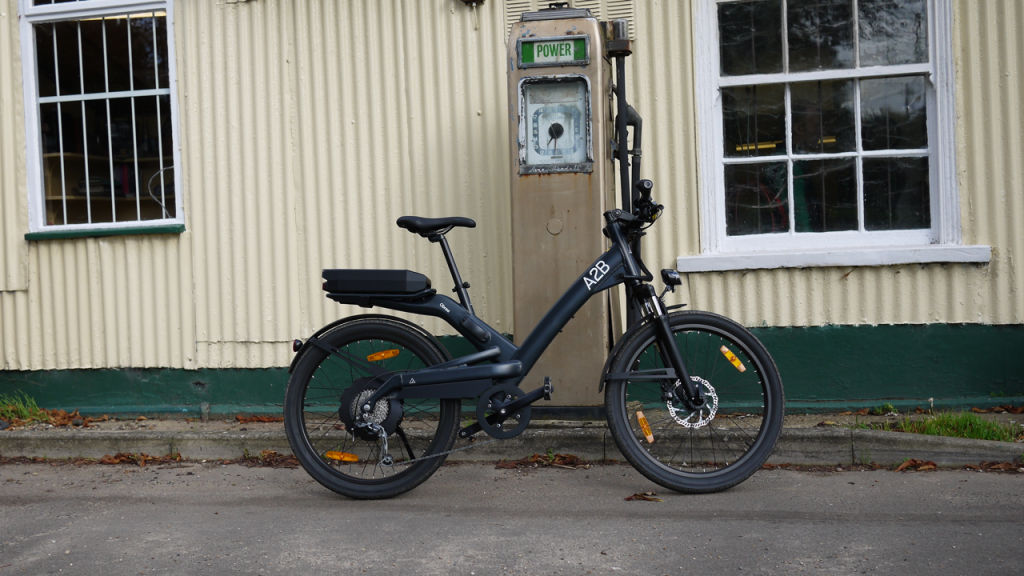 Introduction
If you found this review and you are completely new to electric bikes, then it might be worth reading our introductory articles first, our First Timers' section is here and our Buyers' Guides section is here.
A little bit about A2B
A2B have been producing e-bikes since 2003 and were acquired by Hero Eco in 2011 from Ultra Motor. A2B has subsidiaries in over 30 countries and the company has gone through a number of changes and re-branding since its inception. The Obree was amongst the first launched alongside a couple of other models in 2013 which are now being manufactured in Germany.
The Bike
A2B traditionally name their bikes after someone famous in the cycling world. The Obree follows suit, named after the famous 'Flying Scotsman,' Graeme Obree, who twice broke the world hour record and has been responsible for some radical bike designs. Fittingly, the Obree was also nominated for a 'Design of the Year 2014' award by the British Design Museum.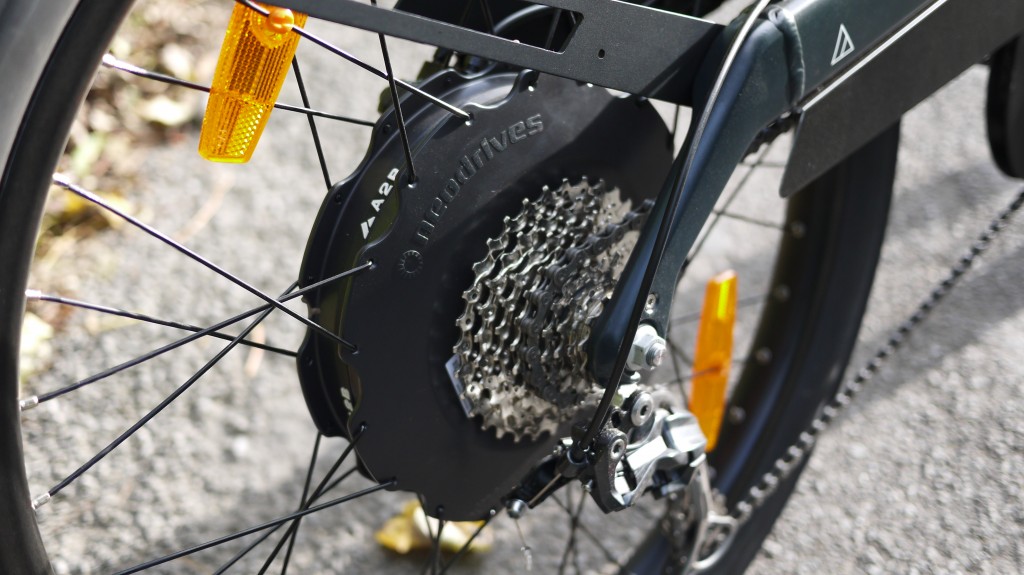 Powering the Obree is a rear 4.3Kg Neodrive motor, a German-engineered direct drive unit manufactured by Benchmark drives. The motor, which has been out for a couple of years, uniquely uses an optical sensor to control and regulate the drive. It's a large 'pancake' style motor, occupying a fairly substantial area of the wheel.
The motor and battery are married up with a removable 2.4" LCD display (or Smart Man Machine Interface) fitted to the handlebars which renders the bike unusable when removed, so don't lose it! The display unit is controlled using a small +/- next to the left grip which also has a power on/off button. This bike also usefully has a push (or walk) assist function – motorised assistance when pushing the bike – which provides maximum assistance up to about 4 mph.
The display also has a USB slot, but smartphone aficionados will have to look elsewhere – you can't use this to charge your phone; it's just for uploading new versions of the bike software or by service personnel to use the diagnostics in case of a fault.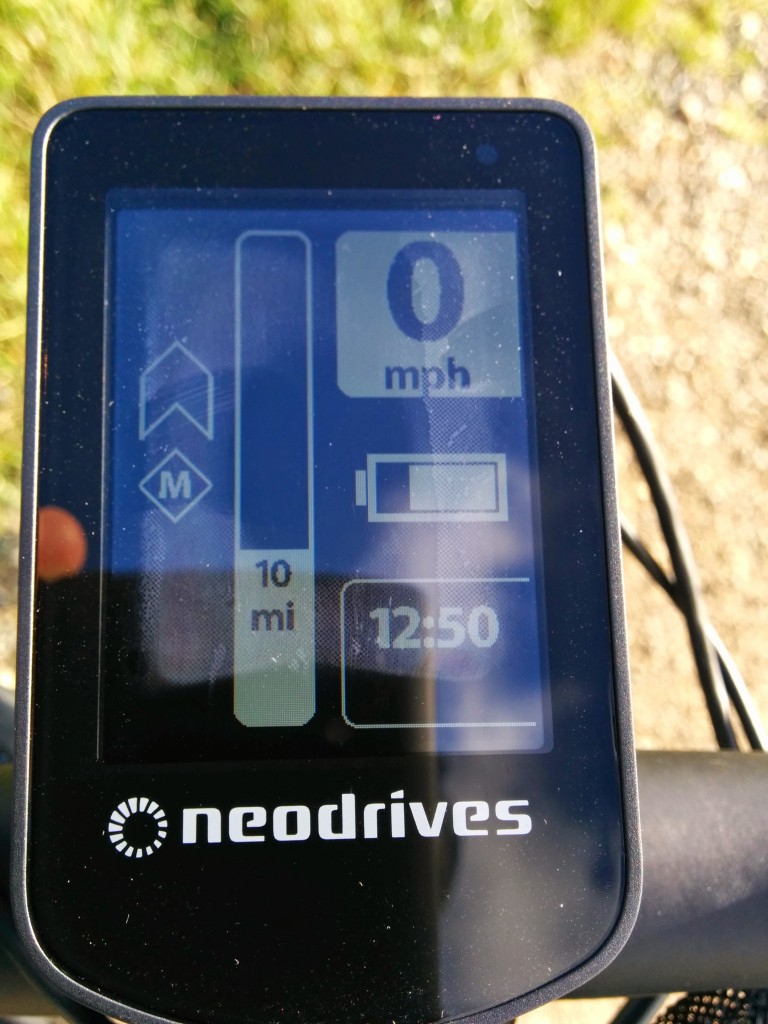 The Obree has Shimano Deore gearing with a single ring on the rear providing 9 gears.
The battery is a 36V 11.25Ah 416Wh lithium-Ion which purports to offer a range of 62 miles (which is based on even terrain, fully charged battery, 20'C, 100 watts from bike and 100 watts from the rider), with a backup warranty period of 1 year (2 yrs for motor and other components, 5 years for the frame). The battery can be charged on and off the bike, which is helpful if you intend to charge it while at work as the bike is fairly heavy at 24.1Kg. The battery itself is 3.25kg. You can get an indication of charge left by pressing the button at the rear of the battery which lights up a series of LEDs to show you the state of charge, e.g. 4 LEDs = 80%.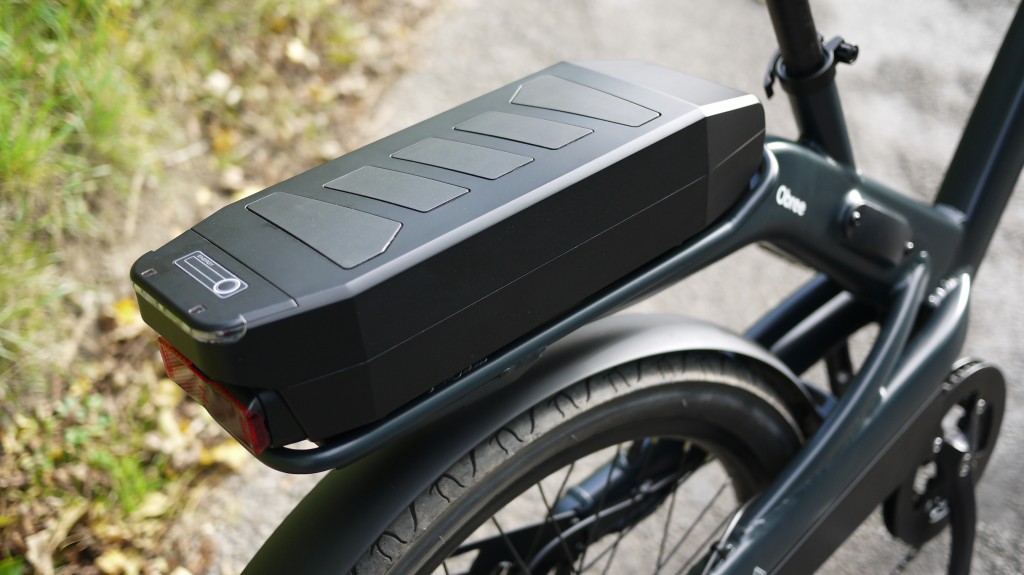 The distinctive looking Obree follows A2B's Y-shaped design 'language' and comes in a choice of three colours, grey, red and white. We were sent the grey version. The Obree is available in two frame size options, 17" or 20".
A2B Obree Specification:
Motor power (W): 250
Motor position: Rear hub
Motor Description: Benchmark Neodrive 250W brushless
Battery: 36V 11.25Ah (Extended battery option. 14.5Ah 522Wh)
Max Range: 62 miles (100 kph)
Throttle / Pedal Assist: Walk mode (up to 6 )
Suspension: Front only. Suntour NCX-D-LO 63mm travel
Brakes: Magura MT-2 hydraulic front and rear disc
Gears: Shimano Deore 9-speed
Stem: Adjustable
Saddle:
Wheel Size: 24"
Tyres: Kenda Krusader
Controls: Removable LCD
Max Speed: 15.5mph
Weight: 24.1kg (53 lbs)
For more details on the A2B Obree specification click here
The Obree is available through A2B dealers and currently retails for around £2300.
What's in the box
Bike (obviously)
Manual
Charger + UK AC lead
Battery
Pedals
I was particularly impressed with the manual. A2B have produced a proper printed manual (almost 80 pages), there are no photocopied sheets of A4 in badly-written English!
As with most bikes it's only the handlebars and pedals that need attaching and a charge of the battery.
Out on the road
So, with the handlebars in position, pedals attached and a quick check of the various components, it was time to head out for the first spin. As it's now the winter, it was straight out into the dark. Holding down the power button for a couple of seconds and the display kicked into life. It's back-lit with big bright icons so is very easy to see at night. At standstill you can play around with the deeper menu settings, I was impatient so just accepted the default options and hopped on.
The Obree comes with lights fitted – front and rear – both run from the bike's lithium battery. However the Neodrive motor also has a dynamo function so it still continues to supply power to the lights if the battery is flat, should you find yourself in the unfortunate position of having to ride home in the dark without any battery power.
The lights don't seem to be independently controllable, there just being an on/off switch on the back of the front light. Switching the lights on provides a nice beam out front and a row of futuristic red LEDs on the rear.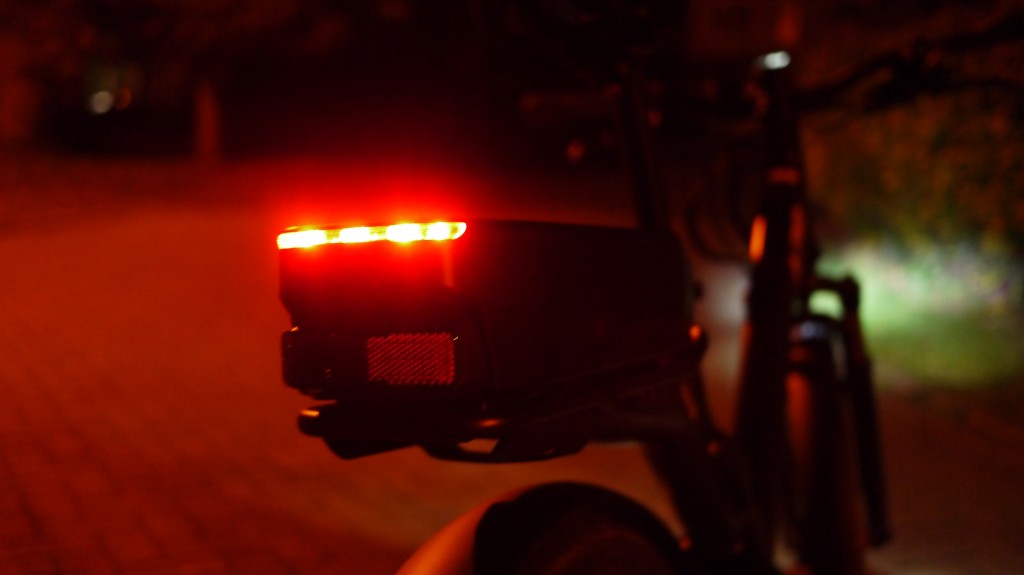 So, foot onto the pedal, I set out. First thoughts are, it's very quiet, the motor barely perceptible even from a standing start. Acceleration was nice and smooth and with the Deore gears I soon hit the 15.5mph cut-off limit. The power smoothly levelled out at the limit, only coming back on once you go below it again.
The bike has 24″ wheels so it feels nimble on the road with chunky tyres soaking up the tarmac and bumps. Braking is provided by Magura MT-2 hydraulic disc brakes, front and rear. While these wouldn't be classed as 'top-end' brakes, they still provide excellent stopping power and feel through the brake levers.
After a couple of miles around the local village I headed home, ready to give the Obree a more thorough test ride the following day.
First Impressions
My impressions were that with the step-through style, oversized frame, chunky wheels and tyres, the design gives the bike a mean appearance – especially in the dark grey colour scheme.
The Obree has unusual and distinctive styling. It is also fitted with some fairly decent components including an alloy frame, Shimano deore gearing, Magura hydraulic disk brakes and Kenda Krusader tyres. The grey colour option is actually very dark, almost black. It has that powder finish most manufacturers are using now and it gives the bike a very smart and expensive look. To my mind, this bike looks even better in real life than on screen.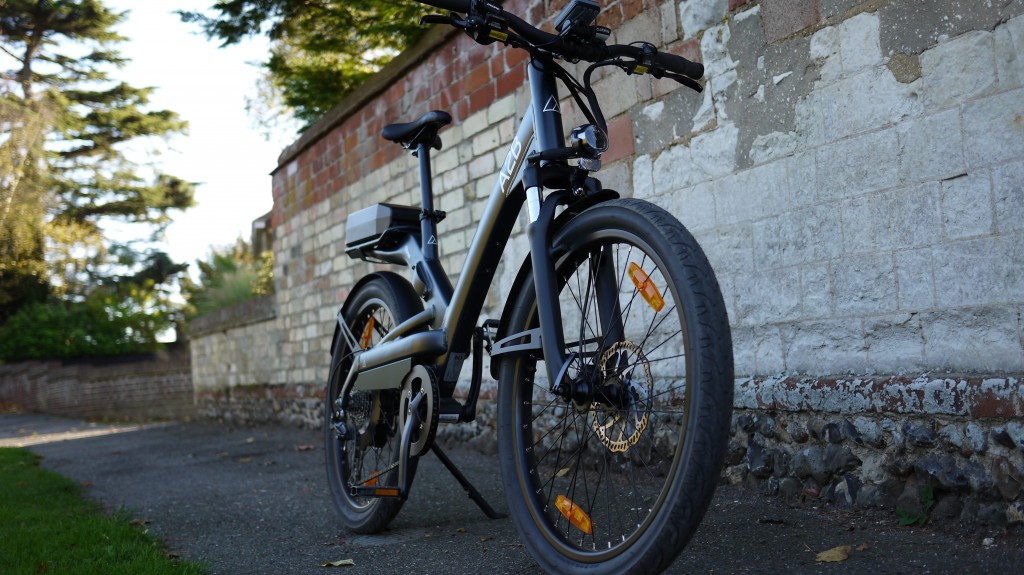 The motor is in the rear wheel with the battery over the top, traditionally where a rear cycle rack would go. It is very well finished and feels solid, using good quality plastics which contain the integrated battery level indicator and rear led lights. The charging point and lock are neatly hidden under the rear reflector which clips off (and conveniently held by a cable so you don't lose it).
The bike is heavy though, and especially rear-heavy. This isn't a bike you'll be wanting to lug up and down stairs. All that weight at the rear is not apparent while riding though. Out on the road, the bike feels nimble and light, helped with chunky 24 inch wheels and tyres.
Cables are routed through the frame, to help keep the look clean and tidy.
This bike has a regeneration function to put some power back into the battery under certain conditions. Regen is available at speeds above 15 km/h (and as long as the battery is < 90%) although you can adjust this higher, but not lower. You set a maximum speed via the display, as well as feeding recovered energy back into the battery. It's handy for smooth descents if you live in a hilly region. You can also deactivate completely if you want to keep speeds up when rolling downhill however. Regen is also available via the rear brake.
Fen Ride and Range Test
On to the first real ride with the Obree. With a claimed total range of 62 miles, I had planned a route of around 50 miles on my Garmin the night before. However, as I headed off, it became apparent within the first mile that the range being reported (16 miles) was a lot lower than I expected. I checked the battery was fully charged (it was) so rather than get caught out 25 miles from home, I decided to change the route, especially as I had set the Obree to the 'Boost' power level which I intended to keep throughout the ride.
Heading out into the countryside I passed Mildenhall Stadium, home to Fenland's stockcar and banger racing. Unfortunately it was closed, so no chance of a quick blast around the track! As I headed further out, the road became single track and steadily getting worse, lots of mud, large stones and deep potholes. The Obree didn't flinch however, its chunky tyres soaking up the bumps. There is front suspension, provided by Suntour NCX-D-LO, not air damped only by coil. While these are nothing to particularly write home about, they are OK for the kind of terrain the bike is aimed for.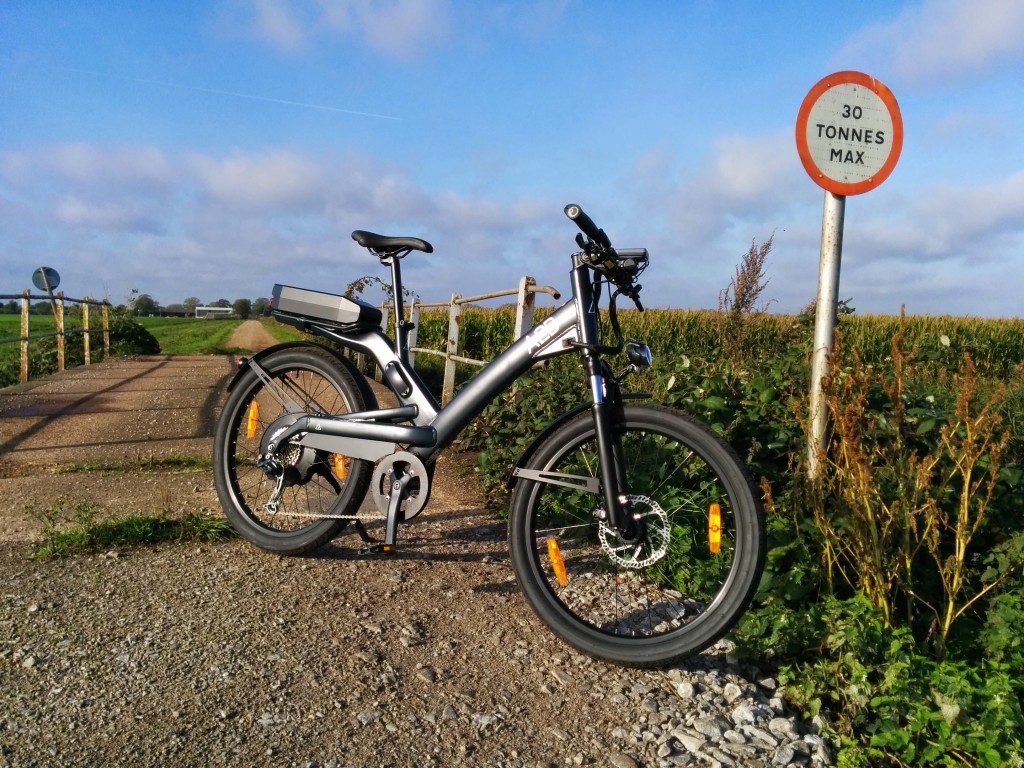 Given there is a motor in the back wheel with the battery over the top, I expected a bit of a hard ride but it was actually very comfortable. There were no squeaks or rattles on hitting large potholes. Many of the 'droves' in the Fens are little more than concrete slabs, which have broken up over the years. Generally they are uncomfortable to ride on; you get a big jolt every 5 metres or so as you hit the gaps in between, but the Obree made light work of them.
While riding, changing the assistance level is via a small control next your left thumb. + / – giving you 5 levels within the main mode you selected.  Annoyingly you can't change the main assistance mode while riding though, this can only be done at a standstill, so if you wanted to change from Boost to Eco for example, you have to stop.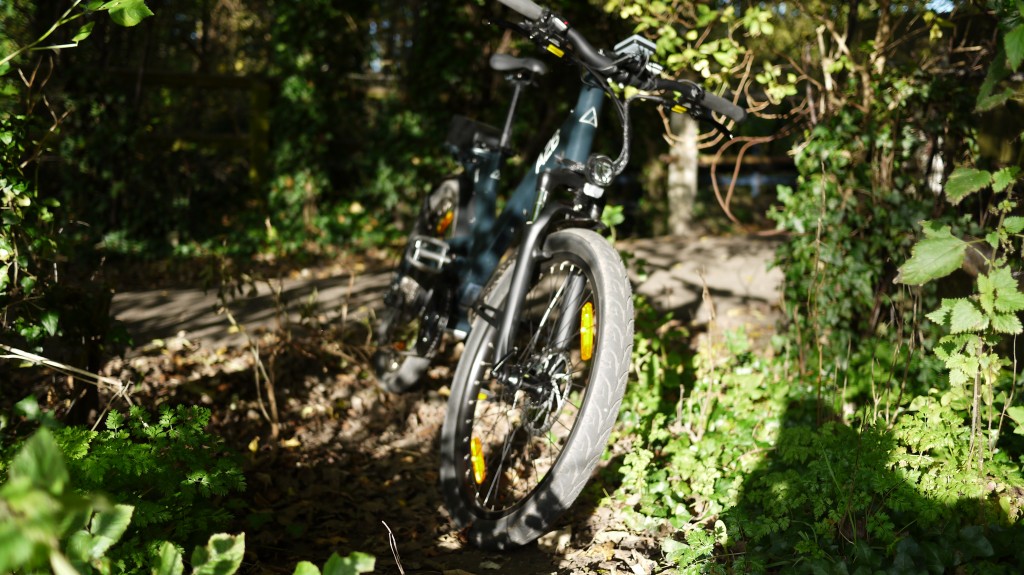 The three main assistance levels are Eco, Tour and Boost. Eco mode power is reduced by 40%, Tour 75% and in Boost mode you have the full drive performance available.
The display unit (sMMI) is fitted by placing it on the plate an angle and then 'twisting' it until it locks in place. Do the same to remove it, although they recommend not to do it while the bike is powered on, I didn't have any problem when I did it.
The display is clear to read. On the display menu, you change assistance levels, braking assist on/off and the speed at which it kicks in.  The display also shows various 'trip' information, showing calculations such as distance travelled, total distance, average speed, travel time and power consumption in Ah or Watts. As well as your speed, the current remaining range at the preselected level of assistance is also shown in the middle. This is based on a number of factors and is recalculated in real-time based on the riding conditions.
After finally escaping the droves and back onto decent tarmac,  I reached what I thought would be a good half-way point of the fen ride and decided to head back. The wind had picked up considerably, so it was a good ten miles into a headwind, but the Obree managed to keep up the assisted speed to around 13mph.
Nearing home, by now I had covered almost 39 miles and the Obree's battery level was approaching empty so I headed off for a couple of nearby villages to eek out the last of the battery power. Coming to the end of the ride, the total distance covered was 45 miles which is a bit less than the claimed 62. The strong headwind on the return journey will have made a dent in the overall range it could have achieved although probably made up for the lack of hills.
Average speed for the whole ride was 14.5 mph.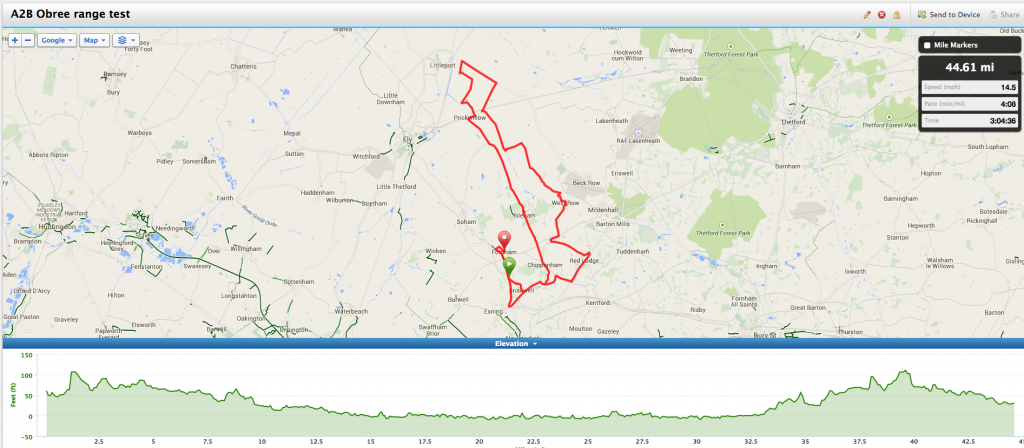 Head for the hills
Unfortunately East Anglia is not endowed with many hills, so I took the A2B to one of the few reasonable climbs, Hartest Hill. It's only a 1/4 mile for the main climb but reaches around 17% about 2/3rds the way up.
I decided to do a number of hill tests:
a) fastest with rider input
b) fastest with little input
c) slowest
First up was to see how fast I could get up the hill using maximum assistance. The first few runs I was able to get up to an average speed of 14.2 mph. As my legs were starting to get a bit tired I decided to next try to see how quickly I could get up the hill with as little input as possible, this time my speed averaged 8.8mph. Finally, to get up slowly using maximum assistance: this time around the average speed was 4.3mph. In essence, the Obree should easily be able to tackle most hills, especially for those needing more assistance than less.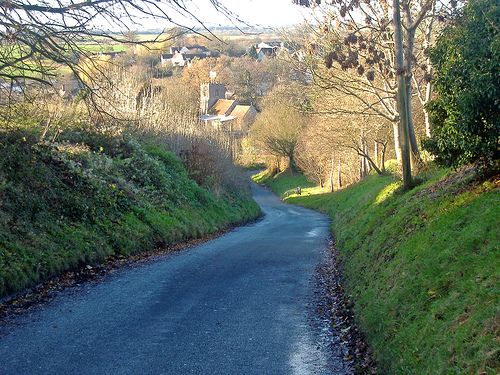 The ride back down the hill provided an opportunity to test out the stopping power of the bike/brakes. Easily being able to reach over 40mph within a couple hundred yards there is a kink in the road about 1/2 way down, cutting the corner was a no-no due to not being able to see any cars coming the other way as well as the road being wet. Thankfully the Magura brakes firmly brought the bike under control and ultimately stop. Just a gentle squeeze was enough to shave a few extra mph off as required on the way down.
There is also braking assist for those that want the motor to help slow them down. On the display you set a speed you want it to kick in, then when you reach it the motor will help to keep your speed under it. Obviously there are limitations to this, but for those who don't want to fly down a hill as fast as possible, it's an added safety feature.
After several climbs I headed out for a ride again, this time taking the bike off-road. At this point I noticed the power had reduced and I was having to put in considerably more effort. After a few hundred yards the motor shut off completely. The motor is fitted with overheat protection, so it had gone into shutdown mode to protect itself. It took about 20 minutes for it to cool down sufficiently to the point where I could ride it again normally.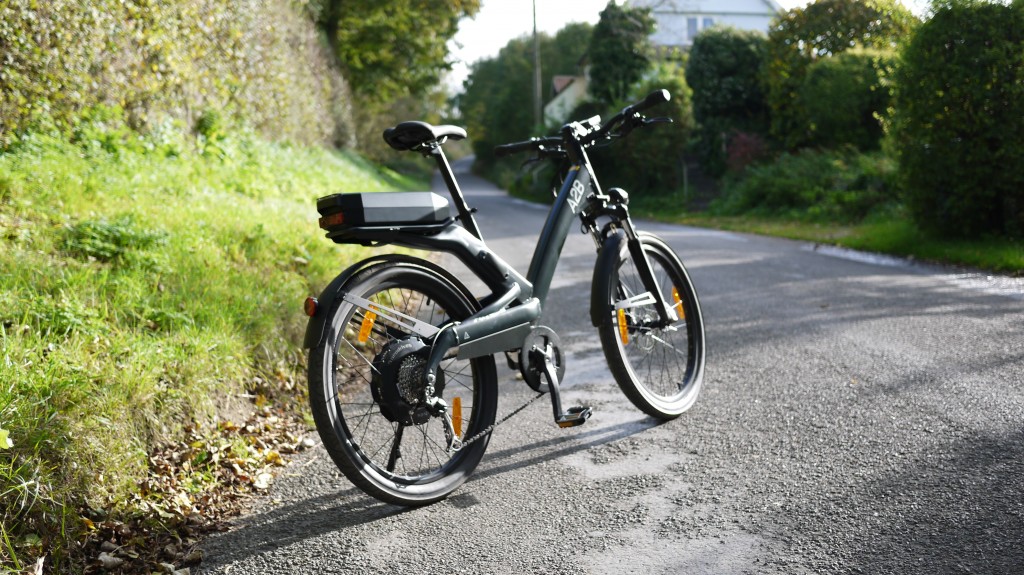 Summary
My initial perception of this bike, before I'd received it to review, was that it was styled for and aimed at young professionals; city commuters wanting a stylish 'urban' designed e-bike. Being some years wide of that demographic I kept an open mind on what my initial reaction to the bike's styling would be once I got it out of the box.
However, on seeing the dark finish, beefy wheels and solid build culminating in its mean, purposeful appeal, the Obree's looks completely won me over. The battery over the rear wheel is well put together and the row of tiny LEDs is a neat touch. For me, the bike gave back much more than I presumed it would out in the countryside. My initial perceptions, with this bike being marketed for urban use, was that it probably wouldn't cope too well outside of that comfort zone. Having happily been proved wrong on that front, I found myself enjoying the Obree even more when I went off-road, blasting through the trails, minor roads and tracks.
So to sum up, here is a list of attributes I liked about the Obree:
+ smooth gear changes
+ comfortable ride with those chunky wheels and tyres
+ handled differing terrains better than expected
+ was just as happy off-road as on
… and on the flip side of the coin, some of the things I wasn't so keen on:
– confusing range on display
– overheating
– rear led wouldn't turn off when I switched off the lights

– rear heavy – difficult to carry upstairs.
Should you buy one?
The obvious target customer is the young and trendy professional looking for a bike to commute on as the 24″ wheels, chunky tyres and riding position is ideal for that, plus it already has lights and the ability to add a rack/paniers. I would add a caveat that as long as your commute doesn't involve lugging the bike up and down stairs or carrying onto trains as the heavy weight at the rear would make that difficult. However, the bike was also happy blazing the trails and light off-road, so it actually made a pretty good all-rounder. The construction is solid, everything is well put together and decent components. If you've got a budget approaching £2,500 then you should definitely give the Obree a test ride as the bike is very capable on a number of surfaces.
If you do want to use the bike for commuting or popping to the shops and want a rear rack, it is possible to fit one, although you'll need to order an adapter and rack from Rack-Time.
Where to buy?
Available from A2B dealers and online stockists. The Pedelecs' Obree specification can be found here.  You can also check our Dealer map for A2B stockists.
Our thanks to A2B for sending us a bike to review.
You can view some more photos during our test here – A2B Obree Media