What the manufacturer says:
Big front drive, 36V 15A Samsung cell battery, 7-speed, Suntour NCX seat post, comfort steady ride. For riders 5ft4 and above. Retails at £809 including delivery.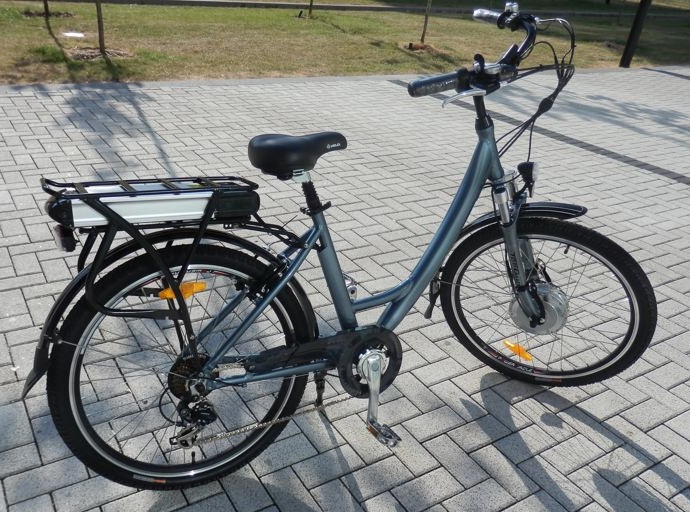 Our testers
The Big Bear LS was tested on Redbridge's tarmac circuit by four members of the Pedelecs forum, who were:
D8veh who described himself as "61 years old, not particularly fit, 102kg and a very experienced e-biker".
Saneagle, a "45 year old of average fitness, weighing 105kg".
Teejay, "aged 59, retired and uses his Kalkhoff e-bike as his main transport most days".
And finally AJB9, "68 year old, retired police officer with two metal hips, slightly arthritic knees, fairly fit".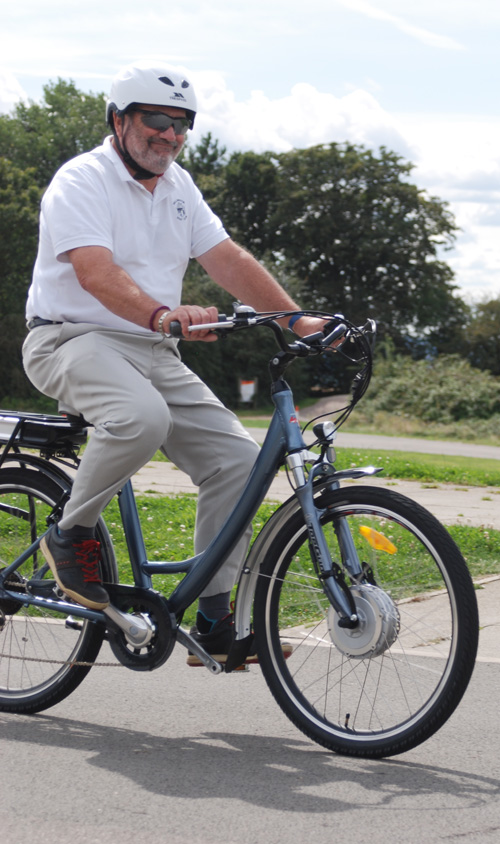 We asked our testers to give you a flavour of who they are to enable prospective purchasers to draw any comparisons to themselves in terms of fitness, physique and how a tested bike handles in each case.
We asked each person to judge the bike on a number of points, summing up with a star rating out of 5, with 5 being the highest possible score.
First impressions – how does the bike look?
D8veh: "It doesn't look expensive, but it does look strong. Anybody that knows about bikes can see that the components are not high spec. There's nothing that says this bike isn't purposeful however."
Saneagle: "Not my ideal looking bike, but for some it would be fine".
Teejay: "Actually the bike I was given to ride (as time was short) was a standard 'diamond frame' version of the Big Bear model and not a LS open-frame model. In terms of looks, it's workmanlike and chunky. I'm not over fond of the styling."

AJB9: "Good looking step-through; well balanced looks"
Overall group star rating for aesthetics: 3.75/5

What do you think of the build quality?
D8veh: "Strong and purposeful, nothing to worry about here."
Saneagle: "Build quality seems OK, but the front suspension forks bottomed out badly all the time."
Teejay: "Perfectly adequate."

AJB9: "First impressions, good build quality."
Overall group star rating for build quality: 4/5

How did it ride?
D8veh: "Very relaxing with a comfortable riding position. It was so easy to sit there and let the motor do the work. In a way it was too easy to be lazy. It was very stable, however there was slightly more noise coming from the motor than other bikes. The steering and general handling was surprisingly good considering the large, rear battery. The steering geometry favoured stability rather than quick steering. You could feel a pronounced self-centring effect when leant over. The hill climbing ability of the Big Bear was very good (and a bit better than the other bikes I test rode the same day.) Acceleration – with everything on max it was very strong, but easy to control. When cruising the top gear was a little low for me so not really suitable for high-speed cruising. The braking was adequate. No problems changing gears, very easy, and in terms of operating the controls it's perfect, a very easy bike to ride. Overall the bike's best feature is its slow, effortless ride. It made me just want to watch the world go by."
Saneagle: "General riding on this bike was satisfactory for the price. Front fork problem as noted above however. That said, I was surprised how good the acceleration was and cruising was good too. The braking I would say was average for the type fitted but changing gears was good as was the ease of operating the controls. Downside for me was there is only 1 cog on the front where it would be nice to have 2, but saying that, it is OK. The bike's best feature is its display and handlebar position."
Teejay: "Fairly standard controls so I quickly felt at home. It didn't seem as pokey as some of the other bikes with BPM/CST motors I tried out today and the forks seemed poor. I was told the the bike I tried was an early one – the later ones have uprated controllers and forks, which I'm sure will be an improvement but I can't comment as I didn't try. The steering and handling was fine, the tyres chunky and a roll-test down the hill showed it free-wheeled just as well as other bikes. Hill-climbing – pretty good. In highest power mode with pedaling, it got up them quite well and without undue effort on my part. I wonder how it would cope with really steep hills, say over 20-25%. Accelerates well up to about 12mph and then faded out a bit. Cruising: initially pleasant but felt slow, limited to 15mph or so on the flat, especially into wind. Braking – surprisingly good for mechanical discs, powerful and controllable. Gear changing – once I got the hang of the control, no problems at all – it was fine. The controls I found easy to use and worked fine, with the exception of the throttle. Operated easily enough and the return spring wasn't over-strong – but it only seemed to work when pedaling and, being in high mode, other than when initially moving off, it seemed to have no effect. When cruising, I found the twisty grip a bit irritating. The downside for me was the forks. They seemed too soft and 'clunked' noticeably on braking. I would criticise the model as not coming with lights, powered from the bike battery, as standard. What about the bike's best feature? Oh, the Suntour parallelogram suspension seat-post. Unusual motion a bit disconcerting at first, but I soon got used to it and it worked brilliantly. Much better than the 'pogo-stick' ones. That said, I noticed one of the Big Bear LSs did have a pogo-stick seat-post."
AJB9: "Smooth roll but found early in the ride that the throttle control is part of the handle bar grip which put me off slightly. Steering was fine, it went where you wanted it to go. The bike has a good, powerful motor which showed on the hills, climbing them well with pedal assist and throttle. The acceleration was good but a bit jerky when you got to the cut off point (legal speed limit for assistance). Cruising was good, but the motor cutting in and out would put me off on a long ride. The brakes were very good however. I found changing gears a bit clunky on the hills when changing down but the controls were very easy to operate. So, to sum up, the only thing I didn't like was the way the motor handles cutting in and out around 15mph. Its best feature is its hill climbing ability.
Overall group star rating for the test ride: 3.75/5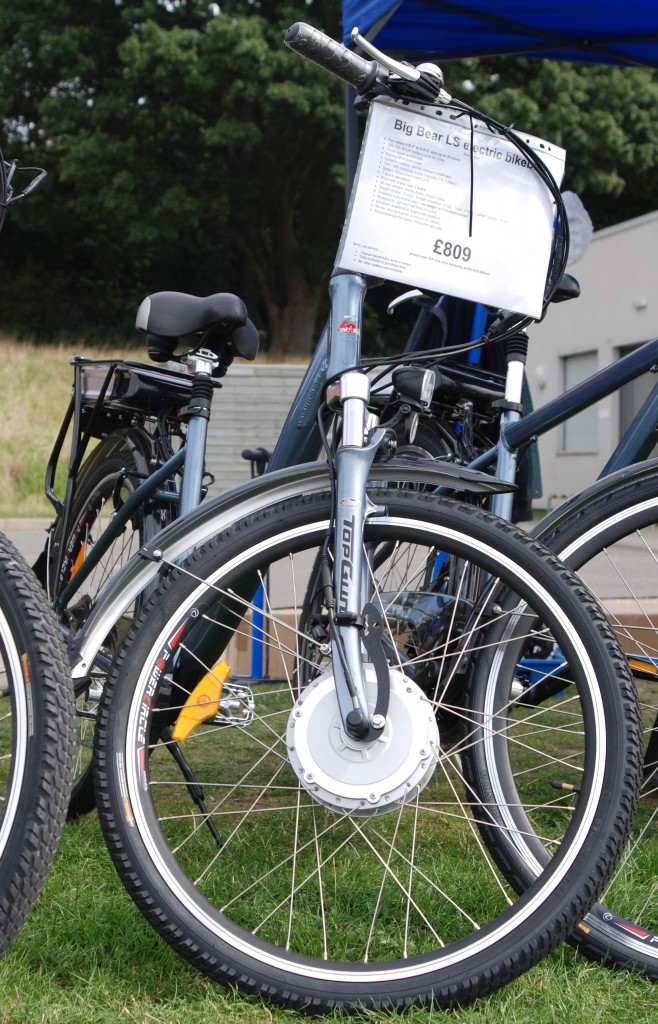 Do you feel it is good value for money?
D8veh: "Definitely"
Saneagle: 'Yes"
Teejay: "Yes! For what you pay this is an excellent bike."

AJB9: "Yes"
What sort of person and lifestyle would this bike best suit?
D8veh: "Someone that wanted a very easy commute to work."
Saneagle: "This would suit someone wanting to use it on a daily basis. It would suit all-weather riding due to mudguards being fitted."
Teejay: "Someone who wants solid, basic transport.. and doesn't want to, or hasn't got a huge amount to spend."

AJB9: "It's a good entry-level bike, so someone looking for their first electric bike".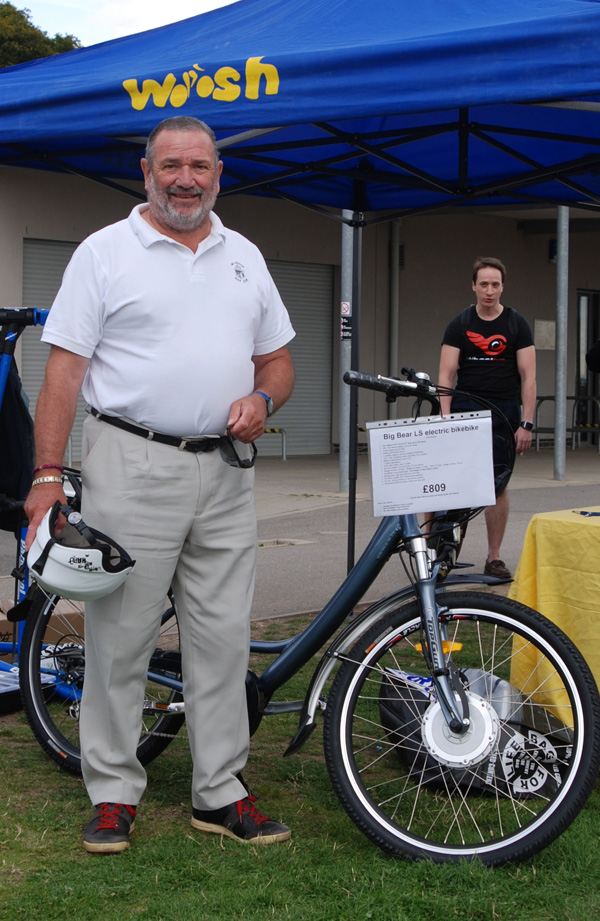 Our thanks to D8veh, Saneagle, Teejay and AJB9 for their time and help with this group review.