Swytch Technology will use Eurobike to showcase the latest version of their 'Swytch Kit' conversion kit in September.
Their 'hand-held' updated kit has shrunk from the size of a car battery to a palm-sized power pack weighing 1.5Kg (reduced from 3Kg), clipping to the handlebars of any bike to convert it to electric with a 40 mile range.
Swytch Kits, which include a front motor wheel – available in any wheel size – are instantly removable, enabling cyclists to 'swytch' quickly between assisted and non-assisted cycling.
Dmitro Khroma, CTO of Swytch, told Pedelecs: "This new, improved product is a game-changer for us and our customers. Based on feedback from our 3,000 existing "Swytchers" we identified that the size of the original power pack was the main area for improvement to make the kit more attractive to end users so that more people would "Make the Swytch."
By upgrading the battery technology and developing a custom-made, super-compact motor control PCB, we have managed to fit the same technology into a 70% smaller pack. It's now "hand-held" and will fit on your palm!"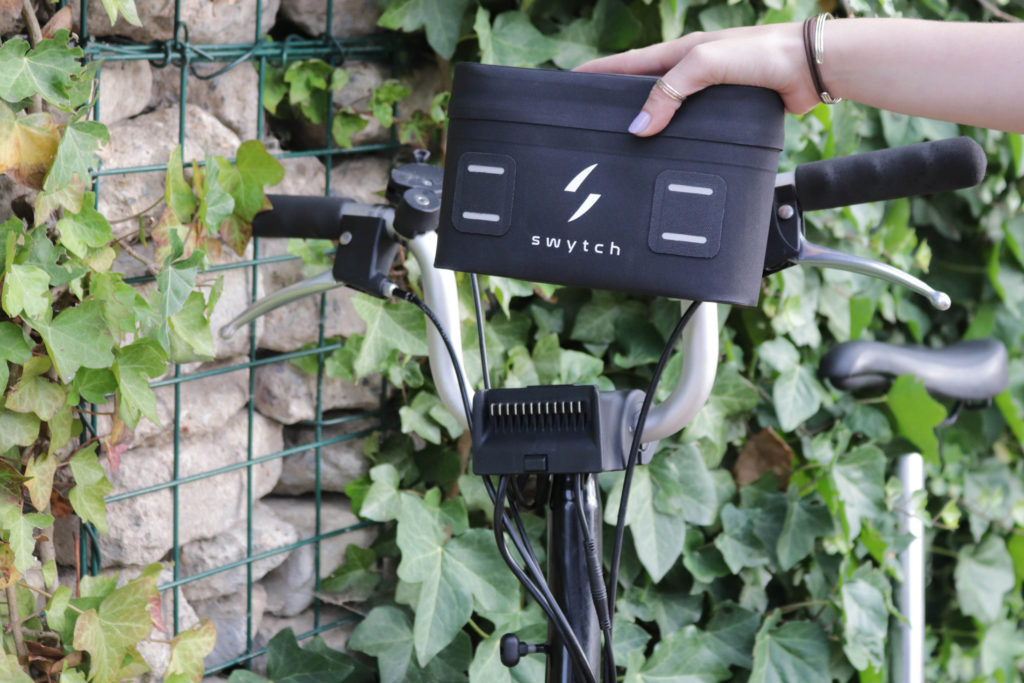 In 2017 the company raised over $500,000 on Indiegogo to develop and manufacture the original kit. Swytch Technology have acted on customer feedback to improve both the development of the product as well as customer care. Oliver Montague, CEO of Swytch, acknowledges the balancing act of keeping prices competitive while still offering high standards of customer care.
He told Pedelecs: "One of the key learning points from our 2017 launch was that offering the lowest possible price needs to be balanced with being able to offer customers the high standard of customer care and the reliable, fast delivery that many customers have come to expect from market leaders like Amazon. We've gathered feedback from all of our 3,000 customers who have been incredibly useful in helping us to build a great business with ever-improving customer service, to complement what we believe is a fantastic product."
The new Swytch kit will be launched on crowdfunding site Indiegogo at the end of September.