In the heirachy of polluted water, it goes: water, dirty water, water with phosphate in it, stinky and dirty water, polluted water, highly poluted water, The River Thames, The River Cam, the sewer from my house the morning after I went out for a curry.
Was it the Cam where fish were devastated by certain substances that festival goers had been p..ing into the river?
And other substances that might be in it..
Sometimes the fish are so high they swim Above the water!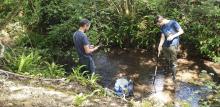 The team discovered that levels of MDMA and cocaine in the water during the festival were so high it could be harming wildlife further downstream, including rare populations of eels. Led by Bangor University's Dr Christian Dunn the scientists are now urging festival-goers of all "greenfield...
www.bangor.ac.uk
(Of course any suggestion that hormones from 'the pill' might also affect drinking water etc, etc... ;-) )